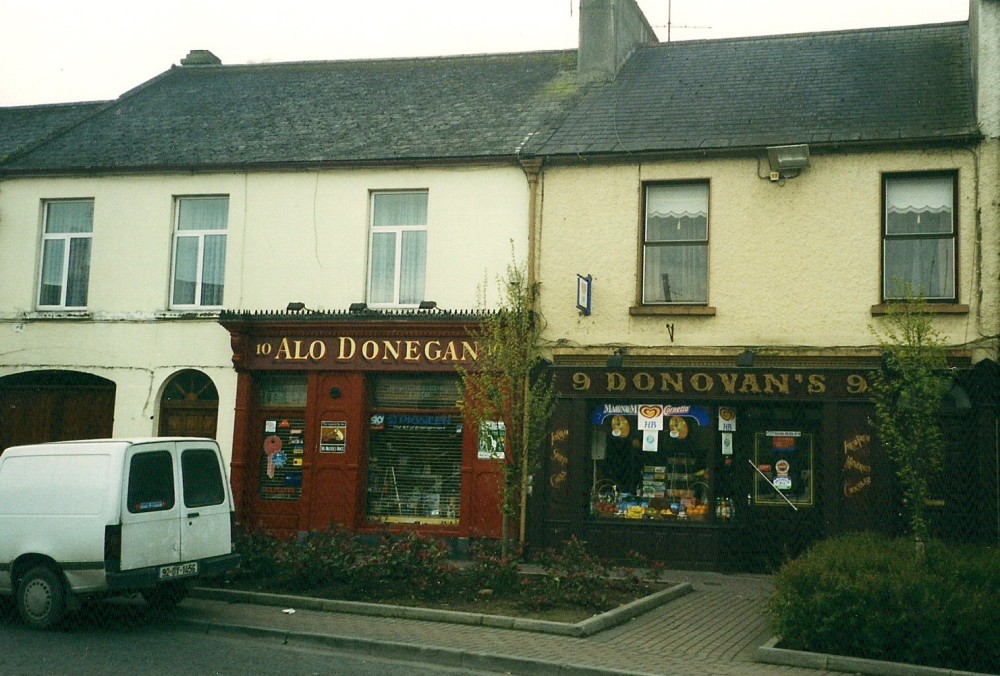 10 & 9 MARKET SQUARE
Built c. 1880. In the 1850's, Mrs Anne Cowen (presumably related to James Cowen listed under Gentry in Directories of the time) had the original house here leased to Miss Amelia Kimmins. In the same Directories, a Miss Amelia Kemmis also appears under Gentry. Is it possible that only typographical errors separate these two ladies? Or, to further complicate matters, was she related to John Kemmins who appears as 'Gentleman' in an 1847 list of Queen's County Voters? Later in the 1850's, a Sarah Cannon was listed as Occupier here, followed by George Lyster (1864), Joseph Lyons, Theresa Reid, and James Preston.
In 1877, a John Hanlon acquired these premises from John Lyster of Norefields, Abbeyleix who was, in modern parlance, a serious player; a Resident Magistrate who owned more than 1500 acres. John Hanlon was a 'Corn Factor' and it was from him that John Donoghue, a baker, bought the building in 1884. On Census night 1901, the houshold comprised John, his wife Mary, their four children, and Joseph Keenan and John Dunne, both bakers. By 1911 John Donohoe (sic) was a widower, having lost his wife the previous May. He died in 1933, aged 86.
The Donoghues' daughter Margaret married James Kelly from Jenkinstown, Co. Kilkenny. In the 1930's, he worked as a carpenter and handyman for the Christian Brothers and, in later years, as a gardener in the Presentation Convent. The Kellys also had a shop (1948: Kelly Brothers. Cycle and radio repairs promptly carried out) at the rere of the dwelling house. In 1953, their daughter Anne married Anthony Maher and it is their son - John Donoghue's great-grandson - and his family who live here today.
In 1920, the ground floor of this building housed the Maryborough Co-operative Society's lock-up store.
Known as 'The Cycle King', Portarlington man Alo Donegan was a world-class cyclist who, in 1934, became the first man in the world to ride a 25-mile time trial in under one hour. From its early days as The Radio House of Leix, the business here evolved into the electrical centre it is today, run by Alo's son Eamon. In the early years of the 'Swinging Sixties', Donegan's was the only shop in town to stock electric guitars, from cheap and colorful Egmond Solid Sevens - an early version of which was Paul McCartney's first guitar - to the Burns Double Six Apache Special as played by Hank Marvin, the ultimate guitar hero at the time. The shop also stocked Bert Weedon's seminal Play In a Day which helped shape the first chords of Eric Clapton, Brian May and God knows how many anonymous others.
No. 9. Leased by Giles Cullen from the Miss Amelia Kimmins mentioned above. A native of Manorhamilton, Co Leitrim, Cullen was originally a member of the Revenue Police, which was formed in 1832 to enforce unpopular excise laws. In other words, clamp down on the production of poitín. In 1851 he married Henrietta Cannon of Portrane House (on the Stradbally Road, owned by Tyrrell's today) and in 1856 was Sub-Inspector in the Constabulary Barracks previously discussed in No. 13. Sub-Inspector, incidentally, was the top position in the RIC for the entire county. In 1862 he was stationed in Tullow, Co. Carlow and was pensioned in 1866.
Over the next twenty years, the house was occupied by a Mr McGrath, a Patrick Lynch and Edward Murnane. From at least 1886, Thomas O'Neill had a Cabinet-Making and Upholstery business here. He also sold Melodeons, Violins, Cornets and all accessories and, in his spare time, had a great interest in local history. He contributed Legends of Leix to a history of Queen's County and County Kildare, serialised in the Leinster Express (1897-99) and published in book form in 1901. More than a century later, it was reissued by local historian Frank Meehan. Within a year of being re-elected a Town Commissioner in 1899, Thomas lost his daughter Margaret, aged only 23. He himself died in October 1904. His son, Patrick J. (1873-1945) a former journalist, was a leading light in the early days of Sinn Féin in the county and a close friend of the party's founder, Arthur Griffith. In 1920, he was arrested and interned for a year in the Curragh and Ballykinlar. He was appointed Secretary of Laois County Council in 1924.
In the 1930's and '40's, the premises housed James O'Moore's Grocery shop. Like Egan's, the home-made ice-cream here was fondly remembered by one of my interviewees. From the 1950's and into the new millennium, owned by Breda Fitzgibbon (1961: High Class Confectionary and Sweets), later Mrs Ned Donovan. Following the deaths of Mr and Mrs Donovan, the premises remained vacant until December 2017 when auctioneer Tommy Buggy opened Property Partners.