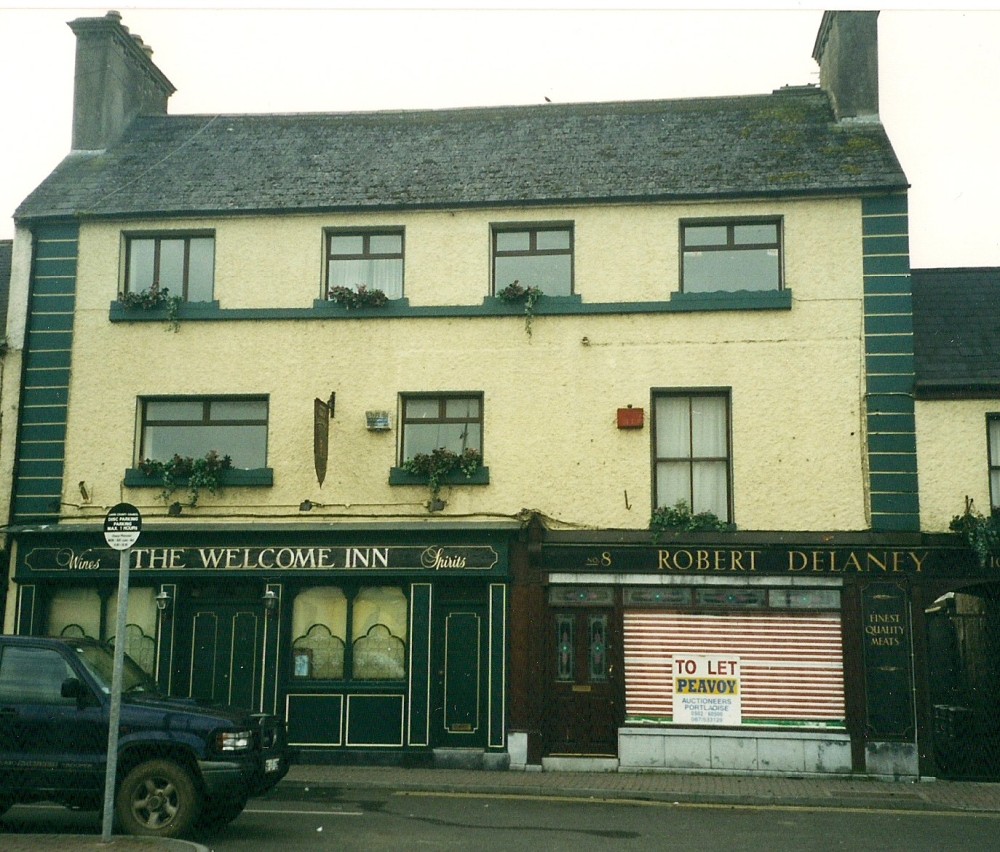 8 MARKET SQUARE
Maintaining the town's tangled web of ownership and leasing, the original house here was occupied in 1851 by Mrs Anne Cowan who we've already met as the Lessor of No. 10. Now her immediate lessor was William Graves, no doubt related to the Robert Graves mentioned in connection with No. 13 and possibly (thanks to another typo?) the Robert Greaves Esquire who lived in Rockview. This house, still standing on top of the hill on the Mountrath Road, is said to be the only house in the town from which the Rock of Dunamaise is visible.
Anyway, Mrs Cowan continued to live here until the early 1880's when she was briefly succeeded by Anne O'Rourke and then, from the mid 1880's, Thomas Malone, a native of King's County (Offaly), Shopkeeper and Publican and his wife Mary. On the night of the 1901 Census, the household included their four young children, a female servant and a boarder from County Cork described as a 'Traveller'. Like his near neighbour Charles McDermott, Thomas Malone also 'went for' the Urban District Council in 1899 and wasn't elected.
As was common throughout the town at the time, there were stables at the rere of the premises and one of my informants recalled how the dray horses - hauling barrels of ale from Perry's in Rathdowney - used to rest overnight here. Another informant remembered Tommy 'The Pooka' Dunne, who was a bottler here. (In former times, barrels of stout and ale were delivered to publicans who then bottled it and had their own names printed on the brewers' labels). After emigrating to Taunton in Somerset, where he worked for a cider company, 'The Pooka' became obsessed with Cricket; so much so that he followed the English team to places as far away as Australia and the West Indies.
Mountrath native, Edward McKenna emigrated to America where he was involved in promoting the Irish Hospitals' Sweepstake ('The Irish Sweeps'). In the late 1940's, he returned to Ireland to live in Castletown and open The American Bar in the above premises. He was also a director of Fleming's Fireclays in The Swan, a small village in the South-East corner of Laois. What connected his two business interests, incidentally, was his friendship with P.J Fleming and Joseph McGrath - founder of the Irish Hospitals' Sweepstake in 1930 - during the so-called Troubles of the 1920's. In 1954, 'The American' was acquired by brothers Joe and Robert Delaney who continued the public house and also opened a butcher's shop. The former invited us all to Bring your friends for happy reunion to the modern lounge: the latter offered us Fresh Poultry Daily.
June 2014: The Welcome Inn is still going strong. Robert Delaney's became, for a short while, the Market Stand (Newsagent and Delicatessen) and, for the past decade, Mezza Pizza (which, as previously mentioned, moved here from No. 45, Main Street).