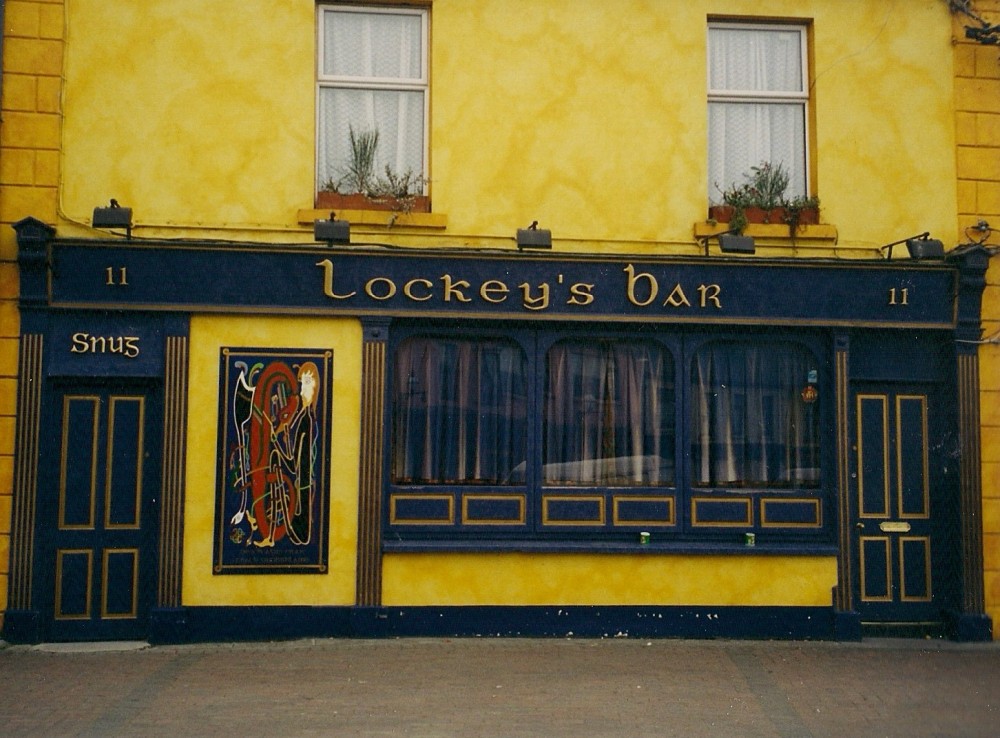 11 MARKET SQUARE
Built c. 1880 to replace an earlier house leased from Miss Amelia Kimmins - who we'll meet again on the next page - by Mrs Frances Grennan in the 1850's and '60's. She was possibly the wife of John Grennan, a Provision Dealer in the town.
Eighteen-year-old Edward Grennan enlisted in the British Army (4th Light Dragoons) in 1849 and fought in the Crimean War. He was, in fact, one of "the six hundred" immortalised in Tennyson's great poem, The Charge of the Light Brigade, written to commemorate a disastrous incident during the the Battle of Balaclava.
Storm'd at with shot and shell,
Boldly they rode and well,
Into the jaws of Death,
Into the mouth of Hell
Rode the six hundred.
After his eventual discharge from the army - because of varicose veins - Edward emigrated to Australia where he died in Melbourne in 1896, aged 61. The inscription on his gravestone reads To One of the Noble Six Hundred. In memory of Edward Grennan, native of Queen's County, Ireland, who as a soldier of the 4th Light Dragoons, fought at Alma, Inkerman and Sebastopol and also with the Light Brigade at Balaclava. It is more than reasonable to assume1 that he was a relative - probably the son - of the abovementioned Mrs Grennan.
From the late 1860's, Charles McDermott, a native of Sligo and ex-RIC man, and his wife Annie - both described as 'Spirit Grocer' - were in business here. John Jameson's Very Old Whiskey Always in Stock. According to the 1901 Census, Charles was one of only three adults in the Market Square who could speak Irish. His proficiency, unfortunately, had been of little benefit two years earlier, when he was an unsuccessful candidate in the election for the Urban District Council.
In the early years of the 20th century, the business was briefly run by another ex-RIC man J. P. McEvoy and, from about 1910 to the mid-30's, Peter Kelly, a native of County Carlow, was a Publican and Grocer here. On Census night, 1911, his cousins, Bridget and Mary Murphy from Co. Wexford were also in the house; the former an "assistant at bar and grocery"; the latter a schoolgirl. Peter Kelly died in February 1933 and was succeeded here by James Fitzpatrick (see No. 8) and, after him, Margaret Delaney. Next came Denis Delaney whose pub was known as Dinny Joe's and, in the 1990's, his Seán ('Seán's'). Loughlin 'Lockey' Delaney is a former victualler and son of Robert Delaney (No. 8). In 2013, the name over the door became Maggie May's, and today we still have Peig and Maggie side by side.
-----------------------------------------------
1 Because, at the time of his discharge in 1861, he gave his intended place of residence as Market Place (the official name at the time), Maryborough, Queen's County. For more about Edward Grennan, see Forgotten Heroes. The Charge of the Light Brigade by Roy Dutton. InfoDial Limited. 2007