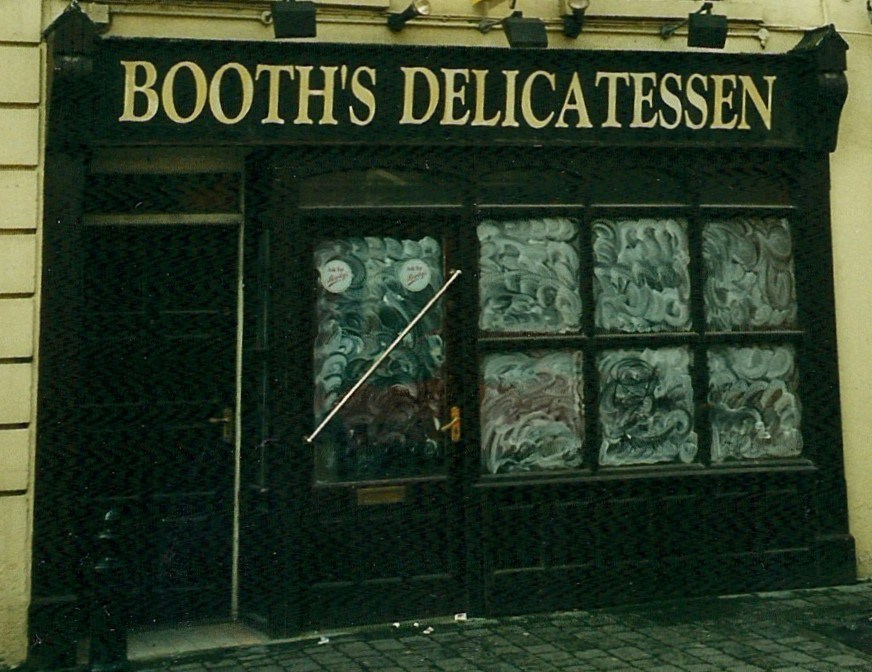 75 MAIN STREET, SOUTH SIDE
In chronological order, Mary Moran, James Mooney and Daniel Moore lived here in the 19th century. As noted by Eddie Boylan, Mary Moran was probably the baker named in directories from 1837 to 1856, and James Mooney, the publican listed in 1870. I can offer no information on Daniel Moore. Assuming that James Mooney was the publican here in 1870, it was sometime later that these premises were acquired by John Delany and became part of his business next door. More about the Delany family on the next page.
In more recent times, this shop has been transformed on a fairly regular basis. Established in 1953, Thomas Robinson's Reliable Clothing Company (High-class outfitters. Boots and shoes. Suits to Measure a Speciality) traded here until - as we've seen - he moved further down Main Street to where Alan Flynn's shop is today. Next was a butcher's shop (owned by Denis Booth from the Heath), followed, in the 1970's and '80's, by Tig Electric with Moling Morrissey the alliterative man behind the counter. (1976: Be a wise Santa this Christmas. For the best in colour tv try us).
Vincent Booth's delicatessen opened in 1989 and included a small restaurant - The Courtyard - which opened on to Lyster Square. After being vacant for some time, the premises were occupied (2001) by a fashion shop (Mars for Men and Venus for Women)1, Tantrum (2004) which later escalated into Tantrums, culminating in 2008 with Revolution for Kids. Most recently, Gala Express, a small franchised supermarket, but currently (May 2014) vacant.
-----------------------------------------------
1 On that subject, consider this: "The extremes of fashion in this country are as variable as its changeable weather... the ladies have not only laid aside hoops but every anterior petticioat or part of apparel that could hide their natural charms or shape.... the breeches of the buck have shrunk to nearly above his knee from below his ancle (sic), but above the waist he imitates the protuberance of pregnancy...."
The Freeman's Journal. August 21, 1800.