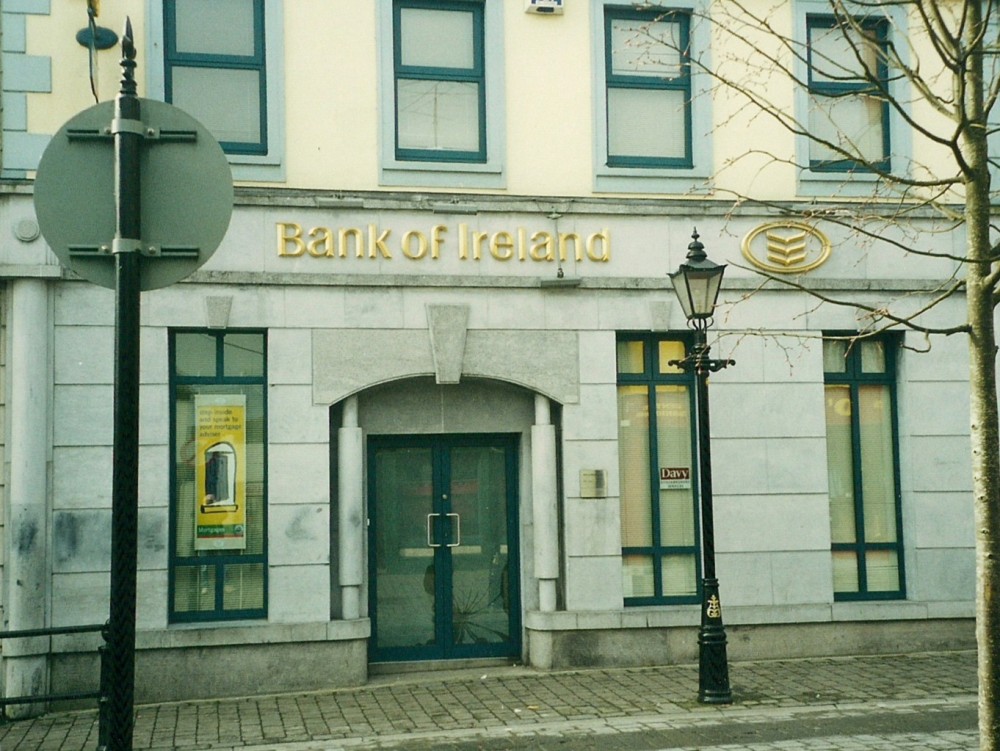 76 MAIN STREET, SOUTH SIDE
In 1850, the premises on this site was leased by Mrs Catherine Mulhall from Matthew S. Cassan whose name has already appeared in this project1. Mrs Mulhall had been a linen & woollen draper and milliner here since at least 1837. In May 1860, her husband placed the following advertisement in The Freeman's Journal: Wanted immediately: a steady active young woman who perfectly understands the drapery and fancy business: she must be a good saleswoman and one who can trim well and tastefully. None but an experience hand need apply. Edward Mulhall, Maryborough.
In 1901, it was Edward's son John (listed as a draper and farmer) and his wife Elizabeth who lived here. They had three employees: Lily Kelly from Monaghan, a shop girl; Sarah Keenan, a local apprentice, and Anne McLoughlin from Wicklow, a domestic servant. On the night of the 1911 census, the Mulhalls were alone in the house.
It appears from the Cancellation Books that, sometime between that census and 1916, they were succeeded by Laurence 'Larry' Ging, another draper. (Shop Early While Chance is at its Peak ). In March 1959, Mr Ging, aged 83, was hit by a car on Main Street and died some weeks later. The building next became the family residence and office of John Bolger, solicitor, whose wife Peg, née Cushen, was a niece of Mr Ging. In later years, John Bolger, predeceased by his wife, lived in The Green, Kilminchy, until his death in October, 2011.
The first Bank of Ireland was established at St Mary's Abbey, Dublin in 1783. Shortly after the Irish Parliament was abolished by the Act of Union, the bank acquired its iconic building on College Green and, in 1808, opened for business there. There has been a Bank of Ireland office in the town2 since at least 1850, when according to Thom's Directory for that year, Mr Hugh Law was the Agent. It wasn't until 1864, incidentally, that the bank started paying deposit interest.
-----------------------------------------------
1 An extended article on this prominent family may be found in The Laois Millennium Yearbook edited by Patrick F. 'Frank' Meehan. It is available in the local library. There is also much material online.
2 And in at least four different locations - Grattan Street, Coote Street, Bank Place and currently as in the picture above.