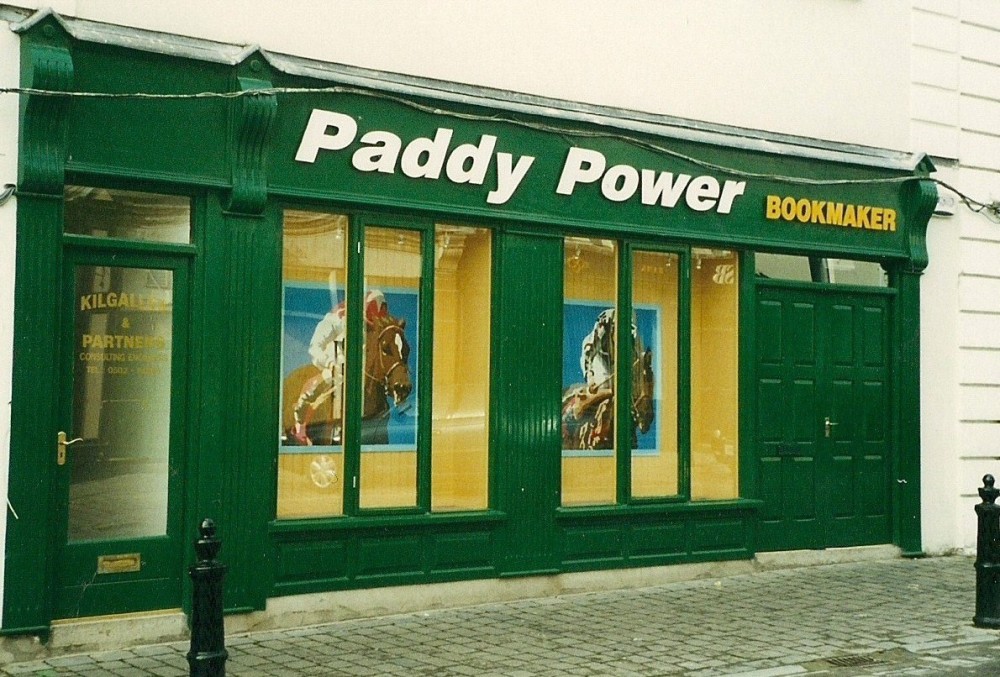 74 MAIN STREET, SOUTH SIDE
In 1850, the immediate lessor of the building on this site was Henry Graves, a member of the family frequently mentioned in this project. Eddie Boylan believed that the lessee at the time was Mrs Jane Bull, but it seems from the Griffith's Valuation map that her property - where she had a bookshop and lending library - was situated behind the house here. We'll be hearing much more about the Bull family later.
It was, in fact, a Paul Brady who lived here in 1850, succeeded by William Phelan (Druggist, grocer and ironmonger) and then, his son John T. Phelan, grocer, publican, hardware merchant, and member of the Town Commission. His wife Anne, née McMahon, was from Ballyroan. In 1876, the Phelans made the national newspapers when a fire in their yard destroyed large quantities of hay and turf and threatened to spread along the street. It was only after the greatest effort - "Hundreds, and amongst them some of the most respectable inhabitants, vied with each other in seeing who would carry most water." - that "one of the greatest dangers that ever threatened the town of Maryborough was overcome and conquered"1.
After John Phelan's death, and her subsequent marriage to John Delaney from the Heath, Anne retained the Phelan name over the door and continued as grocer, hardware merchant and registered druggist (Patent medicines in great variety. Special attention given to cattle medicines ). The 1901 census records John and Anne T. Delaney living here with her daughter Katie Phelan (listed as shop assistant), and their young children, Bessie2, John and Michael. Also in the house were John Kelly, a shop assistant, John Boylan, a yard man, and Agnes McEvoy, a housmaid. This, incidentally, must have been one of the most bilingual houses in the town: six of its nine occupants were listed as being proficient as Béarla is as Gaeilge. It is hard not to draw a connection between this and Bessie's story below.
We learn from the 1911 census that the misfortunate Anne, widowed for a second time, was still living here with her daughter Katie and her son John, a bookkeeper in the family business. The household on the night also included a shop manager (Thomas Kelly3), steward/outdoor manager (John Boylan), Bryan Hiney (a ploughman) and Maggie Delany, the inevitable general servant.
Anne T. Delaney died in 1916 but the shop, run by Katie and John, remained in business into the 1950's. Because there was no secondary school in Roscrea at the time, Nancy Delaney, daughter of Michael above, came to live here with her uncle and aunt and attend the Presentation convent school. In later years, she worked in the office of Odlum's Mills and, in 1956, married Nicholas Boran, a native of Castlecomer. He worked in Whelan's Hardware shop in Stradbally, and Jessop's in Portlaoise, before opening his 'Airboran' travel agency here in the mid-1960's (Choose something very special like the Canaries)4. That business was eventually taken over by Anthony Nolan, but the Boran family - one of the last to actually live on Main Street - remained here until 1996. Nicholas Boran's widow, Nancy, still going strong at 91, is the mother of poet, editor and broadcaster Pat; artist and teacher, Michael; IT consultant at NUI Maynooth, Peter; and teacher Margaret. In December 1992, their other sister Mary - also involved in education - and husband Pat Bennett received widespread publicity and good wishes when they became the parents of quadruplets.
-----------------------------------------------
1 Report in The Freeman's Journal. August 2, 1876.
2 As a young woman living in Dublin, she was a member of Conradh na Gaeilge, The Gaelic League, whose aim was to promote the use of Irish and counter what it saw as the prevalent anglicisation of Ireland. She died of tuberculosis, aged only nineteen, and at her wake in her parent's house, Cathal Brugha (born Charles Burgess), arrived with a wreath from an Conradh. He will be well-known to students of Irish History as the revolutionary and politician who, in July 1922, died from gunshout wounds sustained during the Civil War.
3 The shop was, in fact, frequently referred to as 'Tommy Kelly's'. And, as recalled by one of my informants, its actual proprietor was known to schoolchildren as Auntie Delaney.
4 In the 1970's, he also had a joinery agency (which expanded to include the old Green Mill - now demolished - off the Mountmellick Road as a storehouse).