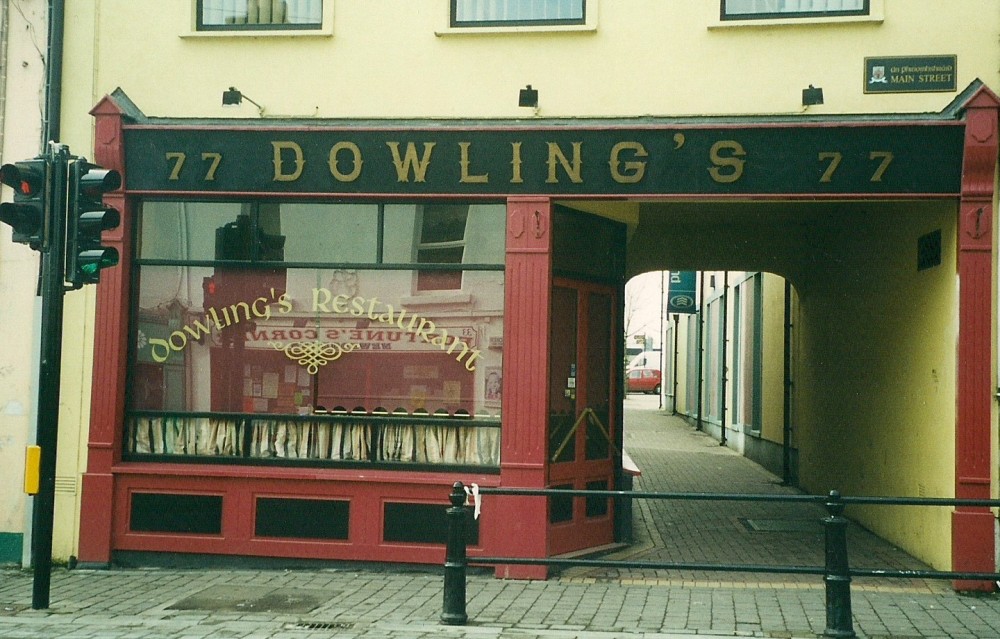 77 MAIN STREET, SOUTH SIDE, LOOKING INTO LESTER/LYSTER LANE
The elusive Thomas Higginbotham also owned this building. His lessee in 1850 was William Lewis who, at the same time, was the immediate lessor of no fewer than twelve small houses in Lester's Lane1. According to Eddie Boylan, William Lewis also had a pawn office here in the 1850's, and it is interesting to note that in 1837, there was a Moses Lewis in the town with the same profession. Anyway, William Lewis was succeeded by Thomas Nugent and Francis Crawford, both drapers. [Either of these may have been a second-hand clothes shop also mentioned by Eddie Boylan]. Michael O'Rourke, a draper's assistant from County Sligo, was alone in the house on Census Night, 1901.
The next business was a grocery run by the widowed Mrs Mary Keegan, aunt of Mrs John Egan. (See below). On the night of April 2, 1911, she was here with her daughter Elizabeth and sister Elizabeth Scully. She also had two boarders: John Donovan, a teenage railway clerk from County Cork and MicheŠl " MaolŠin, aged twenty-two and from County Sligo, who, in meticulous old Irish script, informed us that he was "Professor in English, Irish and French".
The story goes that, at one stage, this house was haunted by a poltergeist. So serious was the disruption that both the police and a priest were called in to investigate. It was eventually discovered, so the story continues, that a boarder, for reasons best known to himself, had rigged up an ingenious system or twine or wire so that when he pulled it, objects shook or rattled in different parts of the house. Someone else told me that the culprit was a ventriloquist who, in the dead of night, 'threw' scary sounds around the house! True story? To my mind, not a ghost of a chance....
Anyway, Mrs Keegan was succeeded by Elizabeth Phelan and she, in turn, by the Marsh family2 bakery (Only finest ingredients used). One of the Marsh sisters married Thomas Bradbury, a confectioner in John Egan's restaurant. In 1938, he founded his family's well-known bakery and confectionery business which, from its Athy base, expanded into other towns. The Portlaoise outlet in the Marsh premises had a large and loyal clientele. I remember, in the early 1960's, waiting in the queue for my mother's 'message' when an old lady I didn't know fom Adam turned to me and whispered "Himself'll ate nothing else"!
In the mid-Seventies, Bradbury's moved across the street - next door to where Ryan's pub is today (2014) and developed the business to include a deli and cafeteria. Their former premises remained vacant for quite some time - Who remembers the giant Drowning Fish3 poster in the window? - before being completely reconstructed (1990) as Dowling's Restaurant. It was succeeded by a veritable menu of fast-food outlets; Sambodino's Sandwich Bar, Abrakebabra Del Pappas Pizza (2014) and Best Choice Pizza and Kebabs (2018).
-----------------------------------------------
1 Lester or Lyster? That is the question. An 1839 map has what appears to be Liester's Lane; Griffith's Valuation goes for Lester's Lane; The Freeman's Journal (July 13 1886) called it Leicester Lane, while the 1901 and 1911 censuses both have Lyster's Lane. Modern officialdom opts for Lyster Lane.
And there's similar uncertainty about the provenance of the name itself. On one hand, there's a Captain Chamworth Lyster who lived at Grennan House, between Attanagh and Durrow, and John Lyster, Resident Magistrate of Norefields, Abbeyleix. On the other, we have Charles Lester and his sons Robert and Thomas of Maryborough (all named on a Handlist of Voters from 1760) who are buried in old St Peter's Graveyard. Robert Lester, was, incidentally, one of the Foundation Wardens of the Maryborough Freemasons' Lodge established on May 2, 1763. The Freeman's Journal of November 23, 1769 also names a Mr Lester as "Postmaster of the town and late surgeon in his Majestyís first regiment of Horse". Neither the Tithe Applotment Books (1826) or Griffith's Valuation list any Lesters living in Maryborough. So is it reasonable to assume that the name had died out in the town prior to the 1820s? With due respect to the historians in County Hall, and based on the documents I have consulted, I think Lester would be the proper designation.
Many many years before the development of Lester/Lyster Square in the 1980's (an area lying outside the scope of this project), the lane, with houses both parallel and at right angles to the Main Street, was much extensive than the short walkway it is today. And it was often in the news for all the wrong reasons. On October 12, 1847, for instance, at the height of the Famine, The Freeman's Journal reported that "a family, very bad in fever, had been shut up in Lyster's Lane; there was no means of access to the people, or any way of obtaining relief for them". In July 1886, Rev. J Phelan, Parish Priest of Maryborough, in a report to the Mountmellick Union, stated that "out of 36 houses in Leicester Lane, only one was at all fit for human habitation". They were not, he continued, "even fit for dogs or horses". Even in more recent years, TB was rife and, in the resonant words of one of my oldest informants, there was still "primitive poverty" there.
But it wasn't until 1936 that the inhabitants were moved out - many to the newly-built O'Moore Place - and the cottages eventually demolished. It's interesting to note that, after the Town Hall in Market Square was destroyed by fire in 1945, there was a suggestion to the Town Commission that a new Hall be built in Lyster Lane.... See the Leinster Express of January 16, 1993 for Seamus Dunne's fascinating article on the lane and the people who lived there.
2 This true encounter with George 'Georgie' Marsh won't be at all cryptic to the old townies among you:
A WOMAN BUTTONHOLES GEORGE ON THE STREET:
WOMAN: What ails ya, Georgie, you look down in the dumps?
GEORGIE: And why wouldn't I? I look out the window first thing every morning and see misfortune staring me in the face.
3 An early incarnation - featuring popular teacher, author and the county's only All-Star hurler, Pat Critchley, on accordion - of local bands The Mere Mortals and The Perfect Skins.