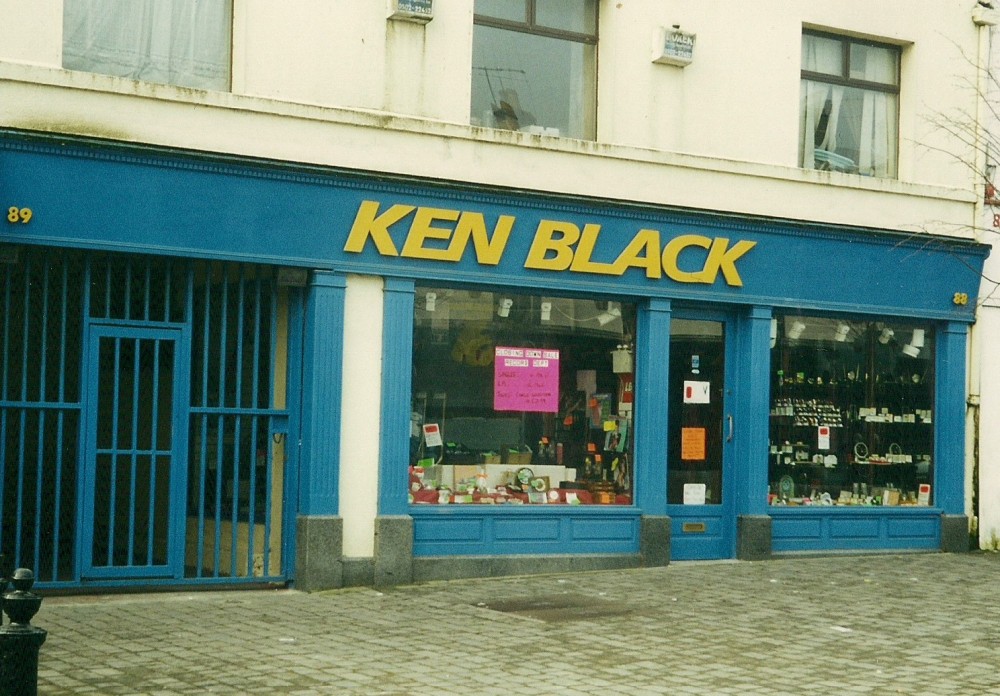 89, 88 MAIN STREET, SOUTH SIDE
Again, there were two separate houses here in the 1850's. According to Griffith's Valuation, the one that stood on the left was occupied by Gideon1 Molloy, but Slater's Directory of 1856 has the surname as Mulvey. Furthermore, in August 1855, Elizabeth, teenage daughter of Gideon Mulvey (Butcher, Maryborough) married John Little, whose address is given as Brazen Head Hotel, Lower Bridge Street, Dublin2. [The Brazen Head, recognised as Ireland's oldest pub, is still going strong today]. In 1858, Mulvey's name appeared in the Leinster Express (July 24th) as courthouse-keeper.
Anyway, whether Molloy or Mulvey, he was succeeded here by a John Haslam and, in the early 1880's, by Peter Gray. The latter is described in directories of the time as a carpenter and shopkeeper, but he appears in the 1901 census as a farmer. He was living here with his wife Mary, two young sons, Michael3 and Daniel, and his sister Ellen, described as a shop attendant. Also in the house was a farm servant, James Keenan.
The second house on this site (No. 88 today) was occupied by the Meyers and next, the Sythes family. Henry Meyers (or Myers in some sources), a gardener from Dublin, was father of Mary Anne who, in September 1862, married Henry Sythes, a shoemaker4. It is likely that she is the Mary Myers, a "general dealer" on Main Street in 1894. s
In the late 1940s' James Cushion (see also No. 96) had a butcher's shop at No. 88 (My frigidaire safeguards all meat sold on the premises) but, by the mid-Fifties, both premises were acquired by Albert Black. Throughout the 1960's and '70's, Black's - usually presided over by the seemingly chain-smoking Mrs Black - was the place to go for your lps and cassettes. [The only other shop with any sort of selection was Donegan's in the Market Square; maybe my memory is faulty but wasn't Black's the place for albums, and Donegan's for the latest singles? Or was it the other way round? Help!]. Black's also stocked a wide range of toys, china, crystal glass and jewelry. Over the years, the shop moved on from giftware and music; Ken Black moved to much larger premises and today he is one of the country's leading toy stockists. Since Black's, the building has gone through various incarnations: erre/esse Ladies Boutique (subsequently relocated to Church Street), Santa's Grotto, temporary bookshop, and, as of May 2014, vacant.
-----------------------------------------------
1 Biblical name meaning 'Mighty Warrior'. Like the Beatles in Rocky Racoon, you may have checked into your hotel room and found Gideon's Bible. It was left there by the Gideons, an evangelical Christian organization (since 1899) based in Nashville, Tennessee.
2 Marriage Records, St Audoen's Church, Dublin.
3 Born in 1898, he grew up to become Commanding Officer of the Laois Brigade IRA during the War of Independence. You'll find more about him in The Quiet County by Rathdowney native Michael Rafter. Arderin Publishing Company. Parkview, Portlaoise.
4 Maryborough Church of Ireland Parish Registers