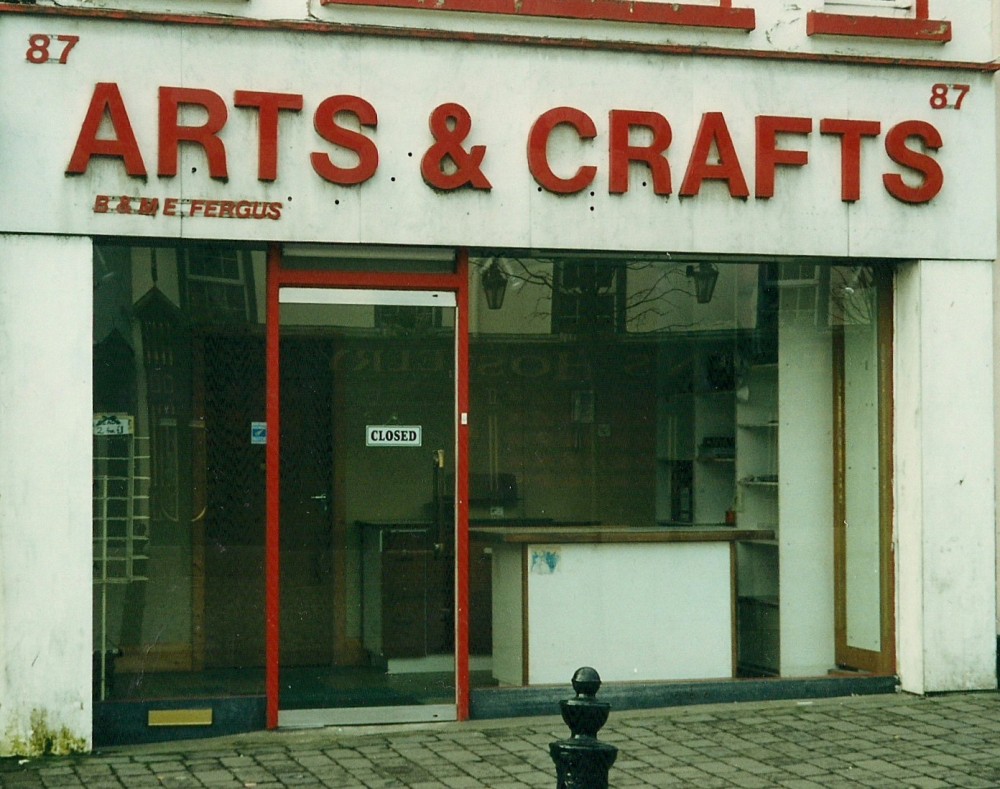 87 MAIN STREET, SOUTH SIDE
The Delany family - Patrick, succeeded by John - lived here for nearly eighty years. In 1901 John, a shopkeeper and contractor, was here with his wife Eliza, and son Patrick, a teenage scholar. Ten years later, he appeared in the census as a Town Inspector and Patrick as a hardware shopman. The premises were next acquired by the Hughes family and, in 1930, John Hughes opened the Nyal Pharmacy here. Prescriptions, Toilet Articles and Everything Pharmaceutical. His son Michael eventually took over the business (1976:Free train set when you buy any of the Polaroid Colour Swinger range) and, as we've seen, later relocated to the larger premises just a few doors down.
In 1982, Brian and Mary-Emma Fergus moved their Arts and Crafts shop - Irish wools and tweeds, artists' materials and requisites all combined under one roof - here from No. 41 Main Street. As BF Publications in 1985, he published a Visitor's Guide to Portlaoise which featured a short history of the town by Michael Parsons, then principal of the Vocational School, now retired and a Board Member r of the Heritage Council. The premises were vacant for a while in 2000 until it was rebranded as Fujifilm Image Service run by the Fergus family. Today, the name over the door is B. Fergus Photo.
The Fergus family is, incidentally, one of only a few actually living on the Main Street. A fact that encapsulates the greatest single difference between today's Main Street and that of a century ago.