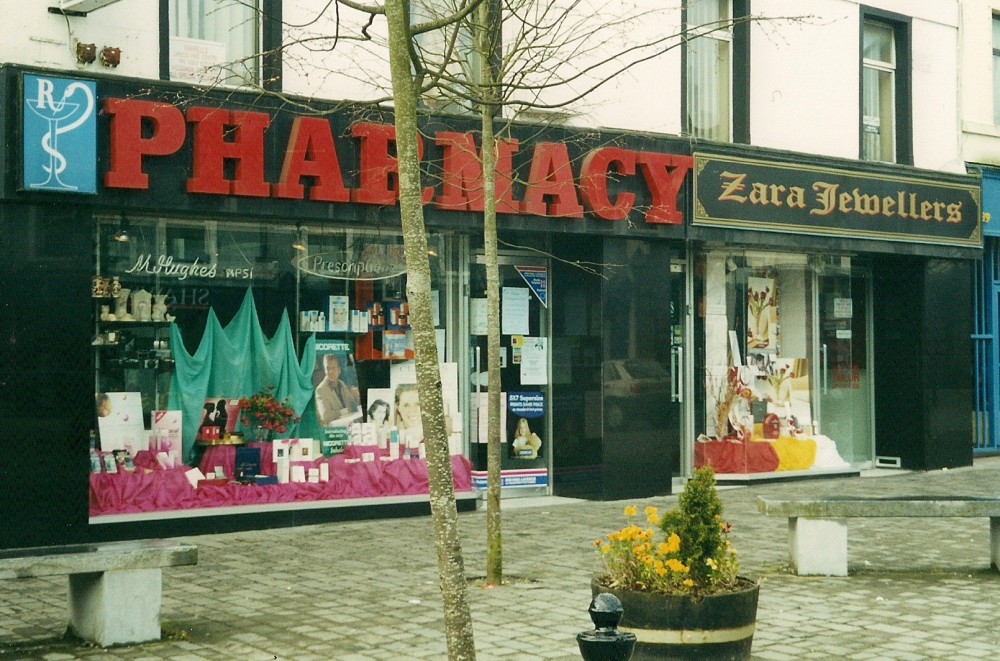 91, 90 MAIN STREET, SOUTH SIDE
There were two houses here in the 1850's. The one on the left - the exception referred to on the previous page - was leased by Patrick Kelly from Margaret Whelan who was leasing the house next door from Viscount de Vesci. The ins and outs of property! Subsequent occupiers here included John Kavanagh (1860's) and Mary and John Holohan.
In the late nineteenth century, both premises were acquired by the Kelly family. With his wife Annie (née Scully), William Kelly (1850-1928) opened a grocery business here and, though subsequently run by various family members, his name remained over the doors for many years. Older residents of the town will remember, on a side wall, facing into the Lower Square, a large sign reading W. KELLY, AGENT OF PLAYERS WEIGHTS CIGARETTES. William and Annie had three sons; Patrick, Joseph, John, and one daughter, Mary. [In later life, Patrick - presumably because of his stylish demeanour? - was known as 'the King']. After Joseph's death in 1953, John and his young family moved from Loughteague to the Kelly home in Bloomfield. Many people I spoke to recalled milk from Bloomfield Dairy being delivered around the town. Bloomfield House is still owned by the Kelly family today.
Mary 'May' Kelly married the aforementioned John Egan1 who eventually took over the Kelly premises and, in the late 1950's, opened his innovative Self Service store here. This was succeeded by John Cole's 'Green Star' Superstore which, officially opened on December 14th, 1965, by none other than Mr. Terry Wogan, soon became the centre of the Green Shield Stamps craze2.
Michael Hughes subsequently bought the premises from John Cole and, in 1983, opened his new pharmacy there. Before she moved further down the street, Marian Carton had her opticians business where Zara Jewellers3 are in the picture above. Since the 1980's, the second floor has housed a wide variety of businesses; Mansfield Insurances, Cryan's Dress Hire, Farrell's Dress Hire, Midland Refuse Services, Vincent Keegan's tailoring service.
-----------------------------------------------
1 Their daughter, Mary, subsequently married Chris Clerkin, for many years a teacher in the CBS.
2 This loyalty scheme was particularly popular in the 1960's and '70's. When you had enough stamps (valued at 0.033 of one penny!) stuck into your special collector's book, you could claim 'free gifts' from the Green Shield catalogue. Though its popularity had long since declined, the scheme wasn't officially withdrawn until 1991. Prog Rock fans, incidentally, will know of the punning reference to Green Shield Stamps in the opening track of the brilliant Selling England by the Pound. The catalogue retailer Argos grew out of the Green Shield Stamp Company.
3 That shop is today located in Railway Street.