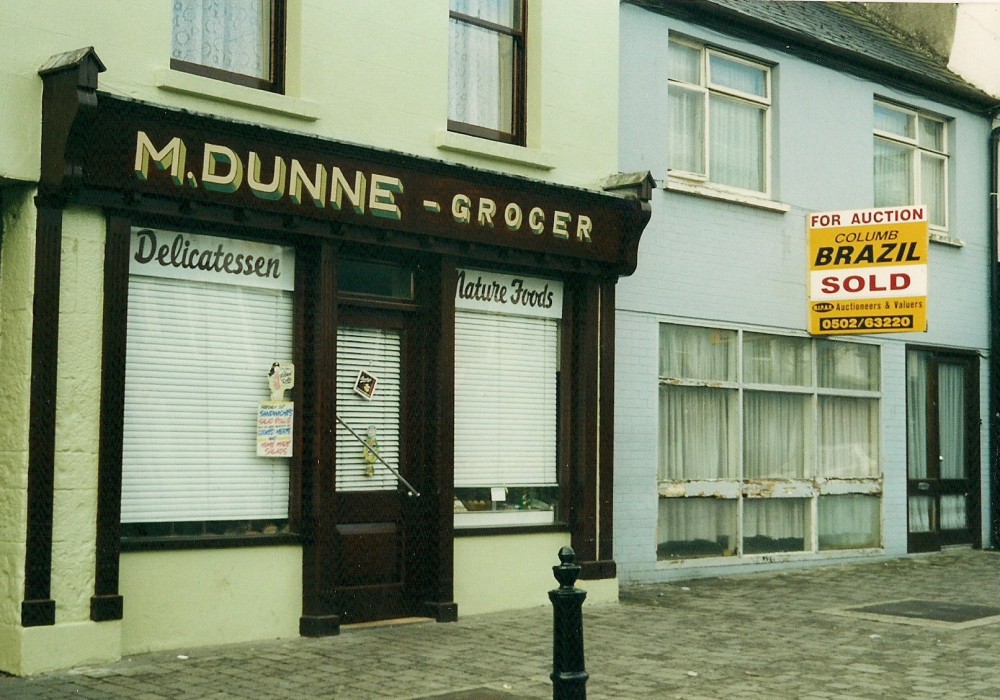 93, 92 MAIN STREET, SOUTH SIDE
This, and the next eight houses that stood here in 1850 were leased from Viscount de Vesci1. [There was one exception to this which we'll come to on the next page]. The lessee here was William Dunne, succeeded by Charles Dunne and, in the early 1870's, Andrew Phelan. The latter (listed as Farmer) and his wife Margaret were still living here in 1901, as were their sons Joseph (Victualler) and Alphonsus2 (Farmer) plus a boarder Daniel Foley (Signalman) and Michael Brennan, a farm servant. Ten years later, the widowed Margaret and son Alphonsus were still there, joined by Jerry Broderick, a teenage servant and scholar. The census also records a John O'Neill (a butcher) and his elderly female servant living here in 1911. His much larger portion of the building is described as a shop and the Phelans' (three rooms) as a private dwelling.
In the 1920's, Ladies and Gents hairdresser, William Breen, set up business here - If your razor be not keen, have it set by William Breen - followed in the early 1930's by Mary Anne (née Walsh) and Michael Dunne's grocery shop. [He also had a forge in Bull Lane, but more about that later]. They were the parents of the late politician and businessman Joe (See note on No. 54 Main Street), John (eventual Parish Priest of Our Lady Queen of Peace Church, Bournemouth) and Marie who ran the grocery and delicatessen here. Some time after her death, the following notice appeared in the window:
I am sorry that these premises will be closing for the time being - as of this Thursday 8th January 2009. They will not be available for disposal or any letting purposes. I take the opportunity to sincerely thank everybody for their custom over a long number of years.
Yours sincerely
Father John Dunne
All three Dunne siblings are now sadly deceased, but the business, rebranded as Chocolate Brown coffee shop, has been reopened by the next generation, Rhona Cloonan née Dunne, daughter of Joe. She lives in Tullamore where her husband Brian runs a hardware store and dispenses DIY advice on Midlands Radio 3.
~
In 1850, the lessee of the next house was Arthur Molloy (a woollen draper from at least 1824), succeeded by Patrick Brennan (possibly the cooper who, in the 1880's, was living on the New Road?) and Anne Dowd, also a draper. By the time of the 1901 census, James Hamilton had been living here for nearly twenty years. A butcher and cattle dealer, originally from King's County (Offaly today), he was a widower with five young daughters, all described as scholars. In 1911, three of them, Mary Elizabeth, Josephine and Teresa, were a telegraphist, grocery assistant, and scholar respectively. Bridget and Agnes were both absent on Census Night. Josephine, a turf accountant, was the last of the family to live here. After her death in 1964, the building was eventually reconstructed to become the home of Mrs Mary 'May' Egan, widow of entrepreneur John Egan. (See entry for Nos 24 & 25, Main Street). Following her death in 1999, the house was transformed into a variety of trendy clothes shops, Mexx, Design Edge, and Freesoul (May 2014). At the very end of 2016 the premises became Beauty Paradise. Hair & Cosmetics. In 2020 the premises became part of Hughes' chemist shop next door.
-----------------------------------------------
1 Long synonymous with Abbeyleix (the town they actually planned and built), the Vesey family also owned property in Maryborough since the late seventeeth century. The title Viscount de Vesci was created for Thomas Vesey in 1776 and a century later, the third Viscount owned more than 15,000 acres in the Queen's County alone. In 1995, Thomas Eustace Vesey, 7th Viscount de Vesci, sold Abbeyleix house (built 1773-4) and most of the demesne to international banker and businessman, Sir David Davies, who carried out major restoration work. The de Vesci family archive is now housed in the National Library of Ireland and, one afternoon a year, to raise funds for local charities, the Abbeyleix gardens are opened to the public.
2 Presumably named after St Alphonsus, patron saint of those suffering with arthritis, and not the crater on the moon....