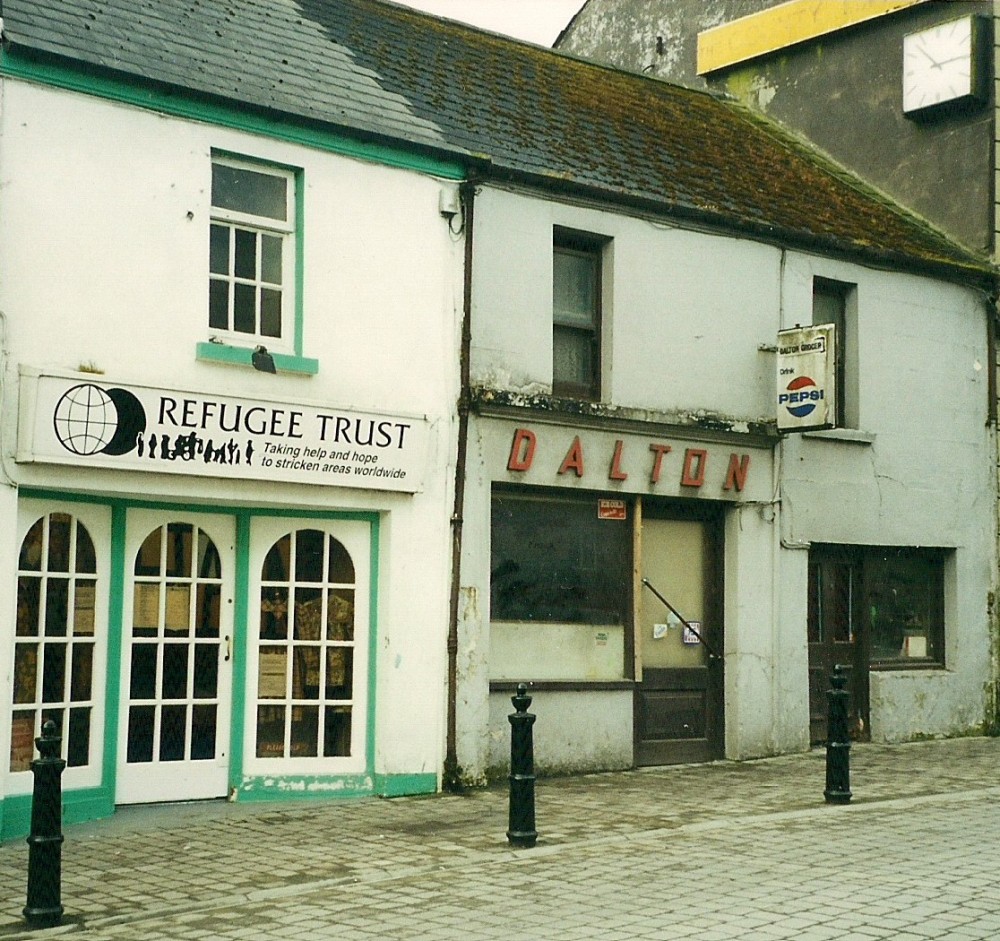 105, 104, 103 MAIN STREET, SOUTH SIDE
In the 1850's, the house that stood on the site of the white premises above was occupied by Mary Fleming. The immediate lessor was the aforementioned Michael Delany. In later years, a Catherine Dowling and a John McAuliffe lived here and, by the turn of the century, John Reilly, his wife Ellen and their four young daughters. In 1908, Elizabeth Fitzgerald from County Carlow opened a small shop which stood here for many years and sold everything from crubeens to cornflakes. I have spoken to people whose faces filled with nostalgia when they recalled her paper cones full of jumble balls, the clay pipes which they used to blow bubbles. Someone else remembered that "the place was always full of cats".
When it comes to her successors here, my memory is certainly less acute, but I have been told that, in the late 1950's Anthony Gallagher had a hardware shop1 (Watch our window display. Brushes. Jugs. Teapots. Glassware, Bushman Saws) and Wallaces (of the Mountrath Bakery family) had a fish shop here (one of my informants recalled with relish their mussels and oysters), but I have no memory of either shop. But I do remember Gilectric (1976: We specialise in colour televisions, stereos, tape-recorders and transistors). This was a branch of Tom Gilson's shop in Tullamore (where, on December 6, 1965, I paid £14.14.00 - fourteen pounds and fourteen shillings - for my first electric guitar). Next came came a litany of retailers: Mick Gleeson (Your Local Paintologist and Wallpaperologist), A+A, a Polish Delikatesy, and Jolita, a lingerie shop. The latter was short-lived and the premises remained vacant until 2015 when Cally's Barbers opened here.
~
Michael Delany (above) was also the lessor of the next building and his lessee was Catherine Duff. I have been unable to discover when - late 19th century? - the building was divided into two portions. In 1901, the thatched portion on the left was a greengrocer's owned by the widowed Mary Holohan. She had two sons, John, a labourer, and Joseph, a baker. Her daughter, Katie, was listed as a housekeeper. On Census Night ten years later, only John and Katie, now described as a fruiterer, were in the house. In later years, Julia and Nelly O'Reilly had a shop here and they, in turn, were replaced in the 1960's by Miss Annie Dalton
In 1901, the portion on the right- also thatched - was occupied by a Denis Fennell. Neither Eddie Boylan or the Cancellation Books mention his name at all, but he appears on the Census form as a hairdresser, living here with his wife Mary and young son Denis. All three were born in Cork City. According to the Cancellation Books, Andrew Carter, a saddler with a small forge - presumably at the rear of the building? - was here in 1912. The premises were eventually acquired by Annie Dalton above. She was succeeded by relatives of hers, John and Fintan Phelan from Mountrath.
Both portions were subsequently 'united' and, today, Robert Redmond's Photographic studio stands here (from at least 2004).
-----------------------------------------------
1 Someone else maintained the Gallagher's was actually next door. Clarification gratefully received.