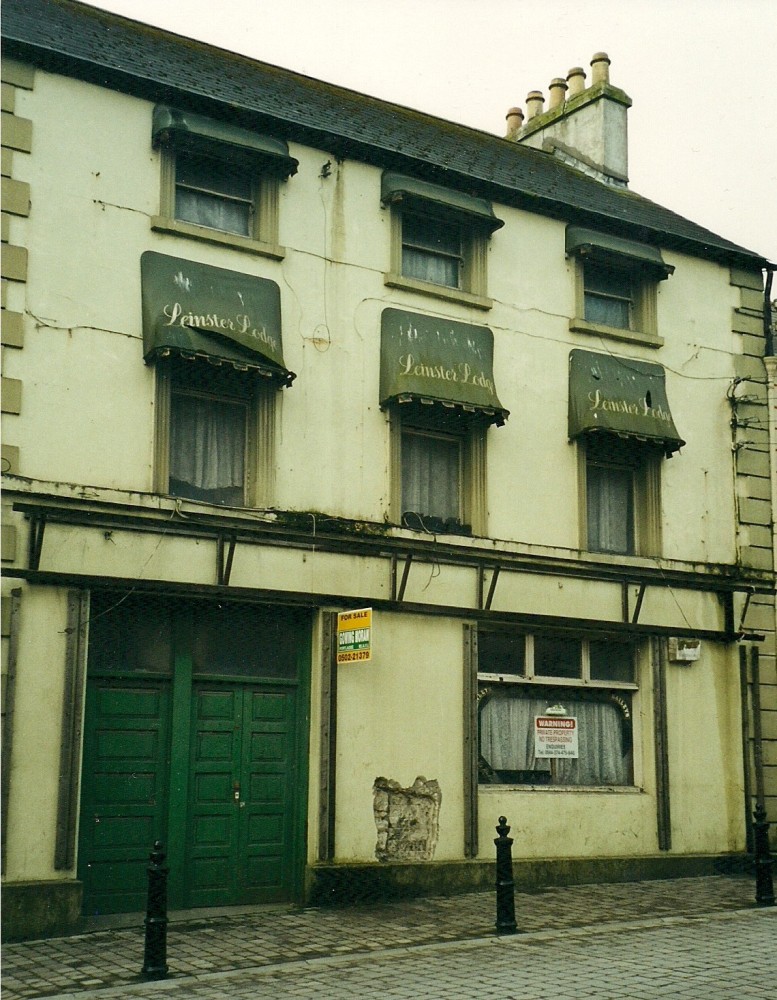 102 MAIN STREET, SOUTH SIDE
Dating from the early nineteenth century, this once-fine building has been an eyesore for too many years now....
It, and the next two properties, were once leased from the Onions family1 who we've already met in this project. In 1850, the premises was known as Leinster House and belonged to Patrick Quigly (sic). In 1870, the license was transferred to Mr Patrick Doran who, according to the Leinster Express of July 9, was "a very respectable young man whose friends had come to set him up in trade". In the 1890's, the business became The Leinster Hotel which A Guide to Christmas Shopping, published by the same paper in 1901, praised thus: 'During the few years in which it has been open, it has developed an extensive connection.... is fitted with with every modern comfort, and caters well for its visitors.' Elizabeth, Patrick Doran's daughter and manageress must have been well pleased.
As well as being a hotelier and publican, Mr Doran was a member of the Irish Republican Brotherhood, a Justice of the Peace, and member of the Town Commission. In 1881 he spent three months in Naas Gaol for suspected Land League activities. On his release that August, bands turned out to greet him at the railway station and he was borne through the town on a carriage drawn by his supporters. The Leinster Express report reads like a parody of Christ's entry into Jerusalem: 'Some convenient plantation was availed of.... whole trees were brought into use and placed in parallel lines opposite Mr Doran's door through which, as an avenue, he entered his house'.
Patrick Doran was succeeded by his son and namesake and, after the latter's untimely death in 1919, the hotel was acquired by the Butler family. In August 1939, Mrs A. J. E. Butler put the hotel up for public auction and the buyers were Mr and Mrs Charles Delaney. Born in Mounteagle House, Ballyroan in 1903, he was originally a farmer. His wife was the daughter of solicitor, William X. White who we've already met in connection with Nos. 24 and 25, Main Street. Like Patrick Doran, Mr Delaney was active in political life - member of the Town Commission, County Council, and numerous committees - but was an unsuccessful Fine Gael candidate in the General Election of 1943. He died in 1957.
In 1961, Fionan and Kathleen Bracken bought the hotel from Mrs Delaney and throughout the 1960's-70's, The County Hotel was the venue of the weekly and extremely popular Rugby Club Dance. In 1976 it also boasted an off-licence and gift shop where you'd find a large and varied selection of jewelry and, surprisingly, Grandfather clocks available on order.
The Brackens left The County in August 1982. It was taken over by Danny Dempsey and advertised as the No. 1 Spot for Entertainment in the Midlands, hosting such attractions as Eddie's Disco Roadshow (Girls free up to 11.30!) and Direct from London! Miss Wet T-Shirt! And you could prepare for a great night out by having your hair done by Flair Hairdressing on the second floor. Finally, on the subject of coiffures, I'll just mention that during construction work at the rear of the hotel, workers found a disc bearing the legend Webb. Wigmaker.2
This building has been vacant and something of an eyesore on the Main Street for many years now.
-----------------------------------------------
1 Where the People's Park and the Downs housing estate are today was always known as Onions' Field.
2 Information courtesy of Tommy Murphy, Ballycarnan.