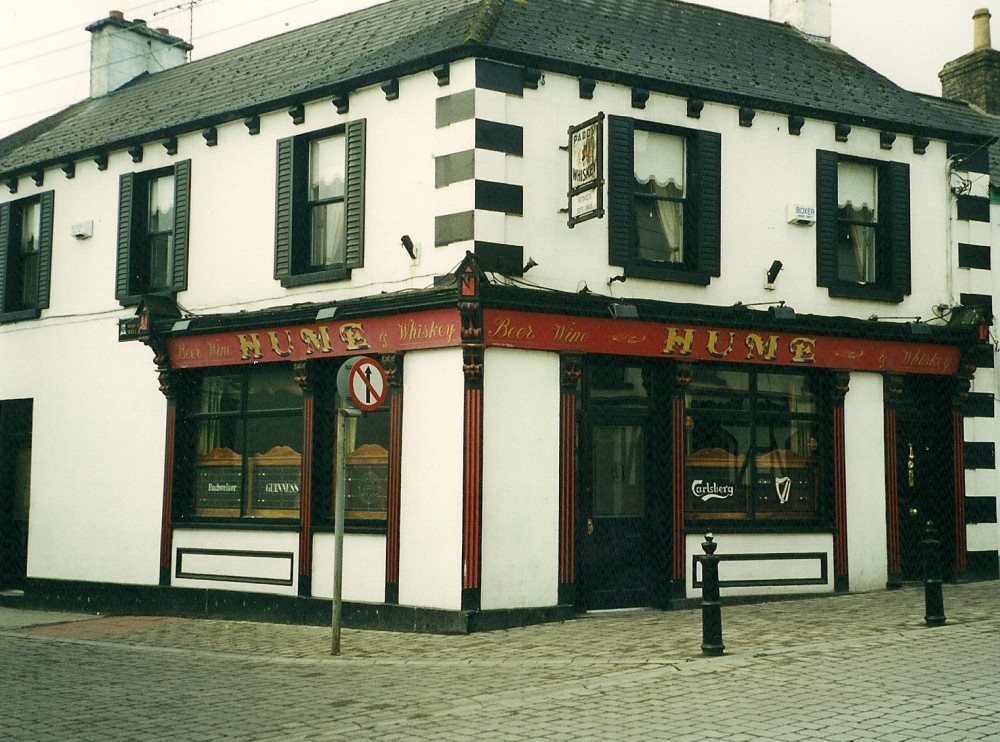 106 MAIN STREET, SOUTH SIDE
On January 13, 2010, the Leinster Express reported that 'Portlaoise's oldest pub' had shut its doors after nearly 150 years of continuous business. The premises were certainly acquired by Robert Hume, a native of Cloncrane, near Edenderry, Co. Offaly in 18631, but the exact date of it becoming a public house remains unclear.
On Census Night, 1901, publican and grocer Mrs Winifred Hume (widow of Robert) was present here, as were her daughter Marion, and 83-year-old sister-in-law, Catherine Morrin. The latter's occupation, incidentally, is given as 'Income from dividends'. Also on the premises were William Morris, a shop assistant, Margaret Lodge, a domestic servant, and Thomas Verling, a fourteen-year-old yardboy from County Kilkenny. On the night of the census ten years later, there were no members of the Hume family present - most likely they were in the family residence in Ballinclea, Timahoe - and 'manning the fort' was Christopher Drennan, rather grandly described as Foreman Grocer's Assistant. Also present were Edward Deegan, a mere grocer's asistant, and Kildarewoman Jane Burke, a general domestic servant.
Hume's Corner is another of the town's great landmarks; in the 1960's especially, a popular meeting place before you took to the floor in nearby Danceland or the Macra. During the showband era, many famous stars dropped in: one well-known singer used to fortify himself with a bottle of whiskey, another took a wrong turn and ended up on the staircase of the private residence, but it was a group of mini-skirted dolly birds perched on bar-stools, that really caused a flutter among the male clientele.
Tradition has it that, centuries before such attractions, people also congregated here for a more edifying reason; there was a Mass House on the site2. Be that as it may, the Architectural Survey of the town has many positive things to say about today's building: "a well-proportioned mid-nineteenth century former townhouse... its architectural interest is enhanced by the quality of the traditional style shopfront... a key feature of the architectural character of the historic core of Portlaoise."
Robert Hume's great-grandson Noel3 and his wife Rosaleen were the last of the family to run the business. The Hume name is still above the door, but the premises now have new owners who advertise the businesss as a bar and guesthouse. A new lounge and party venue, The Well Inn - available for birthdays, engagements, funerals and gigs - opened in 2014 and, like many other pubs in the town, it features live music at weekends: in May, for instance, you could drink your pint and tap your foot to Hill Billy Porter, Cheeky Dicks and Ollie, Ollie, Ollie.
-----------------------------------------------
1 According to Eddie Boylan, these premises, in the 1850's, were occupied by a Mathew Farrell who was leasing from Lawrence Brady. But it seems that, for once, Homer has nodded: Griffith's Valuation shows that what Farrell held was an office or outbuilding, and it was actually Brady who was leasing the above premises from a Michael Delany. It was the latter - a carpenter - from whom Robert Hume acquired the premises.
2 Seán O'Dooley heard this tradition "from the greatest collector of folklore in this town": it was referred to on the updated page of his A History of Laois, the Leinster Express, February 16, 1974.
3 In the late 1920's, an uncle of Noel's, John Francis 'Jack' Hume emigrated to America where he joined the Navy. In August 1943, at Guadalcanal, a tropical island in the South-Western Pacific, he died when his ship, USS John Penn, was sunk by Japanese torpedo planes. He was awarded a posthumous Purple Heart.