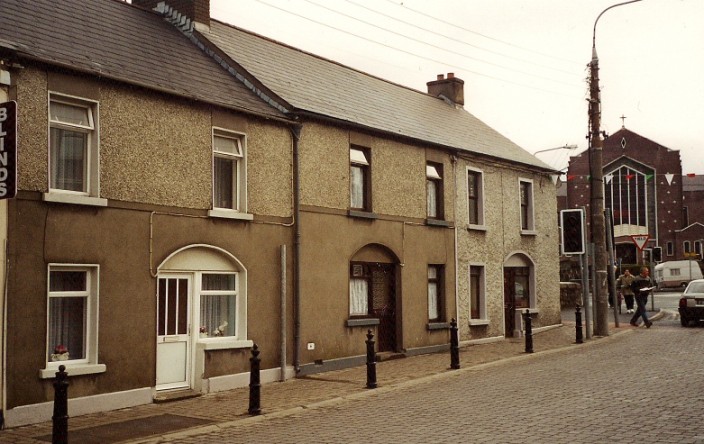 3, 2, 1, BRIDGE STREET, NORTH SIDE
No. 3. Again, almost a rollcall - in chronological order - of 19th century residents: John Malone, Catherine Dunne, Mary Butler, George Given, Robert Comber.
Elizabeth Scallon, her six young children and a visitor, Elizabeth Hynes, were here on Census Night 1901. A decade later, Mary Murphy née Fleming (widow of John who had worked in Odlum's mill and died in 1910) was living here. [The family previously lived on the Ridge Road and are listed there in the 1901 census]. Also present on Census Night were Mary's five adult children: Joseph, a school attendance officer; Thomas, a grocery clerk (both of whom, as we've seen, later ran the public house in No. 9); William, carpenter, and subsequently, building contractor, responsible for, among others, houses in Griffith Avenue, Dublin; Margaret (married name, O'Mahony1); Jane, a shop assistant, and Elizabeth, a teenage scholar. In later years, the family also had an ecclesiastical connection: Joseph was a sacristan in SS Peter & Paul's, and his nephew John fulfilled the same function in Carlow Cathedral. The Murphys were succeeded here by Mary Jane Delaney and eventually, in the early 1950's, by George and Mary Dalton.
~
No. 2. Patrick Downey, William Crozier, and Patrick Walsh all preceded James O'Neill in this house. The latter appears in the 1901 Census with his wife Mary and their eight children. Five of them are still scholars, two of their brothers are following in their father's footsteps, and a third is a private in the 5th Royal Irish Lancers. It was to this regiment, incidentally, that the last British soldier to die in World War I belonged. Ten years later, the O'Neills were still living here. Three of their adult children, Mary, Joseph, James (shoemaker turned town postman) and his wife an infant child were also in the house on Census Night. Later on, this was the home of Peter and Joe Farrell; the former a postman, and the latter we've already met in the Electric Cinema. They were succeeded by Miss Annie Dalton and it is still a private residence today.
~
"He was born in America, reared in America, fought in America and died in America, but his parents never left Ireland. Who is he?
No. 1. According to Tommy Murphy, the Lalor family lived originally in a thatched cottage near 'the fish pond' 2 just across the river from the house above. The McAuliffe, Conroy and O'Brien families lived in three adjacent cottages and all four were destroyed by fire on a Christmas morning sometime prior to 1880. Mercifully, no lives were lost. From at least 1880, well into living memory, three generations of the Lalor family - known locally as 'Lalors of the Bridge' - have lived in the last house in the picture above. Those three generations were, in fact, present in the house on Census Night, 1901: the widowed Mrs Catherine Lalor - her husband, James, had died in 1897 - her son James (carpenter and member of the Town Commission), his wife Mary, and their young children, James and Bridget. Also in the house was a boarder William Kenna, a stonemason from County Tipperary.
By 1911, four more sons were born to James and Mary. One of them, baby Patrick and his yet-unborn brother, Louis (Louie), will grow up to be master wheelwrights and trap-makers. Many of my informants recalled Louie - who died in 1988 - as a bit of a character, noted for his parodies of local people and places. According to an affectionate portrait by Jerry Meredith (Laois Association Yearbook 1989), Louie's other great interest was breeding and training fighting cocks. And it is here that we find the answer to that riddle above: when an aunt of mine was returning to America, Louie gave her an egg to bring to a man who raised fighting cocks in his Connecticut yard. This emigrant, my granduncle, longed for a bird from 'the home place', and was, as the old saying goes, made up when the shells cracked open. The story goes, incidentally, that, in his youth, he stole a sack of corn - at a threshing dance on a farm near his home in Derrygarron - which he sold to the Malthouse in Maryborough, and thus bought his ticket to America.
There is also a 'return' version of this story: My granduncle once sent an egg back to Ireland via the same niece's suitcase. It was hatched in Lalor's, and that is how the first all-white fighting cocks came into Portlaoise! And it gets even more outlandish: the same man ordered a gamecock from a Tom Coleman of Straboe. It duly crossed the Atlantic snug as a bug in a rug in my aunt's multi-purpose suitcase! Cock and bull stories perhaps, but part of our family lore for years.
~
A lane, running behind the Bridge Street (North Side) houses, still exists today, and it has been suggested that it was once the town's Main Street. I have found no evidence to support this. Into the 1950's and 60's, incidentally, parts of the lane - and other locations around the town - were the venue for Pitch and Toss 'schools'3.
-----------------------------------------------
1 One of her sons, John 'Jack' O'Mahony was ordained a priest in 1938 and joined the Royal Army Chaplains Department at the outbreak of World War II. During the Fall of Singapore in 1942, he was captured by the Japanese and interned for nearly three years in a prison camp where the starving inmates were reduced to eating frogs. The story goes that some of his comrades ate so many that they died from toxicity, but he refrained and thus managed to survive.... After the war, Fr. O'Mahony served with the 7th Armoured Division in Germany and at the War Office from 1952 to 1956. He was Senior Catholic Chaplain in the British Army of the Rhine from 1956-57 and later in the Middle East. In 1961 he was appointed Principal Chaplain in the British Army.
2 This artificial pond, on what was originally Jacobs' property, was used to supply water - driven underneath the road by a water-wheel - to a fountain in a garden opposite their Portleix House. I have spoken to people who recalled sliding (our version of skating) on the pond during winters in the 1950's. Someone else remembered catching lizards there. Maps from 1839 and 1889, incidentally, show fish ponds in what is today Triogue River Park, and near the old Infirmary (Grattan Business Centre) respectively.
3 Those of you unfamiliar with this once-popular form of gambling will find all you need to know at http://athyeyeonthepast.blogspot.ie/1999/07/pitch-and-toss-school.html