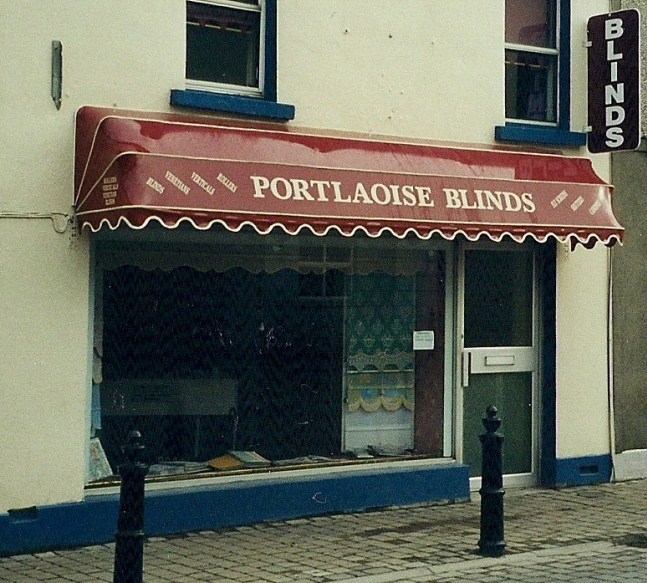 4, BRIDGE STREET, NORTH SIDE
There is some ambiguity in the source details for this and the first house on the next page. Having compared different sources, I am presenting what is, to the best of my knowledge, the correct information, but would welcome any clarification.
Like the previous building, this one saw a fairly regular turnover of occupiers in the 19th century: Patrick Scully, Michael Sugrue, ? Callanan, Alexander McDonald, Daniel Lalor and Denis Dowling. On Census Night 1901, Mary Dowling, native of Cork and presumably wife of Denis, was living here with her six children, all scholars. Prior to this, Mrs Dowling had lived in Limerick and Kent.
The 1911 census lists the Fennelly family (who had previously lived in Kilminchy): Christopher - an agricultural labourer - his wife Fanny, daughters Julia and Brigid, and son James, a boot and shoe maker. Two other sons, William and Michael were not in the house that night. All three Fennelly brothers fought in World War I: James and William1 survived their ordeal but, on August 28, 1917, Michael was killed at Passchendaele2. Before leaving Maryborough, the last thing the three brothers did together was have a drink in Shelly's pub opposite the courthouse.
In happier times, James - father of Michael who worked in the Irish Worsted Mills for years, and grandfather of Seán, retired psychiatric nurse and proud 'townie' - was a cobbler in Bull Lane. William travelled the world with the Merchant Navy and subsequently worked on the Grand Canal barges plying between Tullamore and Dublin. Their cargoes included malt from local malsters for Guinness and, in the other direction, barrels of the black stuff from St James's Gate. The 1950's saw the end of commercial traffic on the canal.
The Fennellys were succeeded by tailor Owen Deegan and his family. One of the older people I spoke to remembered being measured for his Confirmation suit by Mr Deegan (who died, aged 80, in 1969). His business was succeeded - until 1985 - by the family's grocery and confectionery shop. Since then there has been a variety of shops here: the above, a Halal grocery (reflecting the town's growing multicultural population) and, since 2012, what is surely a sign of the recessionary times; an enterprise offering us easy money - currently 80 cent per kilo - for our used clothing, all of which, according to their website, is exported to less fortunate countries, and all of the money returned back to Ireland.
-----------------------------------------------
1 William fought at Gallipoli, the horrors of which have been documented in countless books and other art forms. Peter Weir's film, Gallipoli (1981) is especially memorable but, most poignant of all, I think, is Eric Bogle's version of his own song The Band Played Waltzing Matilda.
2 The name of Private Michael Fennelly, 2nd Leinster Regiment, is inscribed on the Menin Gate Memorial to the Missing in Ypres, Belgium.