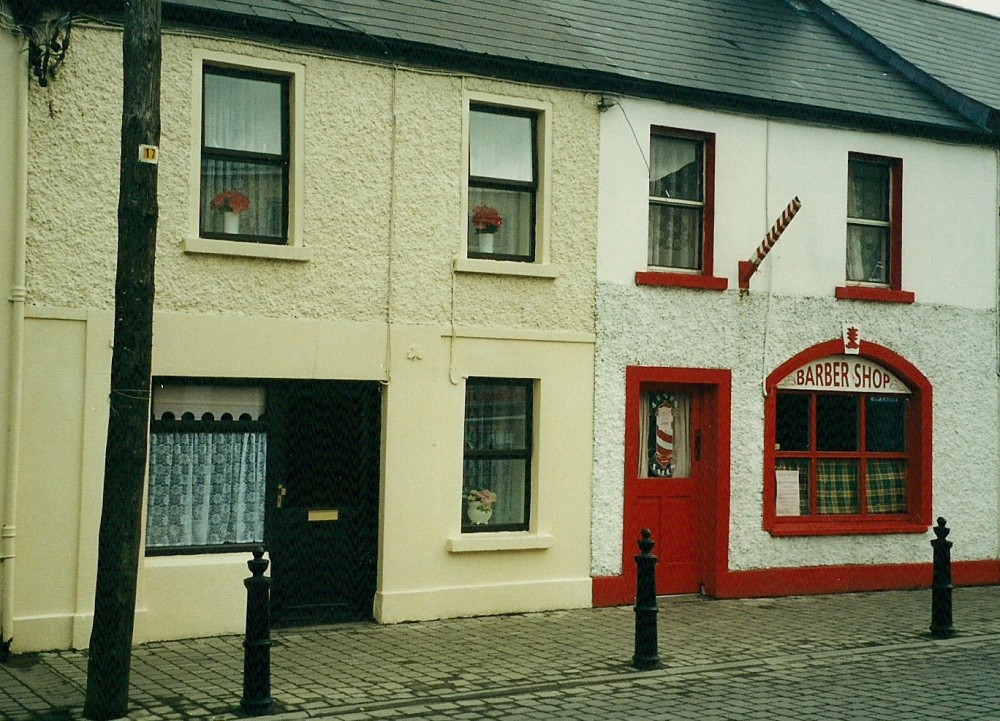 6, 5, BRIDGE STREET, NORTH SIDE
Built circa 1870, the house on your left, with its "subtle Celtic facade decoration" (i.e., shamrocks) is, according to the Architectural Survey, "an integral part of the 19th century streetscape and makes a positive contribution to this intact stretch of vernacular buildings".
Patrick Murphy, a shoemaker, his wife Catherine, and their young nephew - who shared his uncle's name, and will eventually follow his trade - are listed as living here in both the 1901 and 1911 censuses. A lifetime later, well into living memory, young Patrick's son (another Patrick, universally known as 'Pad') was a porter in the Munster and Leinster bank just up the street. He had, apparently, a deep interest in church buildings, and often engaged friends and acquaintances with accounts of those he had visited. He is also remembered as being "a great man for funerals". Pad's niece, Kathleen (daughter of his brother Jack), and her husband, the late Jimmy Ryan, were managers of the cinema in Bull Lane until it closed down in November 2000. More about that cinema later. The above house is a private residence today.
~
Throughout the second half of the nineteenth century, at least five different families lived in the next building: Henry Haslam? (the Cancellation Book entry is unclear), D. Maher, Joseph Todd, John Bannon and Daniel Carroll. In 1901, the latter, an asylum cook, lived here with his wife Bridget, their three very young children, and three boarders, (two stonemasons and a coach builder). A decade later, there was another son in the family and, depending on which of the census pages is correct, the number of boarders had increased to either five or seven. To be on the safe side, here are the seven: three carpenters, two bricklayers and a pair of dressmakers.
In the 1940's and '50's, the McBey family lived here. One of my informants mentioned that William McBey worked for "Pat and Tom". When he saw my reaction, he smiled and said "the P & T". Now I knew what he meant: the Department of Posts and Telegraphs, until 1984, the precursor of An Post and Telecom Éireann (Eircom since 1999). Pat & Tom? That was a new one on me. In the 1960's, these premises were acquired by the Deegan family. (See next entry).
From 1972-86, the late Mrs Olive Deegan, sister of legendary Tipperary hurler, Jimmy Doyle, and wife of Owen Jnr had a hairdressing salon here. Owen, affectionately known as Ownie, was one of our most popular townies and his death in June 2014 caused great sadness amongst all who knew him. It is Owen and Olive's son, Eugene, who runs the barber shop today. For many years, Eugene and his brother Gerry have been part of the local music scene, playing in such bands as Pagan Babies, Padded Cell, Rapunzel's Wig - what a brilliant name (even if they never had a barber in their midst!) - and Lounge Act. You can see from the bands' names that their musical mission was never Keep It Country....