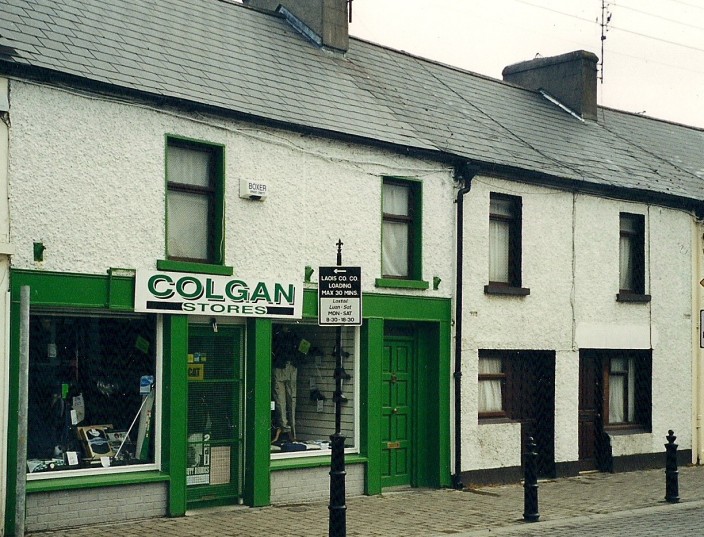 8, 7, BRIDGE STREET, NORTH SIDE
In the 1890's, John Brock succeeded John Heffernan and Thomas Phillips (a clerk in Odlum's mill) in the house on your left. In 1901, John, listed in the census as a retired servant, was living here with his wife Eliza, a boarding house keeper almost thirty years his junior. On Census Night she had four boarders; carpenter, signalman, mason, and law clerk. Also present on the night were her two young children, Joseph and Edward. A decade later the house was occupied - since 1905 - by Joseph (a civil engineer) and Margaret Bannan, and their young family. They had one teenage domestic servant. Joseph's first cousin, Daniel Harris, a farmer from Clonad was also present on Census Night.
The Bannans were succeeded by Jeremiah Crawley and then by the Keating family who, in 1911, had been living in a house just across the street. Originally from Clonduff, Rosenallis, James Keating was an attendant in Maryborough District Asylum and his wife Elizabeth, née Hosey, was a midwife. In 1925, the misfortunate man was assaulted by an inmate wielding a candleabra and died from his injuries.
In later years, this was the home of James's son Eamon, his wife Rose and their family of nine. Eamon Keating was an industrial painting contractor specialising in power stations, and well-known as a karate instructor and President of the local Boxing Club. The Keating children were the envy of others because they had their own permanent swimming pool (built 1950), probably the only one of its kind in the town at that time.
In 1971, incidentally, when anyone who hadn't seen 2001: A Space Odyssey would hardly know a keyboard from a toolbox, one of the Keating sons, James, was studying computers in London. He eventually became a Programmer/Systems Analyst and spent most of his working life in the IT area. The Keatings left Portlaoise in the late 1980's and the third generation and their families are now all living in different parts of Ireland.
Finally, a big hand paw please for the only sheepdog to appear in this project: in the late 1960's 'Bob' Keating (a native of Edenderry) was a familiar sight and something of a personality in this part of town: I was surprised by how many people still remembered him out shopping with Mrs Keating, trotting along with a newspaper or a bag of something in his mouth.
In 2006, Colgan Stores were succeeded by Talking Heads Hair Salon, and, after that, Down Town Frames.
~
Until the 1870's, the next house was occupied by Timothy Higgins and, after him, Daniel Brady who is possibly - but, in my opinion, hardly - the tinsmith of that name listed in directories of the 1870's, '80's and '90's. In 1901, his widow Catherine (Kate) was living here with her three sons, Patrick, Daniel and John, all jarvey car drivers, and three daughters, Esther, Elizabeth and Anne, all dressmakers. By 1911, Patrick and Daniel were car & cab owners - they also had a hearse - while a servant, Hugh Dunne, is listed as a car driver. Daughter Anne was a maternity nurse who, in the 1940's, had what one elderly person described to me as "a spotless little sweet shop".
The old coach road from Maryborough to the South, via Ballyroan and Ballinakill, once ran along what we know today as the Downs Lane off the Stradbally Road. The landscape has, of course, changed out of all recognition but, until the 1960's, a cross of stones marked the spot on the road through the Downs1 where, according to tradition, a local man was killed in a fall from his vehicle. One person I spoke to named the deceased as Brady, a coachman. I wonder was he an ancestor of the Bradys in this house...?
In the early 1950's, the Conroy family moved in here. In the 1980's Noreen Phelan had a bookies office here, and the building was subsequently acquired by Electrical Contractor, Willie Ramsbottom.
-----------------------------------------------
1 As well as serving as a firing range for the FCA - An Fórsa Cosanta Áitiúil (The Local Defence Force), superseded in 2005 by the Army Reserve - the Downs used to be a favourite haunt of courting couples: Will we go up the Downs? an invitation usually met with a knowing smile or a slap in the face. And the area was also, the story goes, well-known to a particular priest. Armed with a walking stick, his mission was to save us from what the old catechism called impurity and immodesty in actions, words, and looks. In the immortal words of one of my informants, he "used to bate us out of the bushes". In the 1950's too, The Downs were also the venue for a less clandestine activity; motorbike scrambling. On more than one occasion, Stanley Woods, the Dublin-born winner of numerous Grand Prix and Isle of Man TT races, churned up the sandpits here.