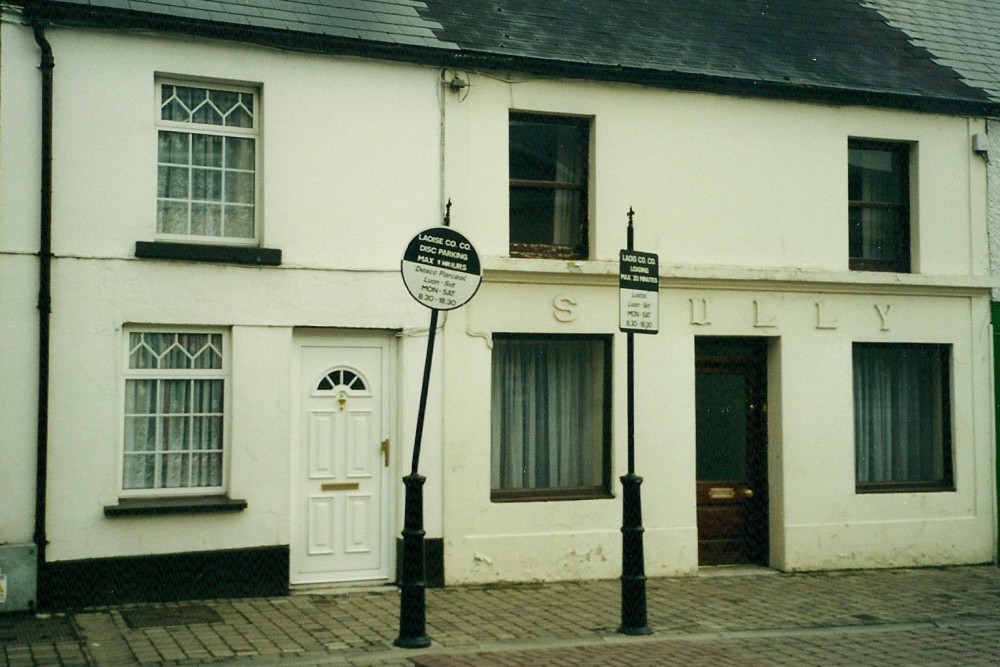 10, 9, BRIDGE STREET, NORTH SIDE
No. 10. In 1850, the ten houses from here down to the river were owned by John Jacob and, according to Griffith's Valuation, they were all, with one exception (see below), vacant at the time. Had they just been built and awaiting occupancy? Dr John Jacob built (1810) and lived in what is today the old parochial house on the corner of the Dublin/Ridge roads. Founder of the County Infirmary opposite the prison - Grattan Business Centre today - he was a member of one of the town's most illustrious families. Their many achievements lie outside the scope of this project, but I would particularly recommend an excellent series of articles by local historian Teddy Fennelly1.
Between 1850 and 1900, the house had seven different occupiers: William Lyons, William Crowe? (the Cancellation Book entry is unclear), James Butler, Michael Flanagan, Joseph Sheeran, Denis Dowling and John Fox and their families. In 1901, the latter household comprised John, a house painter originally from Tipperary town, his wife Margaret, and their six young children. John Fox and his sons were renowned for their painting skills- everything from small scale decorative signage, through private houses to massive industrial work (e.g., the silver silos at Odlum's Mill). By 1911, the Fox family had moved across the street. Their new home and four others were subsequently demolished, but more on that later.
Next to live here were Edward Doheny, a carpenter from Kilkenny, his wife Catherine and their three young daughters. The entry for an elderly lodger, Bridget Delaney is crossed out on the manuscript census form, but intact on the online version. The Cancellation Books refer to a John Cullen living here in 1909, and Eddie Boylan mentions the name Monahan, but I could find no further information on either. (He may be confusing the latter with a Christopher Monaghan who, in 1911, was a boarder in No. 5.) The census forms, incidentally, describe the premises as a shop in 1901 and a public house a decade later. Both designations, especially the latter, seem unlikely to me. Anyway, the house was acquired by James Coss sometime before 1915 and it remains a private residence today.
~
No. 9. As far as I could discover, the first occupier of the original house on this site was a Robert Lyons. He was succeeded by Patrick Whelan2 who, from at least 1872, had a public house here. By 1901, he and his wife Bridget had three sons and two daughters, Patrick, John, Peter, Kate and Brigid. On Census Night 1911, Patrick, now a widower, Peter, Catherine (Kate), and a young granddaughter Bridget were all in the house.
The Whelans were succeeded by the Murphys: Thomas is listed here in 1917 and his brother Joseph in the 1930's. [For more on this Murphy family see also the entry for No. 3 further down the street]. In 1921, Murphy's pub was visited by a gang of drunken Black and Tans. Thomas's wife, Margaret3, refused to serve them and violence was averted only when an officer ordered the men to leave. They did so reluctantly, but later that night, an incendiary device was thrown into the premises. Mercifully, there were no casualties.
One of Thomas and Margaret Murphy's sons, Thomas (Tommy) joined the RAF and saw active service as a Rear Gunner on a Vickers 'Wellington' bomber during World War II. His flying log for October 1943, for instance, reads like something from the war comics I read as a young lad: Aerodrome Ferbara. 27 flares. 8 X 500lbs. 3 X 500 lbs. 2 runs. Direct hit on aircraft hangars. 2 aircraft shot down. A Rear, or Tail Gunner was generally acknowledged to be one of the most dangerous jobs in the war, but, happily, Tommy Murphy, with nothing more serious than bullet marks on his fingers, returned to Portlaoise where he worked with the Esso oil company and lived out his life on the Borris Road. He also earned a considerable reputation as a local historian, an interest continued by his son, also Tommy, today.
The name McBey is also associated with this premises. As far as I could ascertain, one of the Murphy girls married a William McBey who is listed in the Cancellation Books as living a few doors down the street. Murphy's public house became Peter Scully's in the 1940's and is a private residence today.
-----------------------------------------------
1 In Volumes 3-5 of the Laois Heritage Society Journal. Available in the local library or from Mary Lalor, Hon. Sec., Laois Heritage Society, The Heath, Portlaoise.
2 The story goes that, somewhere along the line, one of the Whelan men was known as 'Horsey': he was, apparently, offering an apple to the animal when it bit off the tip of his nose. Some of these old stories have more variants than a Child ballad; another features a baby left in a pram beside an ass-and-cart in Bridge street. The ass bit off the baby's nose and, for the rest of its life it - the baby! - was known as 'Nosey'. Is there any truth in either of these stories? God only knows.
3 Margaret Murphy née Cavanagh was from the well-known foundry and engineering family still based in Birr. [The foundry was taken over by a French company in 2000, but it's no exaggeration to say that hardly a day goes by but we walk on products that bear the Cavanagh name].