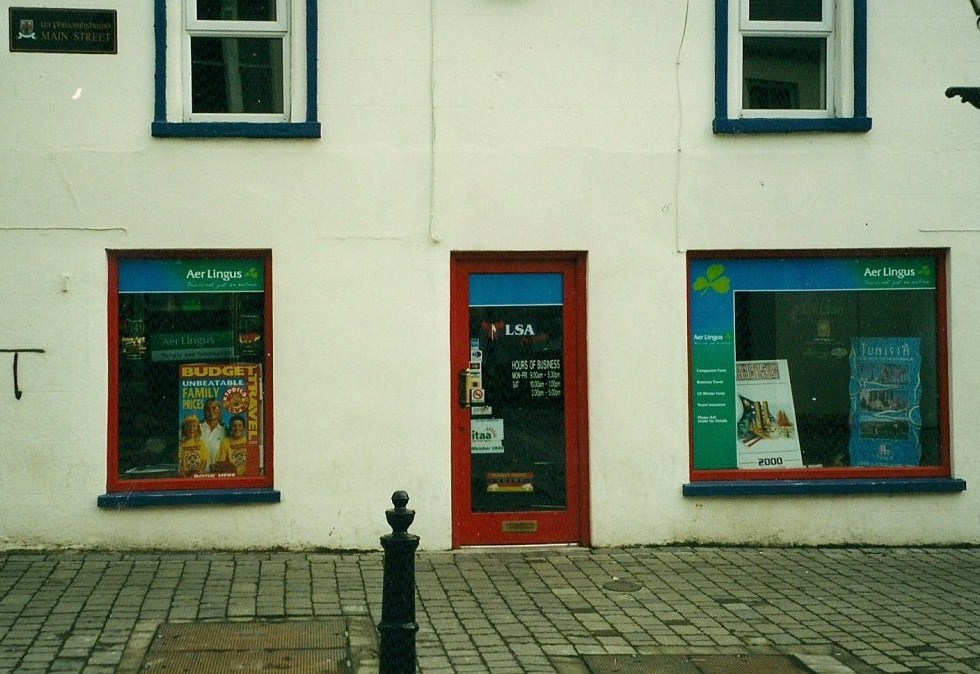 19 LOWER MAIN STREET, NORTH SIDE
This house dates from around 1880. An earlier building was leased by John Parks (Most likely the shopkeeper John Parkes listed in Slater's Directory of 1856) from a Miss Anne Brennan. He was succeeded in the 1870's by John Kennedy, described in a later directory as a broker and, after him, Joseph Roberts, a bootmaker. For many years from 1890, the Gray family lived here, initially Thomas, a cabinet-maker whose work was executed with neatness and despatch on most reasonable terms. In 1901, he and his wife Mary had five school-going children, two of whom would eventually follow in their father's footsteps. In the 1940's, the family traded as Gray & Son, Antique & Modern Furniture. For more about the Gray family see the entry for No. 13, Market Square. One lady I spoke to also recalled a small - and short-lived - toyshop here owned by a Mr Howard.
Thomas Gray's wife was an aunt of Ned Farrell (see previous entry) and he became the next owner of these premises which he set to a variety of occupiers: throughout the 1950's, J. R. 'Jack' Douglas, originally from Roscrea, was a watchmaker and jeweller here (All work done on the premises and fully guaranteed). After he relocated to Tullamore, Val O'Connor's electrical shop opened in December 1961 (TV, Radio, Domestic and Farm Appliances. All types of electrical equipment serviced), followed by Dunne's Insurance Brokers in 1967. During this time too, the second floor was occupied by Joseph Bermingham, Plant Hirer, Tarmacadam Contractor and Auctioneer.
LSA Travel (later Budget Travelshop) opened here in the late 1970's and continued for nearly thirty years. It was succeeded by Blades Hair Design, and, in 2013, Redmond's Hair & Beauty Salon. In February 2014, while herself was, as the saying goes, 'getting dolled up', you could pop upstairs for similar treatment in Onur Bingöl's, Turkish Barber Shop. If you preferred, Onur was also available for house calls. Today (2019) the premises is occupied by Redmond's Hair and Beauty Salon.