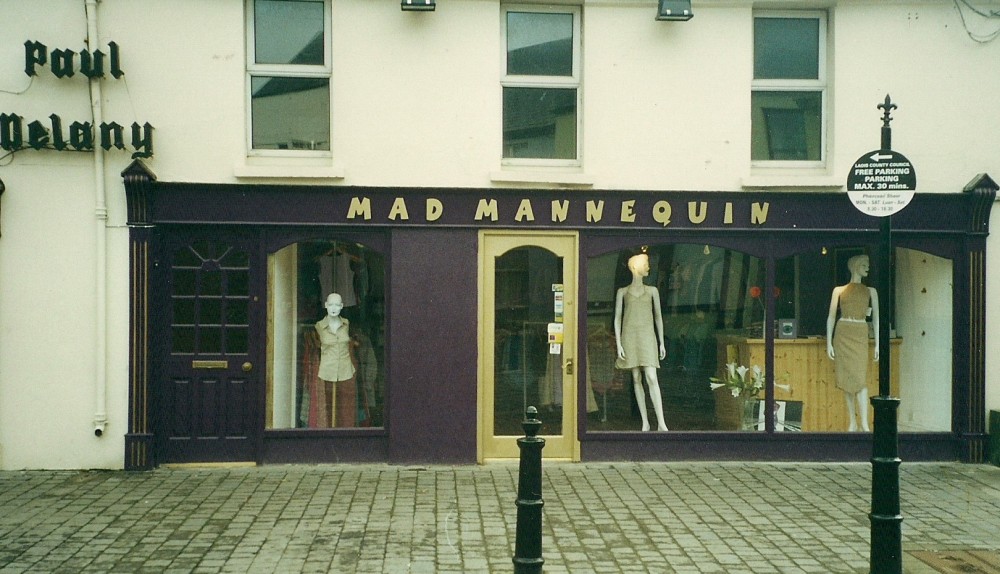 20 MAIN STREET (THE LOWER SQUARE)
In 1850, Lord Congleton - who we've already met in connection with houses in the Market Square - was the lessor of the building on this site. The occupier was Daniel O'Brien about whom I have no information at all. He was succeeded by - his wife or daughter? - Sarah, and then, Peter Fitzpatrick. [There was once a thatched pub owned by 'The Thistler' Fitzpatrick in this immediate area, but local historian Tommy Murphy1 locates it "beside Power's Hotel." The story goes that, because of the strength of his Triple XXX porter, 'The Thistler' would allow only two pints per customer!]
The tenure of each of these lessees must have been brief, because, according to the Cancellation Books, the Delanys, originally from Clonad, were in these premises from at least 1867. As we've already seen, a tailor, Daniel Delaney (sic), lived opposite Bull Lane on Main Street in the middle of the 19th century, but I have found no direct connection between him and Martin Delany2, the tailor and his wife Julia who were living here in 1901.
Martin was succeeded by his son Paul, a master tailor who had learned his craft in his uncle John's establishment in Chester. An ad in the Leinster Express from 1905 proudly proclaims: The Latest Fashions, The Newest Materials, the Best Workmanship. Established over 75 years. Paul and his sister Mary appear in the 1911 Census as draper and tailor's cutter, and draper's assistant respectively, but the entry gives us little idea of the extent of their business; as well as its thriving general drapery, a team of journeyman tailors made bespoke garments in a workshop at the rere of the shop. The Ladies and Gents Drapery continued until the 1990's and, since then, the building has housed various ladies' fashion shops: Annie Apple, boutique (sic) and, from June 2014, Lily & Rose. In April 2021, SQUARE coffee bar opened here.
~
The first dedicated cinema in Ireland, the Volta on Dublin's Mary Street, opened its doors in 19093. Five years later, Paul Delany opened the Maryborough Electric Cinema on the Well/New Road. In one week in August 1915, for instance, you had a choice of three feature films, plus a variety of shorts and the latest news in pictures. Live music was by Bannan's Orchestra (see entry for No. 16, Market Square) and admission was 1/6 - one shilling and sixpence - and a very limited number at 3d (three pence). In 1919, Paul Delany married May Webb of the famous Dublin bookshop family4 and they moved to Kellyville Park where family members still reside today. In February 1928, he placed an ad in The Irish Times seeking tenders for building a new cinema and, four years later, the town had the new Electric Cinema on the site of the old.
For many years, it was not uncommon to see groups of people gazing into the shop window on the right of the picture above. I'm sure they were admiring the latest fashions as well, but the main attraction was the cinema listings posted there each week. Ned Farrell5, often assisted by his namesake Joe, was the projectionist - I can still hear the ironic cheers whenever the projector broke down - and when it came to keeping order in 'the pit', Jack Pierce's torch was as lethal as any six-gun on the screen. (Quiet there or ye'll go out! And, on one mortifying occasion, Quiet there young Dunne or I'll tell your father!). I saw scores of films in Paul's, but one, above all others, has colonised my memory. Years ago - in a perfect example of having too much time on my hands - I read a lengthy exegesis of several James Bond films. Among other revelations, I learned that Ursula Andress emerging from the sea in Dr. No is an allusion to Aphrodite rising from the waves. After seeing that film in 1963, I can tell you that, for ages afterwards, it wasn't Greek mythology I was thinking of.
After Paul Delany's death in 1953, both the drapery and cinema were continued by his sons Paul Jnr6, John, and daughter Sheila. In 1968, the cinema was bought by a consortium of local men (Seán Keenan from Mountmellick; Peter Dunne, Seán Ryan and Harry Dempsey from Portarlington). It was completely refurbished and Timmy Scully became the new manager. When the Electric Cinema closed down in 1969, an important part of the town's social and cultural history was, so to speak, gone with the wind. The building subsequently housed International Screenprint and, most recently, a Chinese Restaurant.
-----------------------------------------------
1 In Our Heritage: Portlaoise of Yesteryear. Unpublished manuscript by Thomas P. Murphy.
2 But it does seem that he was a forebear. See the article entitled 'The Delany Family' in Portlaoise Photo Lore by Johnny O'Brien. Arderin Publishing Co., Portlaoise. 2001.
3 Its unlikely manager was none other than James Joyce/Signor Giacomo Joyce, home for a while from his self-imposed exile in Trieste. Neither Joyce or his Italian partners (one of whom was described by Joyce's father as "the hairy mechanic with the liontamer's coat") had any cinematic experience and, given that most of the pictures shown were in Italian (with pamphlets distributed to explain what was happening), their audience turned out to be mostly poor people seeking warmth and shelter. It's hardly surprising that the venture lasted less than a year.
4 Poet and novelist Padraic Colum (1881–1972) - who wrote most of the words of the popular song She Moved Through the Fair - called George Webb "that most knowing of all booksellers". His shop on Dublin's Aston Quay also gets a mention in James Joyce's story The Dead.
5 Edward 'Ned' Farrell lived in Church Street. He was a mechanic in Aldritt's garage and engineering works on Tower Hill.
6 Prior to 'settling down', Paul felt the lure of adventure and "on and off for ten years" travelled the seas as a Radio Officer in the British Merchant Navy. Of all the places he had seen, it was India that made the most impression on him. Paul Delany, one of the town's most venerable residents, died in August 2014, predeceased by his wife Theresa less than two months previously.