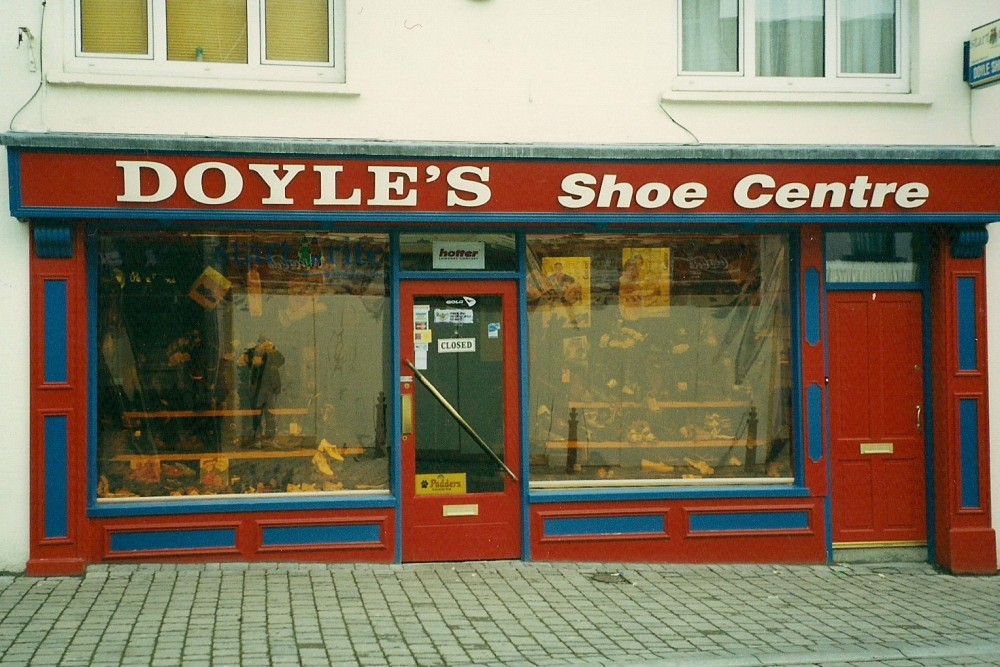 18 LOWER MAIN STREET, NORTH SIDE
For reasons best known to themselves, Lotts Architecture and Urbanism Ltd. skipped over these premises (and others) in their 2008 survey of the town.
In 1850, the Earl of Miltown, who we met a short while ago, was leasing the house on this site to Martha Stapleton. She was succeeded by her nephew Patrick Whelan, an RIC man1, known locally as 'Pad the Bleach'2. I'm sure he was once someone's white-haired boy but, as Eddie Boylan explains, his sobriquet comes from the fact that his aunts used to bleach linen in a field in Borris. In 1901 he was living here with his wife Ellen, a Tipperary-born maternity nurse who, according to the census of that year, was one of the few people in Maryborough proficient in English and Irish. Widowed since 1907, Ellen died in 1923 and her daughter also Ellen (Nelly), and a nurse as well, lived here into the 1960's. The Cancellation Books list Anthony Conroy as the next - brief - occupier and, in the late 1960's, Thomas Whitford had his shoe shop, 'Footwear Needs', here.
According to one source3 - which I have not seen confirmed or denied by any other - the family of Dr Thomas F. O'Higgins, Dispensary Doctor for the town in the 1920's, and subsequently founder member of the Blue Shirts, TD and Minister of Defence, once lived in this house after the Black and Tans comandeered their home at No 1, Kellyville Park. Depending on your own politics - or who you're talking to - the Blue Shirts were either Fascists, or simply protectors of Fine Gael speakers at election meetings.
-----------------------------------------------
1 For details of the Royal Irish Constabulary see the entry for No. 13 Market Square.
2 Johnny O'Brien's Portlaoise People (Arderin Publishing Company, 2005) features a huge list of local nicknames and their owners. Here you'll meet Tar Brush, Bangers, Ten Hairs and The Black Chicken, not to mention Moggy, Scratchy, Nanny Crow and The Boughlone Hare. And an earlier generation wasn't immune either: Eddie Boylan mentions Dodger, Simple Man, Saloon, Fogger, Straight Hair, and The Bug. But no sign, alas, in either list, of The Cracked Plate or The Durrow Bus....
3 The TD's and Senators for Laois & Offaly (1921-1986) by Patrick F. Meehan. Published by Leinster Express Newspapers Ltd. 1987.