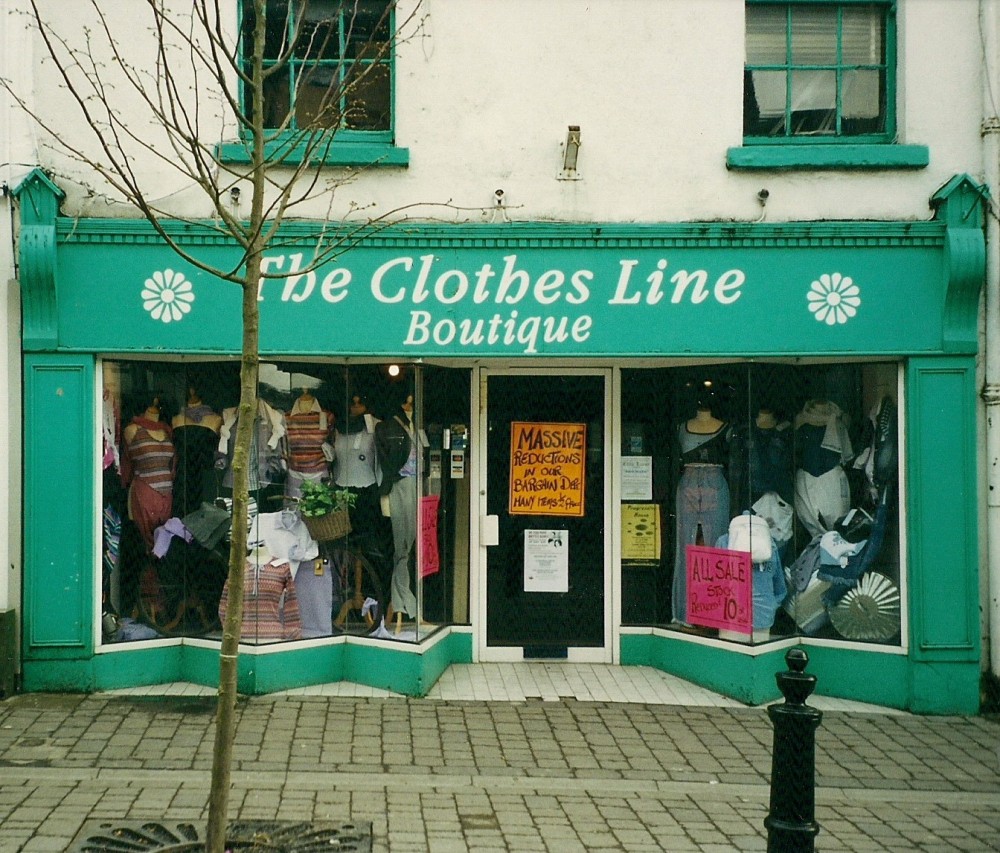 32 MAIN STREET, NORTH SIDE
Built circa 1850 as one of a pair, this building retains original elements such as "the early sash windows and its former coach house to the rear". The Architectural Survey also states that "it adds considerable charm to the streetscape of Main Street". For much of the 19th century, this was a house of shoemakers and leather sellers. Michael Delaney and his son Martin (from at least the 1830's), Patrick Tynan, and John Hughes were all members of what we might call The Brotherhood of the Boot.
John and Mary Hughes (and their ten children in 1901) were succeeded by Catherine Moran, a confectioner and restaurant owner. In 1911, she was living here with her niece, the evocatively-named Gretta Wilde and a boarder, London-born mechanic Albert Ewen. From 1913 to the early 1940's, T. F. Hayes had The Central Stores here. One of his newspaper ads from December 18, 1915 - Parcels dispatched to the Front - reminds us that, at that time, certain young men from Maryborough had more than Christmas shopping on their minds. I am surmising that T. F. - remembered locally as 'Taffy' by some and 'Toffee' by others - learned his trade in Hipwell's (See previous note on that establishment).
Despite strong disagreement from others, one of my informants insisted that someone called Martin also had a shop here. And her memory was corroborated by an entry in the Cancellation Books which records a William Martin here in the early 1940's. A small, but telling instance of how the consensus isn't always right.
Many people recalled the next shop here: You were greeted at the door by the wonderful aroma of ground coffee and freshly-cut Limerick ham and, beaming behind the counter, Mr Tommy Ryan. This was H. V. White, High Class grocer and provision merchant, who assured his customers of straightforward trading and no gimmicks. Henry Victor White continued in business here until his death in 1974. He and his wife, Violet Irene, are both interred in St Peter's in the Market Square. The next occupant was Liam Murphy from Morette who maintained the lovely ambience of White's. In the late 1980's, after he left to open a shop in Ballybrittas, this building was transformed into WANT boutique.
In 2013, The Clothes Line was replaced by Virgo, another clothes shop.