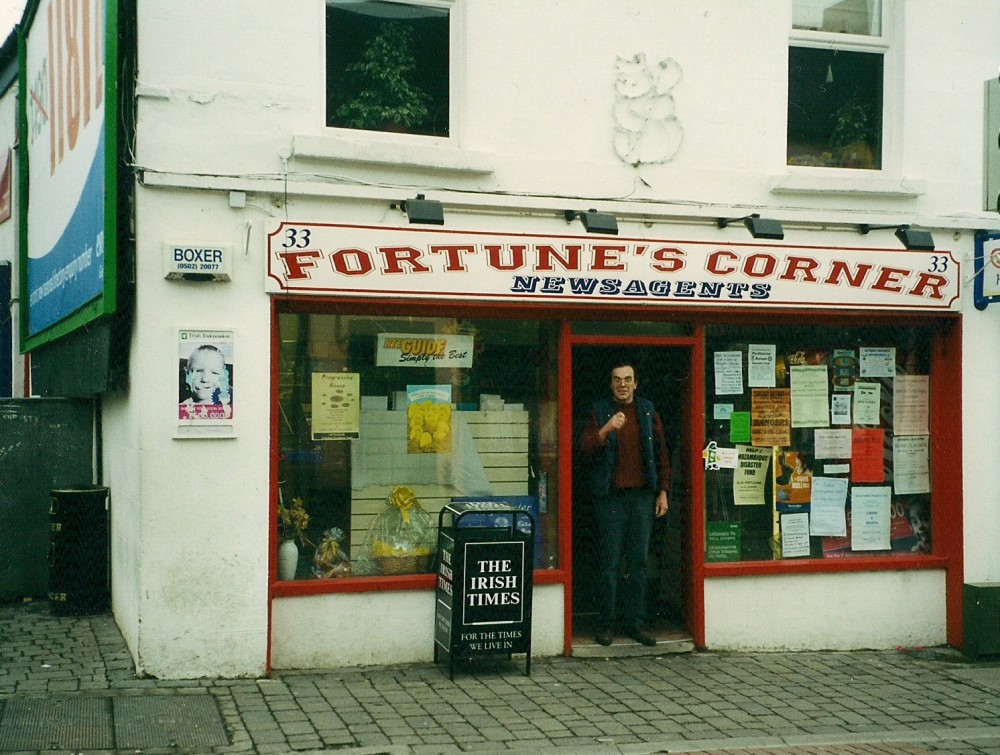 33 MAIN STREET, NORTH SIDE
That's John Conroy standing in the doorway of his newsagents. He later owned Portlaoise Car Accessories just around the corner in Railway Street.
This building dates from the 1860's, but an earlier one on the site was occupied by the euphoniously-named Mrs Comfort Lucas, a draper listed in an 1837 directory. In the Leinster Express of November 17, 1855, she advertised thus: Mrs Lucas begs to announce to the ladies of Maryboro and vicinity that she has received her first assortment of Dublin made boots and shoes for the season, also Indian rubber overshoes and the new Bloomer boots...
She was succeeded by a James Fitzpatrick and Richard Keegan. In 1901, the latter's young widow Maria, classified as "Merchant", lived here with her young daughter and a boarder, Paul Gannon, a clerk.
In the early years of the new century, Wexford natives Nicholas Fortune and his wife Ellen opened their draper's shop here. In 1911, their son James and daughter Mena were both still in primary school, and it was the latter who would eventually become synonymous with the shop that, over the years, diversified from its sartorial beginnings. Nominally a stationer's, Fortune's became what you might accurately describe as an emporium of the sacred and profane, selling everything from newspapers, comics, sweets and cigarettes - There used to be a huge Players Please sign on the gable of the building - to statues, rosary beads, holy pictures, Mass cards and Donald McGill's saucy postcards. In the early 1960's, before The Late Late Show supposedly brought sex into Ireland (!), the latter had a magnetic effect on passing schoolboys. In an idiom of the time, our eyes were out on stalks. Or, as one scholar - whose grasp of geometric theory would have pleased Pythagoras himself - was heard to exclaim: "Me two eyes was at right angles"!
Fortune's also had special significance for the younger brothers and sisters. When the window on your right was suddenly filled with Annuals, they knew for certain that Santy was polishing his sleigh. On their way home from 'The Brothers' and the Convent, they used to gather around that window, and even today, I can hear my own voice amidst the excitement that still echoes down the years:
"I'm getting Bunty."
"You are not 'cos I am."
"I'm getting Judy so!".
"You're too young!"
"There's Dan Dare!"
"I got that one last year."
"I got two."
"Look! There's Gnasher!"
Well into living memory, Philomena 'Mena' Fortune was universally known as Miss Fortune, a title that totally belied her smiling, gracious nature. After her death, the business was run by the McGowan family from Station Road (the late Maura McGowan was her niece). Esther O'Brien, who had worked there for years, subsequently became manageress and, from the early 1990's, the shop was run by the Fennell family from Coote Terrace.
In 2003, the tenant here was Nationwide Cellular, a mobile phone outlet and, in more recent years, Krazy Kidz, a children's clothes shop which later relocated to the Shopping Centre. Today (June 2014), the premises are occupied by iRepair Shop, a specialist phone/laptop repair service.