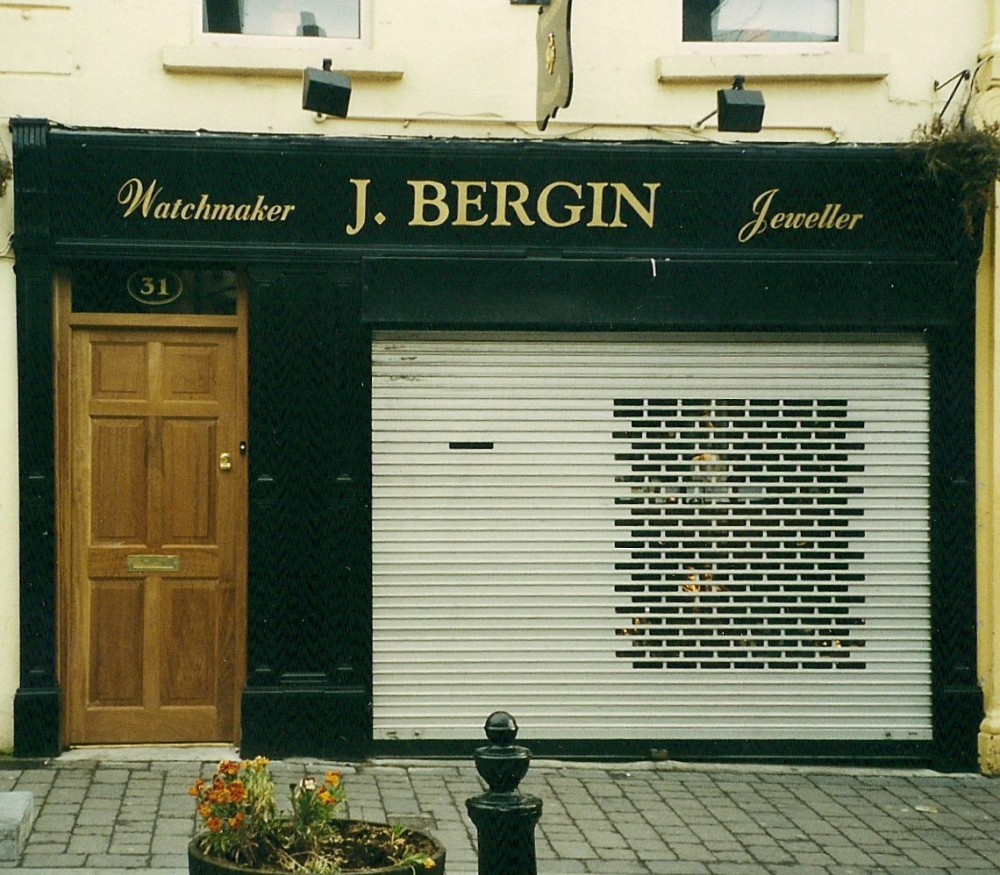 31 MAIN STREET, NORTH SIDE
Following Patrick McEvoy in the 1850's, and provision dealer Matthew Farrell a decade later, the Delaney family were shopkeepers here for more than thirty years. Present on Census Night 1901, were shopkeeper Catherine Delaney (née Fitzpatrick), widow of John Delaney, and her two sisters, Anne Fitzpatrick and Mary Aird. The former is described as "spinster" and "lodger", the latter as "widow" and "assistant shopkeeper". The household also had one female servant. Ten years later, Mary Aird was the proprietor, assisted by Sarah Culleton from King's County (Offaly). Mary Aird was the grandmother of Mary Angela in the hotel next door, and mother of James Joseph who we'll be meeting in the Lower Square.
In the 1930's, a Mrs McDonald (née Bradshaw) was the shopkeeper, succeeded by her niece Mrs Gilbourne (High Class Grocery, Fruit, Sweets and Cigarettes) who was here until the late 1960's when Kevin Timmons from Athy opened The Pork Shop. This business was continued by Denis Curtin, originally from Ardagh, County Limerick, and later, Athy and - briefly - Portlaoise. One of his customers was an elderly lady who invariably looked for chicken giblets to "feed the stray cats on Railway Street", but it was the shop's sausages that attracted another less likely customer: Thady Windham Thomas Wyndham-Quin, 7th Earl of Dunraven, commonly known as Lord Dunraven, of Adare Manor, County Limerick1. Whenever they were in the vicinity, members of his staff were instructed to stop off in Portlaoise and get sausages from The Pork Shop.
A regular visitor - and not necessarily a customer - was 'The Arab' O'Shea, habitué of various establishments, and one of the town's great characters of the 1950's and '60's. I never had the pleasure of hearing one of his recitals, but when the spirit moved him, 'The Arab' was apt to burst into song. A favourite in his repertoire was O Rose Marie, I love you, forever dreaming of you....
After Denis Curtin's untimely death in 1973, the business was leased to Joe Fennelly until, in the 1980's, his widow Mary Curtin opened a sports shop (Good Sport) here. In 1989, Abbeyleix native, Jimmy Bergin's shop (Every help and advice given) relocated here from Church Street.
-----------------------------------------------
1 Suffering from Polio since childhood, Lord Dunraven was, for many years, chairman of the Irish Wheelchair Assocation. In 1984 he sold Adare Manor to an Irish-American businessman who converted it into the Adare Manor Hotel. Until his death in 2011, Lord Dunraven lived with his family in the nearby Kilgobbin House.