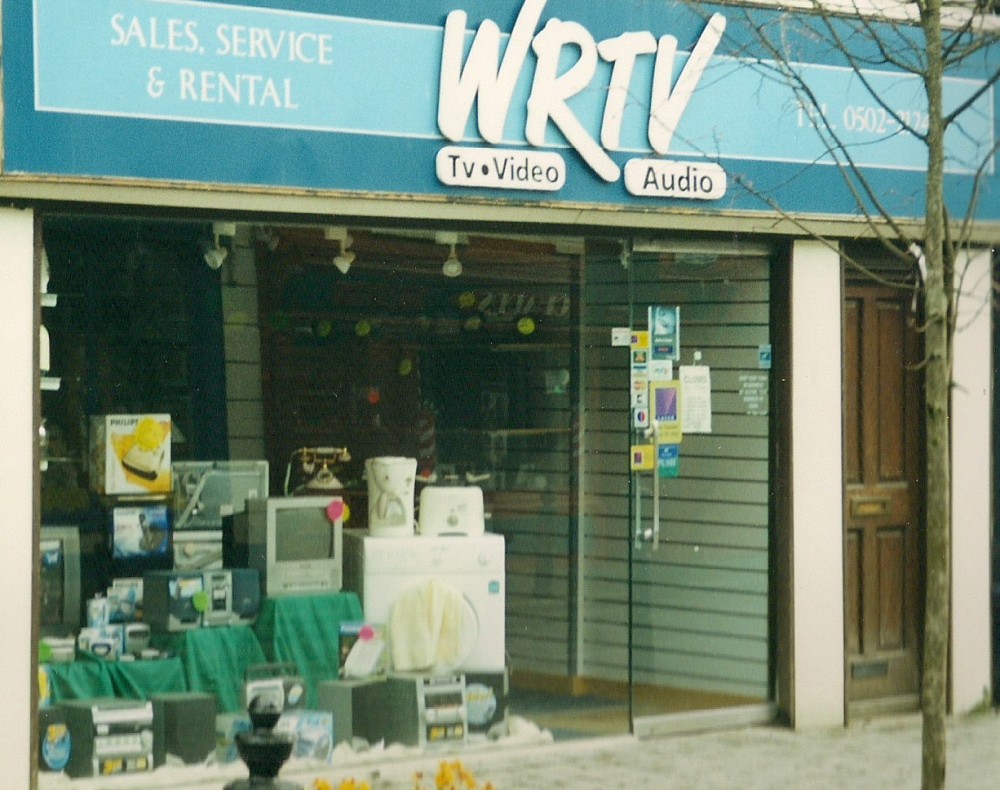 40 MAIN STREET, NORTH SIDE
Built circa 1800, this is one of the town's oldest houses. According to the Architectural Survey, "its unadorned pilasters support the plain entablature which possibly conceals elements of a historic shopfront." It's the last part of that sentence that I find interesting.
This, and the next site, were also leased from the Onions family. William Brennan, a grocer here since at least 1837, was succeeded in the 1860's by Luke Poyntz1, grocer, baker and spirit dealer. Both men were probably related or, at least, connected by friendship as the former was a witness at the latter's marriage in Maryborough in June 1841. Luke Poyntz, his wife Eliza (née Greenham) and two of their eight children, Susan and Eliza, are interred in St Peter's Churchyard in the Market Square.
According to the Leinster Express of October 10, 1900, Maryborough Boot Warehouse, 'lately vacated by Mrs Buckley, now retired' (whose family were also the original owners of the Lower Square premises acquired by Shaws in 1904), was re-opened here by John Charles Haughton, a native of Leitrim and former employee of hers. He soon changed the name to Haughton's Boot Emporium: We freely defy competition and ask you to compare our goods with those offered elsewhere. There is no establishment in town to compete with Haughton's.
On Census Night, 1901, Mr Haughton ('Head of Family') was present here, as was Margaret Poyntz (presumably a daughter of Luke above, though her age on the Census Form doesn't at all tally with another source where her year of birth is given as 1847) who is described as a boarder and housekeeper. The third member of the household was Bridget Power, a shop assistant - presumably in the shop downstairs - from Waterford. Mr Haughton's occupancy here was, apparently, short-lived as, by the time of 1911 Census, there was no sign of him anywhere in the Queen's County....
Shaws, 'Almost Nationwide' today, had very modest beginnings. In one version, Annie Morgan, who sold clothes from a wheelbarrow around Mountmellick, married Henry Shaw and they opened a small drapery shop there in 1864. The story goes that she sourced her stock in Dublin and travelled to and from the city via the Mountmellick Branch of the Grand Canal (which was opened in 1831 and continued until 1940). Another more likely version has it that Henry Shaw, a dyer, started business from his residence in Mountmellick. In 1873, he married Annie Morgan, a skilled seamstress and, in a pony and trap, they travelled around the Big Houses in the locality. He coloured the fabric as required by his customers and she made up the garments.
Sometime between 1901 and 1911 Shaws acquired Mr Haughton's business2. In that latter year, Miss Poyntz was still here as Head of Family, with a servant, Bridget Dunne, and three boarders; Margaret West, a Post Office clerk from Wicklow, William Henry Boyd from Armagh, and Charles Golden (Sligo), both draper's assistants. It was the custom in Shaws, incidentally, for the male employees to board here, while females were housed in the larger premises in the Lower Square [See later in this project]. In both cases, a 'housekeeper' looked after and 'kept and eye on them'. Anyway, Haughton's Boot Emporium became the Boot Mart which was remembered by many of my informants. Without exception, they spoke of Samuel Victor 'Sam' Shaw (1888-1980) with great admiration and respect.
In more recent times, the shop in the picture above was preceded by both Rentaset (1963: No Turnover Tax when you rent from Rentaset) also owned by Shaws, and RTV (See the Olympic Games 1969-style. Bigger! Brighter! Clearer!) Throughout the early Sixties, before most families had their own television sets, it was not unusual to see young and old, huddled in the cold, peering through Rentaset's window. I have vivid memories of watching half a soccer match here - the cold drove me home - and, on another occasion, a variety show with a magician, small dogs and, if I'm not mistaken, Helen Shapiro singing her heart out. And there we were, glued to the screen, not hearing a single word, but tapping our feet to the movement of her mouth! Some history books tell us that the first manifestation of the now-popular Silent Disco was in an 1968 science-fiction film, A Time for Roses. The history books are wrong; our version of the phenomenon began years earlier on the footpath outside 40, Main Street.
WRTV was succeeded by John Moran, Auctioneer and Valuer. After lying vacant for some months, a new restaurant, Forty Main Street, opened here in September 2015. Is it suddenly fashionable/cool to name your business after its address? (See entry for 47, Main Street). In late 2018, after again lying empty for some time, the premises were taken by Lana, Asian Street Food.
-----------------------------------------------
1 In the 1790's, an ancestor and exact namesake of his opened a draper's shop on the High Street in Kilkenny.
2 I have seen it written elsewhere that the Shaw family began business here as early as 1890, but, so far, my research indicates otherwise.