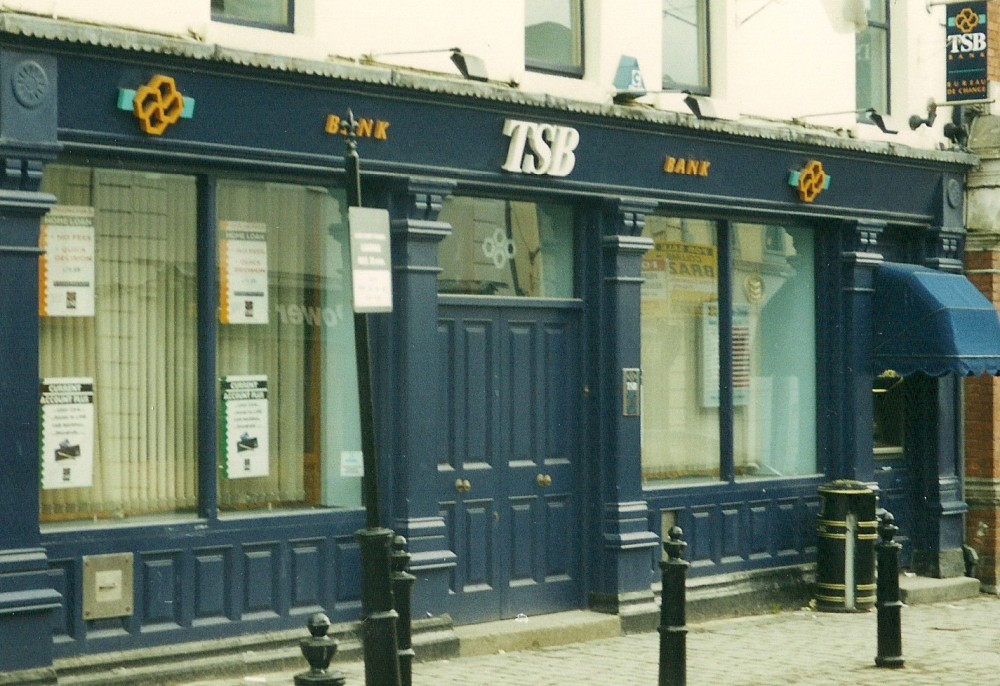 39 & 38 MAIN STREET, NORTH SIDE
Burke's Drapery was in business in the town from the 1830's until the mid-1980's. In the mid-19th century, there were two premises here, both leased from the ubiquitous Onions family. The building nearest the courthouse was held by James Bourke (sic) who eventually acquired the second one from a William White. James was succeeded in the business by his son, also James.
In the 1880's, Mr Burke's premises was also a Stamp Office and he was what was known as a Sub-Distributor. Appointed by the Stamp Distributor for the area, it was his function to stamp legal documents to prove that relevant taxes had been paid. Without such a stamp, documents were unenforcable in court. Much earlier in the century, incidentally, the poet William Wordsworth was appointed Stamp Distributor in Westmoreland. It's a wonder he could write much because, as his sister Dorothy noted, the post was taking up most of his time.
And so, from assonance to architraves.... The Architectural Survey describes this as "an unusual early 20th century building which has lost all of its original external features with the exception of its facade composition". On the night of the 1901 Census, Mr Burke, listed as a woollen merchant, was present here with his wife Margaret, originally from County Waterford, and his sister Bridget. Also on the premises were his son William, a medical student; Mathew O'Reilly, a visiting RIC student, two draper's assistants (Julia Morris and Mary Quinn) and the inevitable servant girl. By the time the next Census came around, another son, Gerald, had joined his father's business.
James M. Burke died in 1932 aged 80, having been predeceased by his wife (1928) and his son William (1924). The business was subsequently run by Alice Meehan, née Burke and, until it finally closed, her daughter Peggy. An memorable feature of Burke's was the ornamental wrought iron gate which stood between the front door and the footpath. I wonder where it is today? The building was eventually reconstructed and occupied by the Cork and Limerick Saving Bank, the Trustees Savings Bank and, currently, another bank, Permanent TSB.