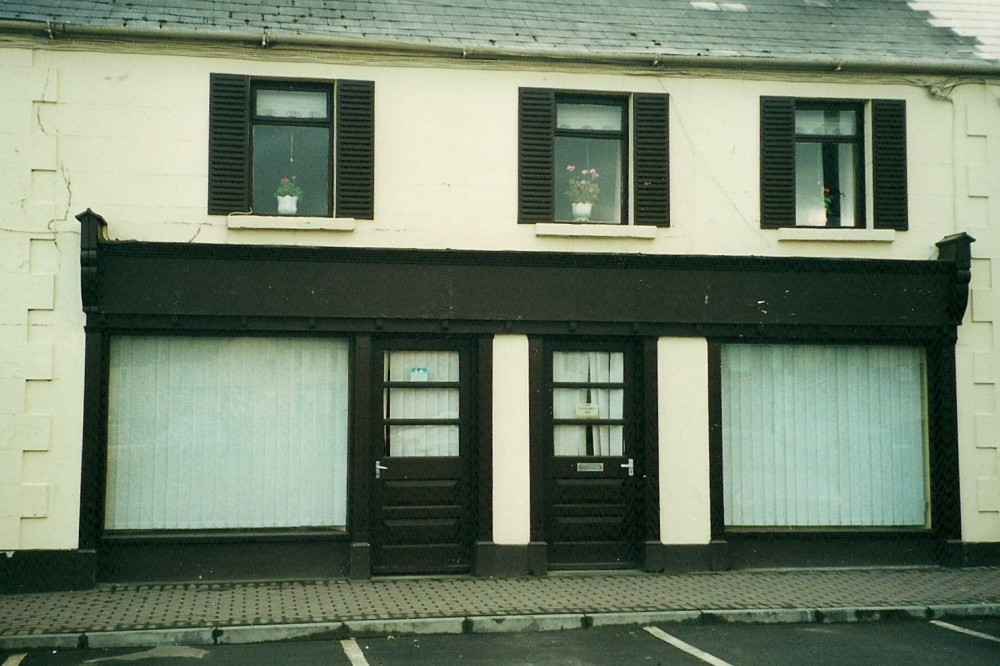 20 MARKET SQUARE
This house was built in 1880 to replace an earlier one on the site. The latter was leased from Tomas Turpin and, from at least 1837, occupied by Christopher Beale, a Baker. He was also listed in the Tithe Applotment Books1 as the owner of half an acre of land and, in Griffith's Valuation, as leasing two acres in Curriersbog - on the Abbeyleix Road - from Miss Amelia Kimmins. We'll be meeting her again later.
Subsequent occupiers of these premises were Thomas Meredith (Baker and Shopkeeper in the 1860's and '70's) and Catherine O'Connor (early 1880's). In the 1870's a young John T. Madden - a native of Ballinlough, Co. Roscommon - came to Maryborough to work in Hipwell's shop on the corner of Main and Church Street. In 1886 he opened his own grocery and bakery here - all Goods sold at least possible Profit. After his untimely death in 1899 his widow Annie continued the business for the next twenty years. Madden's name above the door, is, incidentally, clearly visible in one of the photographs from the Eason Collection (E2694).
In 1901, Mrs Madden's father and brother - both named Abraham Case - were also living here; the former a retired 'turnkey' from the Queen's County Gaol on the Dublin Road; the latter described as having 'no business'. Abraham senior died in 1911 aged 92. The Case family came originally from the Well Road and also lived in Bridge Street. Mrs Madden's mother was well-known for having a cure for Erysipelas using only flour. Erysipelas is a type of skin infection which was often contracted from infected animals, especially pigs. No surprise, perhaps, when you consider that, of sixteen houses documented in the Market Square in 1901, thirteen had piggeries.
From the 1920's to the late 40's, this was Henry Phelan's - and later, his wife Kathleen's - Hardware shop, and for a few years, from December 1949, my father had a similar business here. In the 1940's, Anthony O'Connor and his brother Michael, natives of Suncroft, County Kildare, opened a drapery shop - The Best Value in Men's Suits and Odd Pants. Ladies Coats and Costumes - in part of Gray's premises on the other side of the Square. Michael subsequently opened his own drapery business in Athlone and, in 1953, Tony and his young family moved into these premises. The portion on the right became his drapery shop; that on the left a grocery usually staffed by Mrs O'Connor and some local shopgirls (a term, incidentally, with its male equivalent, in widespread use before the advent of shop assistants and, God help us, retail assistants). 'Cornerboy' is another perfect word, once in common usage, that seems to be unknown to anyone not of a certain age.
After the deaths of Mr and Mrs O'Connor, the premises were vacant for years before going to auction in November 2006. Since then, apart from being painted green and used as a Fianna Fáil office during the 2007 General Election, they remained empty until 2013 when a new grocery shop, Market Fayre (Quality food at wholesale prices), opened here.
-----------------------------------------------
1 From 1823, all landowners of more than one acre, irrespective of their religion, had to pay a tax ('tithes' or one-tenth) for the upkeep of the State Church ie, the Church of Ireland. To decide how much would be paid by each landowner, a valuation of the entire country, civil parish by civil parish, was carried out. These details were recorded in the Tithe Applotment Books.
Needless to say, the tithes - which were never equitably imposed - caused great resentment among non-Protestants, and a campaign of resistance that became known as 'the Tithe Wars' ensued. The most prominent local leader was Patrick 'Honest Pat' Lalor of Tinnakill House, Raheen, the first Catholic M.P. for The Queen's County, and father of the probably better-known Peter and James Fintan. [A statue of the latter, incidentally, was officially unveiled in the grounds of County Hall by then Taoiseach, Brian Cowen, on 15th December, 2007.] In October 1832, the Unionist Leinster Express rather smugly reported that 'It gives us much satisfaction to learn that the people of the Queen's County have at length found the necessity of rendering obedience to the law; in a word the Tithes are being paid. The composition on an average does not exceed 1s per acre'.
The so-called Tithe War gave rise to many oral stories/myths some of which survive to this day. One story goes that when a local farmer was compelled to sell his sheep to pay the tithes, he marked each animal with a T. Consequently, no-one would buy them. They were taken to Dublin where no buyer could be found either. Finally, the animals were shipped to Liverpool where they all died of starvation....