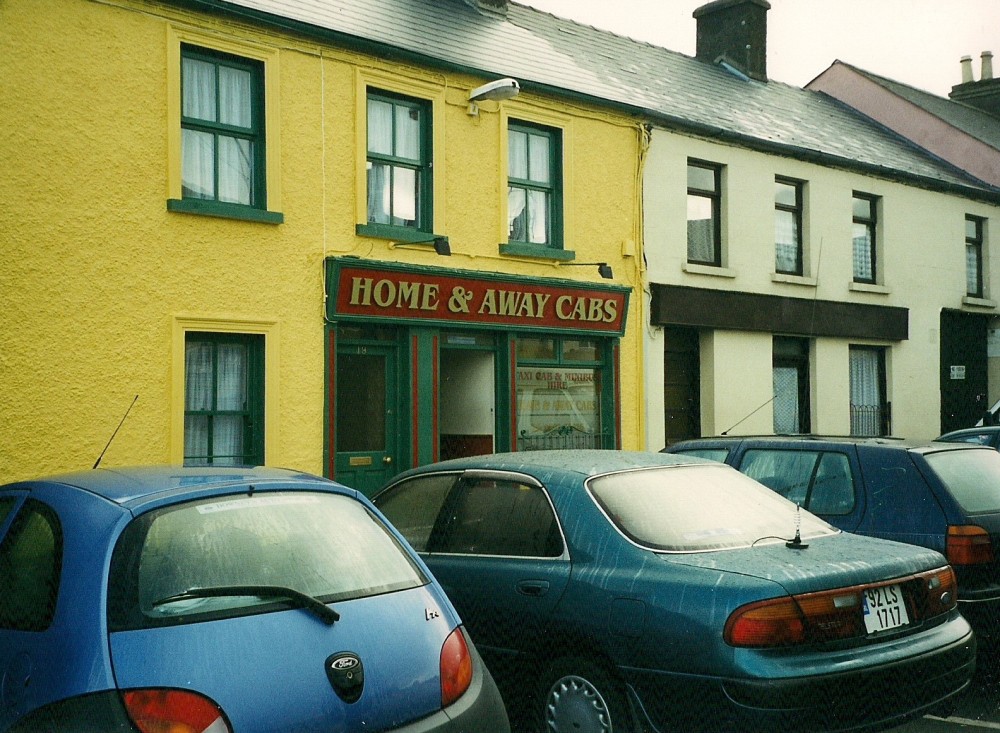 19 & 18 MARKET SQUARE
No. 19.
In 1851, the lessor of the original property on this site was Sir John Vesey Parnell (1805-1883), also known as Lord Congleton. He was an interesting character, noted for his generosity and austere lifestyle. He married three times (His first wife the daughter of Cork-born Edward Cronin, a pioneer of homeopathy and one of the founders of the Plymouth Brethren movement; his second an Armenian widow living in Persia). He translated the Psalms - still in print today - and, at one stage, got into a bit of bother with local Muslims when he was a Plymouth Brethren missionary in Baghdad. He was also related to Charles Stewart Parnell. The Parnell family once owned the Rock of Dunamaise before it was handed over to the nation via the National Monuments Commission.
Francis Bates was an early occupier of the original building here, followed by John Doran, a Provision dealer, who was here until the late 1870's. He, in turn, was followed by William Costigan, a Baker.
Both this and the next building date from the 1880's. In 1901 there were two families living here:
(a) Isabella Kerr, a widowed shopkeeper from County Antrim, and her boarder Ellen Dillon, a middle-aged seamstress.
(b) Sarah Boyd, also a widow. A dressmaker, originally from Cork city, she lived here with her son, a printer/compositer (presumably in the Leinster Express just around the corner), and her schoolgoing son and daughter. She also kept five boarders, three of whom were printers.
They were succeeded by the Metcalfe family who, into living memory, had a small grocery and sweet shop here. In 1911, Julia Metcalfe lived here with her daughter Jane Anna and son Edward George. The latter died in 1948 and is interred in St Peter's churchyard. The last Metcalfe to live here was Julia's grandson Harry, who, like his father and grandfather, was a plasterer by trade. After his death in 1992, the premises lay vacant for some years until, in the late 90's, Bourke's Cabs (Waiting Room Available) set up here. Home & Away Cabs was succeeded by Streetcars, another taxi service, and Bruce Betting which, in turn, gave way to Ladbrokes. In March 2018, the building was occupied by its third betting office, Boyle Sports.
No. 18.
From the middle of the century until the 1880's, a Richard Harris was leasing the premises on this site from Mrs Mary Gleeson and Mrs Anne Dunne. He was succeeded by Thomas Jestin and, from at least 1894, this was a shop and bakery run by Martin Nolan from Dunlavin, Co. Wicklow and his wife Bridget. Their fate would melt a heart of stone: Of the six family members listed on the Census Form of March 31st, 1901, four were to die of tuberculosis. Until the discovery of effective antibiotics in the 1940's, this disease, commonly known as TB and Consumption (because it was said to 'consume' its victims), was rampant and greatly feared throughout the country.
The premises were vacant for a while before Kathleen Fitzpatrick began business here in the early 1920's. In the 1960's, her quaint little shop might have seemed positively Dickensian, but its owner was certainly no relic from times past. Something that young lads soon discovered when they offered her a ha'penny transformed by silver paper into a chance-your-arm shilling. The business was later run by her niece, Peggy. In more recent years, Paddy Conroy and family lived here. The door on the right led into his butcher's shop or, what the old people used to call, his 'butcher's stall'. The entire building was demolished in 2008 and replaced by a new Ladbrokes Betting Office. The net result was that, in 2012, both buildings in the picture above were Ladbrokes Betting Offices.
N.B. The 1911 Census Form has these two houses listed in the wrong order.