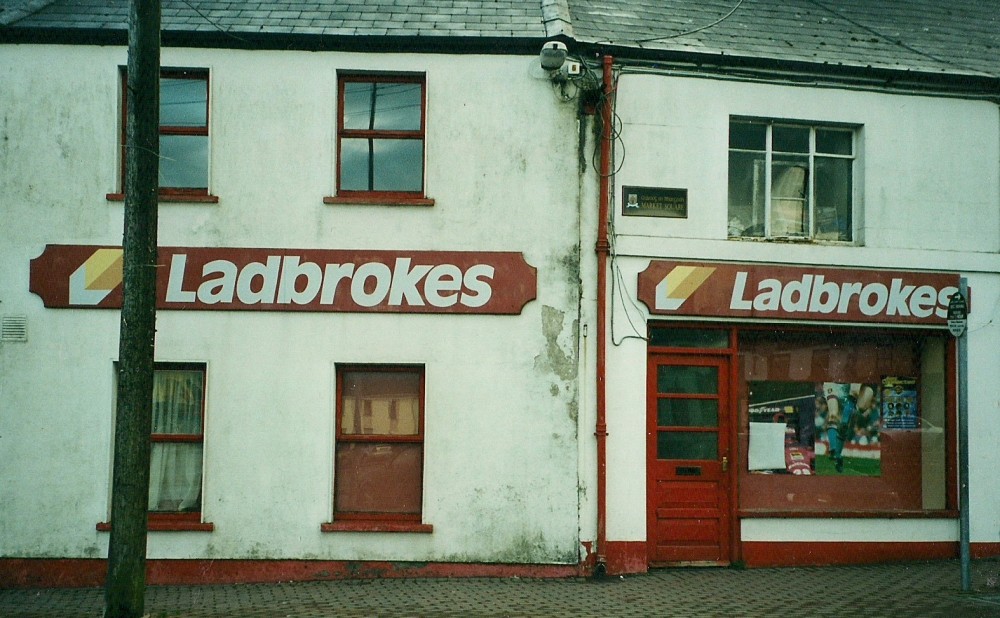 NO. 1 COOTE STREET
In 1851, this building - minus the fairly recent additions - was leased from Thomas Turpin by John Abbott, a Senior Warden in the local Freemasons (1851) and Cess Collector for the Grand Jury; in modern parlance, the latter was a rate collector for the County Council. He was also an auctioneer in partnership with John Gaze who, in his capacity as hotel owner, we'll meet again in this project. The name Gaze, incidentally, was familiar to more recent generations of townspeople through Gaze & Jessop's Hardware - usually referred to as Jessops - in Church Street. Their large building was later occupied by Sheahan's Hardware, Laois Education Supplies and, presently, the Social Welfare Office. I can only assume that John Abbott was related to William Abbott, the first Manager (1833) of the District Lunatic Asylum - where, incidentally, Mrs Abbott was Matron - and Captain Compton Abbott, in 1870, Adjutant of the Queen's County Rifle Militia, stationed in the local barracks.
Subsequent occupants here were Sophia Abbott, Michael Charles Knapton (1896), Maurice Mulcahy - a Prison Warder from Cork - and family, and Thomas Mara, a barber (1911), who had a motley crew of boarders: a Carpenter, a Cycle Engineer, an RIC Pensioner, and a sergeant in the 4th Leinster Regiment.
It is worth noting that 'Immediate Lessor' in the Griffith's Valuation lists (such as Thomas Turpin in the above case) does not always mean owner or landlord. The term simply refers to the person from whom the occupier was leasing the property. 'Immediate' is used because there were often long chains of letting and sub-letting. In fact, it was common for the immediate lessor to be a middle-man rather than the outright owner of the property.
T. C. Kelly trained as an electronics engineer with EMI in England and, just before Christmas 1942, he opened his Portlaoise Radio & Sound Equipment business at No. 5, Market Square, premises owned by his father-in-law, Paul Rice. In 1950 he acquired the above premises and following his move across the Square, the room inside the large window on the right became his electrical shop. His workshp was in a yard at the rere, accessed by the laneway still there today. A beautiful fuchsia hedge separated this laneway from the newspaper offices next door. Seldom seen without his long leather waistcoat, and ably assisted by Dixie Connell, T. C. hired out public address equipment and his voice could frequently be heard booming across the Square: "Testing 1,2,3. Testing 1,2,3...."
In April 1956, the wedding of Grace Kelly and Prince Rainier of Monaco was, according to the Leinster Express, 'clearly picked up' on a television set owned by T. C. who had 'a clear reception and was able to follow the church ceremony with considerable interest'. As well as being a ham radio enthusiast, he recorded local musical events - Do these tapes still exist? - and was 'soundman' for the town's Little Theatre Group.
But for many people who grew up on Coote Street or the Green Road, T.C. Kelly is fondly remembered for a more sentimental reason; in the weeks coming up to Christmas, his window was a wonderland of mouth-watering toys. Walking to Mass on Christmas morning, children found not a sign of any toy, but a manger lit by a single starry lamp.
The Kelly family eventually moved to Dublin. In the 1970's, the premises were occupied by Rosemary Lewis's Fashion Boutique and, in the '80's and '90's, a Betting Office owned by Mary Maher. Ladbrokes moved from here in 2009 and the room on the right remained vacant until November 2013 when a pop-up shop opened to sell One Moment in Time, a pictorial history of Portlaoise GAA Club by Peter O'Neill. The building was subsequently refurbished and, in December 2014, Hume Auctioneers opened an office here. Since 2011, the upper floor has been occupied by accountant Denis Dunne and his daughter Eimear, a solicitor.