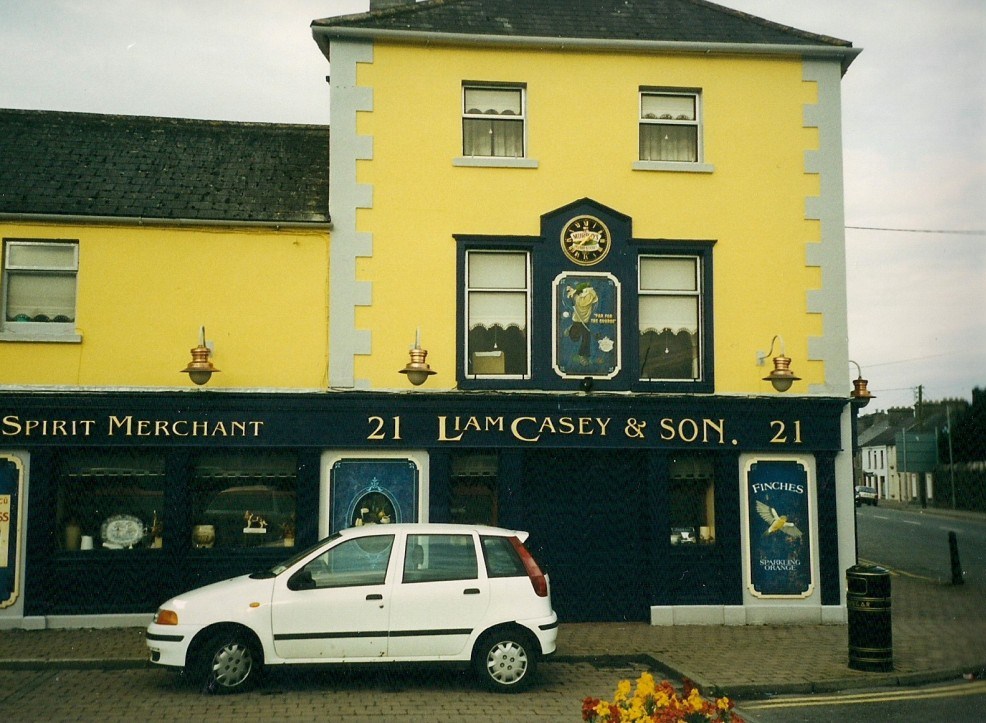 21 MARKET SQUARE
Built c. 1810, this has the distinction of being the oldest house in the Market Square.
William Clarke from Rathleague was a substantial lessor of land and property in the local area and in 1851 he had these premises leased to Loughlin McCormack (who may or may not have been related to Philip McCormack, in the 1830's and '40's a Hairdresser in the town). Loughlin was succeeded by Ann McCormack and, from the 1860's until the end of the century, the Byrne family, first Peter and then Mary Anne who had a public house here. In 1901, the business was run by the 28-year-old Sarah Byrne who I presume was their daughter. She lived here with her brother Thomas, a Military Sergeant, and his wife Margaret. Also present on Census Night were a boarder Anne Ryan and three visitors; Patrick Ryan a carpenter originally from Co. Kilkenny and two young children.
Thomas Daly - whose wife was a Byrne - was the occupier for a short while in 1905 - a photograph from that era shows part of what appears to be his name in Irish over the door - and then, Patrick Mathews. (Everything combined with strict cleanliness). On the night of April 2 1911, the household comprised Patrick and his wife Mary, their three very young children, a nurse for the latter, a barmaid and a domestic servant. Patrick was eventually succeeded by his son also Patrick.
In 1958, just three months after the Munich Air Disaster which decimated Manchester United's 'Busby Babes', the team reached the FA Cup final where they lost by two goals from Bolton's legendary Nat Lofthouse. At the time, very few houses in the town could pick up the BBC television signal; Mathews' could and, to this day, some of my interviewees recall standing outside watching the match through the pub window.
After Patrick Mathews' death, the business was continued by his widow Elizabeth. In the mid-1960's, it became Boyle's (For Cooked Chickens, Soups, Light Snacks and Quality Drinks), Power's (early 1970's), Gerry Byrne's (very briefly) and, since 1974, Liam Casey's.
~
The 1901 Census also records the occupants of a 'Travelling Van' parked in the Square: David McCart from Co. Down is described as 'Engine Driver and his colleague, Limerickman John Conway, as 'Flagman'.