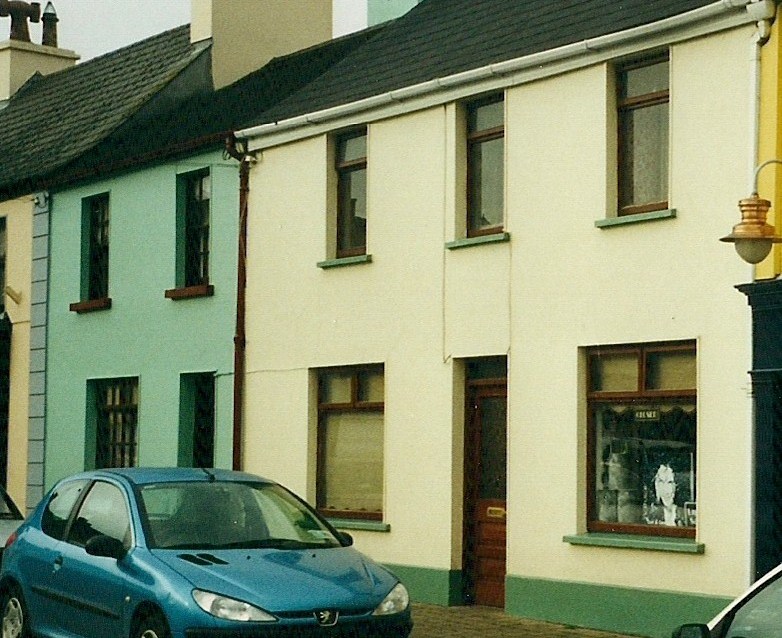 23 & 22 MARKET SQUARE
No. 23. The Blue House.
This building dates from c. 1900. According to Griffith's Valuation, an earlier building on the site was occupied by "John Cullen and others" and leased, as was the next house, from a William Brophy. Subsequent occupiers were John Moore and William Shiel, with the latter listed as a Publican in a Directory from 1870. In the 1880's and '90's, both Mary Hill and Ellen Chandler had public houses here. The latter, incidentally, also used to run the saloon at the Railway Station.
The 1901 Census has Bartholomew Carter from Kylegrove, his wife Ellen (the widowed Ellen Chandler), daughter Annie, and two step-daughters living here. He was succeeded by Charles Delaney from Raheen - who rejoiced in the nickname 'Limbo' - and Michael McDonald (1908) and then the licence was allowed to lapse. I must point out that, in one of his notebooks, Eddie Boylan has the Carter/Chandler/Delaney public house situated next door in No. 22. It is possible that, as we've seen before, the Census enumerator has confused the house numbers. Mr Boylan also, incidentally, refers to the Chandler family as Challoner.
In 1911, according to the Census Return, there were two families living in No. 23: (a) Thomas Ryan, an RIC Constable and native of County Carlow, and his wife Elizabeth, (b) the aforementioned Mrs Moffitt. I could find no other reference in any source to either family in this house at this time. Is this another case of the official document getting the house number wrong? Furthermore, none of the older people I spoke to could recall ever hearing about Mrs Moffit living here. Without hesitation, they all 'placed' her in No. 25.
According to the Cancellation Books, in the 1920's, Nos. 22 and 23 were combined to form the short-lived Maryborough Co-Operative Stores (See entry for Number 10). Eitherway, both houses were eventually acquired by John 'Johnny' Conroy, a well-known carpenter and contractor from Main Street. (See entry for No. 45, Main Street). One of his sons, also John, and family subsequently lived here - In 1972, Lena Lynam had a Hairdressing Salon on the ground floor - and, today, the building is owned by Johnny Conroy's grandson, Paul. It houses his workshop and the Framing Gallery run by his wife Maria. Paul is is an expert picture-framer and, as the saying goes, talent attracts talent: Maria is a popular artist whose work ranges from large-scale commissions such as The Last Supper in SS Peter & Paul's Church, to paintings on local themes presented to winners of the Laois People of the Year Awards. Their daughter Aisling works in a variety of media and has exhibited widely at home and abroad. The Framing Gallery closed down in April 2015.
No. 22.
In 1850, the house on this site was occupied by Francis Fitzpatrick and subsequently Myles Walsh and Patrick Phelan. From the mid-1860's Henry Hayes lived here and, from 1884, Thomas Dunne.
Occupied in 1901 by Peter Holohan, a single farm worker originally from Derrygarron. Also in the house as boarders were the Slattery family; Michael, a stonemason from Limerick City, his wife Mary Jane - both of them proficient in English and Irish - and their two young children. In 1905, the lessor was Thomas Daly from the public house next door (No. 21) and subsequent occupiers were William Fennelly (1906) and Michael McDonald (1908).
According to the Census Form, Laurence Kinsella, Publican, amd his wife Minnie - both originally from Kildare - and their young son and daughter were here in 1911. But as stated earlier, the Cancellation Books have them in No. 24 at that time.
After Maryborough Co-Operative Stores, Stephen Conroy (John's son) lived here for some time, and in the 1940's the premises were occupied by C. J. McGlinn's Motor and Cycle shop which promised repairs at moderate charges. Born in Nova Scotia where his soldier father was stationed, and reared in Rose Cottage, Harpur's lane, Christopher McGlinn (1899-1973) was something of a Renaissance Man; he served in both World Wars as a mechanic/fitter in the Royal Air Force; he was a projectionist in the Coliseum cinema in the town, ran a hackney service, repaired radios and gramophones and worked in the Clonroosk Wooden Toy factory on the Mountrath Road. And on top of all that, he was a keen amateur photographer, sound recordist, printer and talented musician. The McGlinn family eventually moved to Dublin.
From the late 1940's to the '60's, Joseph Hiney had a shop here. Satisfaction guaranteed at the Sign ofthe Rambler- Motorcycles, Cycles, Cookers and Electrical items. (One of my informants also recalled that you could buy birds here as well). After his retirement, Joseph lived in Tower Hill where he died in December 1968. His wife, Frances, was the daughter of Peter Joseph Rogers, who painted the murals in the Church of the Holy Rosary in Abbeyleix. The faces of the cherubs are those of his children. Joseph Hiney's son Willie - known as 'The Warrior' - and his friend Dan O'Neill from the Borris Road (who made their fishing rods) were such avid anglers that, in the words of one elderly gentleman, "the fish used to hide when they saw them coming". They obviously didn't hide well enough as another person recalled The Warrior "in the paper", rod in hand and his catch spread proudly at his feet.
In January 1969, Maureen Delaney - late of Aird's - opened a hairdressing salon - Artistic Styling and Colouring - here. The premises now houses John Brophy's Video business and a hairdressing salon run by his wife Maureen.