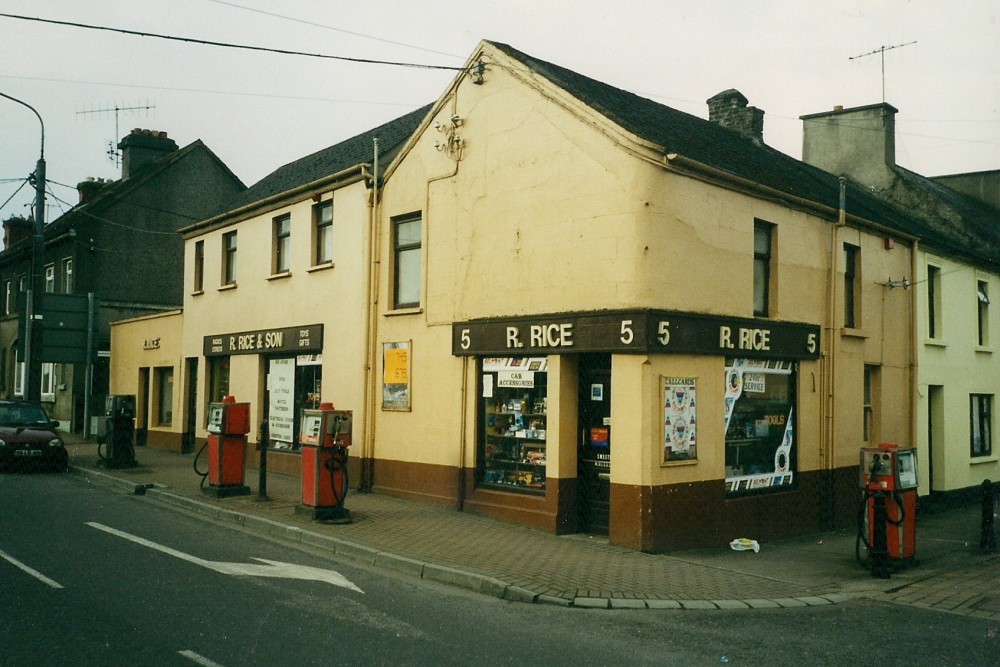 5 MARKET SQUARE
So far, this building (c. 1850), if you'll pardon the equine metaphor, is neck and neck with No. 13 in the Oldest in the Square Stakes. But, as we'll see, they're both going to be pipped at the post. An architectural survey of the town, incidentally, draws attention to its "curious chimneystack" and calls the building "an integral part of the nineteenth-century urban form and adds to the special character of the historic town core".
In 1851, Edward Kelly was the occupant here, succeeded over the next two decades by Eliza Coogan, Joseph Bergin and John Flood. Bergin may have been related to John Bergin, a saddler in Chapel Lane (Church Avenue today) or more likely, the James Bergin who lived in the Square and was Weighmaster of the Public Weighing Machine situated behind the Market House (See later).
On Census Night 1901, Eliza Templing, a native of County Kilkenny, and her two daughters, Mary and Eliza - both seamstresses - were recorded here. The widowed Eliza - her late husband, Joseph, was a Whitesmith - is described as a 'Boarding House Keeper'. Her boarders that night were two 'scholars', John and William Foyle aged 11 and seven (who, I assume were related to the Templings?) and a Russian-born Jewish pedlar, Simon Jackson.
Three years later, Mrs Templing sued the proprietors of a travelling Hobby Horse Show for assault and battery. On the night of February 5th, the two horsemen - if I can call them that - were admitted as boarders when, under the influence of drink, they became obstreperous and followed the Templing daughters about the house. A disturbance ensued during which all three ladies alleged that they were assaulted. One of the defendants protested that he had been given "two clouts of a poker", but the jury found in favour of the plaintiff and awarded her £15 damages.
Eliza Templing, incidentally, was a sister-in-law of James Templing, Baker and Grocer, who was living with his family in Quality Row (Grattan Street today) in 1901. He was born in India, the son of Joseph Templing, a soldier stationed there. After his long military career which took him to various parts of the globe, Joseph became a Whitesmith in the town.
So far, so straighforward, but... According to the Cancellation Books, in three separate entries, it was a Joseph and Catherine Templeton who occupied No. 5 from the 1870's to the second decade of the new century. Another of Eddie Boylan's notebooks says that it was "Templetons, Whitesmiths" who once lived here but, in yet another, he conflates both names and comes up with Templington. The only other reference to a Templeton I could find was in Griffith's Valuation (Catherine Templeton living on the Well Road in 1851). So, who did actually live here? My money is definitely on the Templings.
In 1911, a Dalton family was living here- William, a native of the town, his wife Lilian and their infant son. Mr Ronnie Rice Jnr. informed me that his grandfather Paul Rice was renting this property c. 1915 and, after it was extensively damaged by fire in 1940, he took the opportunity to buy it out. According to a written quotation for reconstruction from "Big Jim" Fitzpatrick, dated 14th September 1940, the job cost £130/10/0. Paul Rice died in October 1961 and was succeeded in business by his son, Ronnie.
A decade ago, Fast Forward (Videos, DVD's, Playstation, mobile phones) opened here and seemed to close just as quickly. It was succeeded by Redz (Ladies' hair and style management) which, in turn, gave way to the Talbot Hair Company.