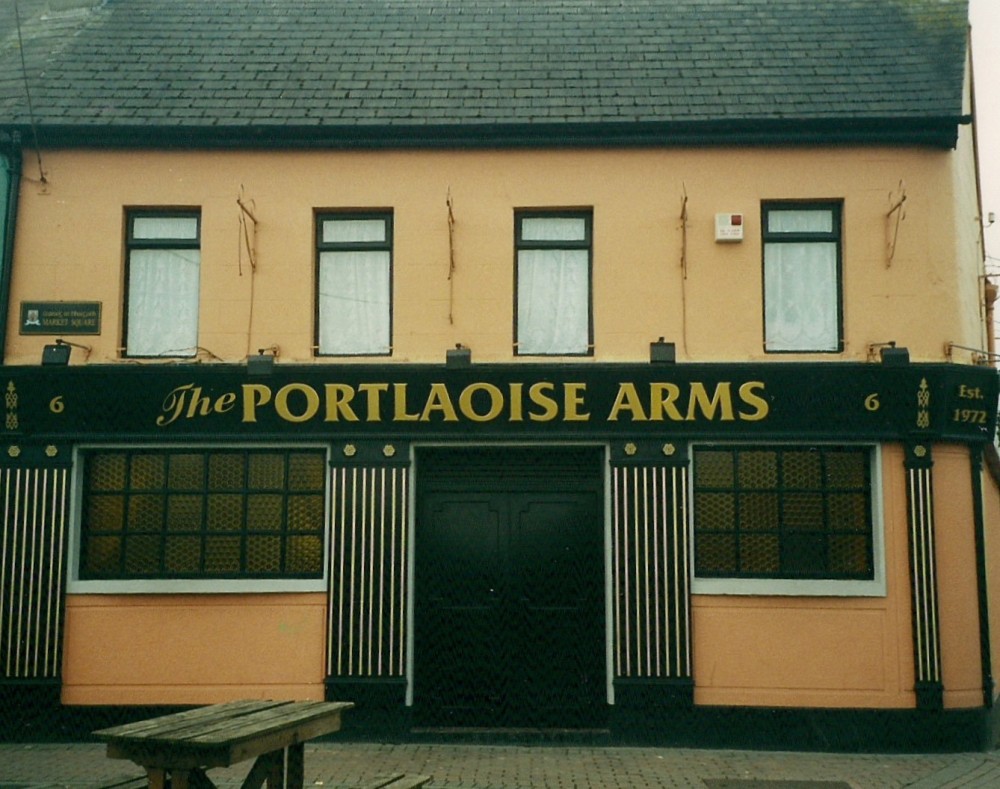 6 MARKET SQUARE
Despite being one of the 'youngest' buildings in the Square (built c. 1900) Purcell's Corner was, for many years, a prominent landmark in the town and, on match days, a popular meeting-place for GAA fans before and after the action in O'Moore Park. Locked in the memory of many older Laois people I've spoken to - and, I'd guess, other counties as well - are their childhood selves, sipping lemonade on benches out the back, while their fathers crowded inside to partake of something stronger and debate the nuances of each game.
According to Griffith's Valuation, in 1851, Patrick Lynch was leasing premises here from a Samuel Campion who was also the Lessor of No. 5 (and, as we'll see, what became J. J. Airds hardware shop in the Lower Square). Eddie Boylan, incidentally, notes that Mr Campion was one of the trustees of the Methodist church. Patrick Lynch was succeeded by Eliza Connor (1860's) and William Cushin (1870's). From 1878 a widower John Kavanagh, was a publican here. Also present on Census night 1901 were his three children, described as 'Attendants' and his brother James, a carpenter.
On the same night ten years later, Edmund J. Purcell, Grocer and Spirit Merchant, was here, as were his servant and fifteen-year old messenger boy. Edmund Purcell was no stranger to sadness: his first wife Margaret Monica died in 1918 age 44; he remarried, and in 1925, his second wife Elizabeth, aged only 24, died following the birth of her daughter. Bridget, his third wife outlived him by many years and died in 1991, aged 85.
Edmund J. Purcel died in 1937 aged 65, but the business remained in the family until the 1960's. Guinness stout is good no doubt, And Purcel's pint will prove it out. A claim, incidentally, I've heard endorsed by one of their former patrons who maintained - with more than a sip of nostalgia - that Purcells "had the best Guinness sales in Ireland".
The Purcells were succeeded by the Whelan and Daly families (1986: Make the Arms your Halfway House. Always a welcome for a GAA supporter). In the 1990's, the premises also traded under the name St Patrick's Taverns, but, despite the different names and owners, many of the town's senior citizens still refer to this corner of the Square as 'Purcell's'. The Portlaoise Arms closed for business in 2008 and, despite subsequent and protracted, reconstruction, the building still (2014) remains vacant and unfinished.