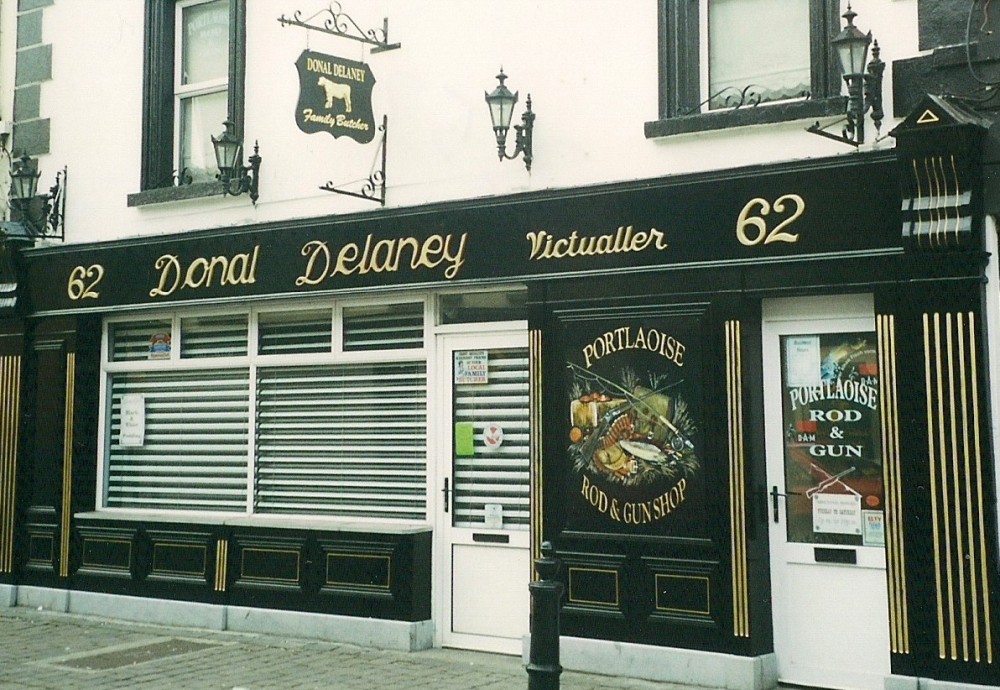 62 MAIN STREET, SOUTH SIDE
The Henry Atkinson1, who Griffith's Valuation lists as living here in the 1850's, is probaby the miller of the same name mentioned in Slater's Directory of 1856. He was succeeded by William Cusack (who combined the trades of confectioner and publican), and, in 1889, publicans William and Maria Haslam2. William and Maria were here on Census Night 1901, as was Rose Haslam, their young English-born niece, and John Crofton, described as a general domestic servant. [An illustration of just how ludicrous the online census details can be: William Haslam appears as a Hard Publican and his wife as a Lard Publican!]
William Haslam died in 1901, shortly after the census was taken. A lady clearly fond of companionship, Maria's subsequent marital adventures were as follows:
Michael Dunne. 1902.
Edward Brennan. 1905.
John Brennan. 1913.
Richard Cheevers. 1931.
From at least 1905, Maria and Wexford-born Edward were the occupants here. At the time of the 1911 census, a young niece, Roshanna (sic) Haslam was living with them. The household also included farm servant, Edward Haslam, probably Maria's brother-in-law. According to the census form, Maria, in 1911, was a year older than she was in 1901. Another of the many vagaries that blight official documents!
In the 1930's and '40's, Richard Cheevers (sometimes spelt Chivers) appeared in MacDonald's Irish Directory as a Wine and Spirit Merchant. The story goes that, on the morning of his marriage to Maria, a notice FIFTH THOU SHALT NOT KILL was pinned to her door, obviously by someone with a black sense of humour! Of all the stories I have heard about the town and its people, that, apocryphal or not, was the one most often and, most gleefully, related.
The next occupier was James Whelan (brother of Mick 'Mockler' Whelan, the butcher we met back down the street), succeeded by Brendan Byrne who ran the Slieve Bloom bar. He, apparently, took such a dim view of singing or bad language that his premises were variously referred to as 'The Vatican', 'The Morgue' (and, by one disgruntled wag, Mount f****** Mellary).
Donal Delaney began business here in the 1990's as a butcher. He must have subsequently discovered that chips were more lucrative than beef; so, for almost twenty years until 2018, the sign over the door read DONIE'S TAKEAWAY (Traditional freshly made fish and chips) which was succeeded by the franchised Chipmongers. It, in turn, gave way to another takeaway DBF (Dublin Best Fries) in 2020. Donie still owns the rod and gun shop upstairs.
-----------------------------------------------
1 I don't know if he was related to the Mr John H. Atkinson, Petty Sessions Clerk at Maryborough, who, on June 25, 1888, featured in a House of Commons debate involving the collection of dog taxes and the non-issuance of licenses.
2 At the Petty Sessions in July 1875, publican John Haslam was charged with allowing gambling (card-playing) on his premises. He pleaded that he was in bed at the time and the game was played without his knowledge or consent. He was fined 7s 6d (seven shillings and sixpence) and costs. I don't know of any connection between him and William and Maria (or the Haslams who lived at No. 57 Main Street).