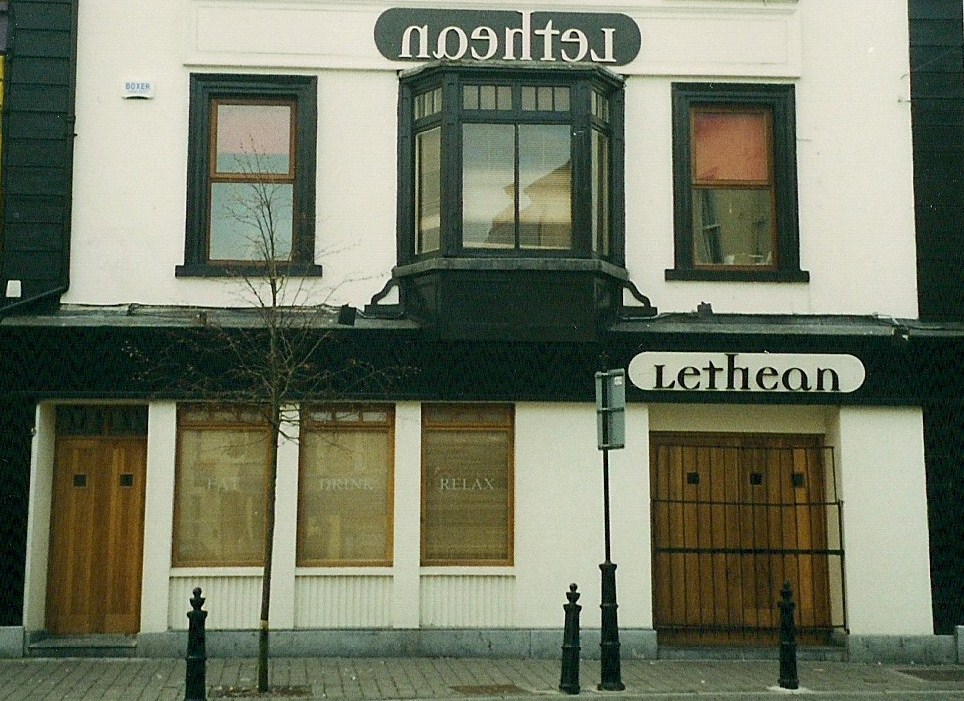 65 MAIN STREET, SOUTH SIDE
This was originally Fallon's Hotel, founded in 1798 and described by Slater's Directory (1846) as 'a family, commercial and posting establishment1 of great and long-standing respectability'. In September 1815, Finn's Leinster Journal reported the death of Matilda Fallon, 'wife of inn-keeper Patrick Fallon', who was 'sincerely and deservedly lamented by a numerous family and acquaintance'.
In June 1835, Mr John McEvoy and his wife (sister-in-law of Patrick Fallon) took over the business and, after extensive alterations in 1847, changed its name to The Maryborough Hotel. [This is probably the same John McEvoy who, in the 1850's, was chairman of the Town commission, and ran the 'refreshment rooms' at the railway station]. He also operated the mail coaches from Maryborough to Waterford. After his contract expired in 1858, an ad in The Freeman's Journal offered for sale 'two light coaches and twenty-two prime mail coach horses'. Four years later, an Insolvency Notice appeared in the same paper, and the hotel furniture - mahogany tables, four-poster beds, carpets, rugs, commodes and wash-stands - plus one cow, ten cocks of hay and some farm implements, were advertised for public auction.
After Mr McEvoy's death in January 1870, auctioneer John Gaze bought the hotel and the Leinster Express reported that 'no expense will be spared in making it a house in which the nobility, clergy, gentry and commercial gentlemen visiting Maryborough will find accomodation such as cannot be excelled in any provincial town in the country'. Like his predecessor, John Gaze was also a member of the Town Commission. [His surname will still be familiar to townspeople who remember Gaze and Jessop's hardware shop in Church Street]. In 1887, the lease came up for sale again (... ten bedrooms, five sitting-rooms, kitchen, scullery, wc etc.... to a businessman it presents a rare opportunity of making a fortune in this rapidly rising and prosperous town...2) and was bought by Patrick Kelly (b. 1853) who renamed it The Hibernian Hotel3. As well as being a staunch Parnellite and prominent in the Land League, he was also - yes, you've guessed it - on the Town Commission.
Patrick Kelly died in 1929 but the hotel remained in the Kelly family (Kathleen, Noel, Thomas and Gerard) until the 1970's, when William O'Hanlon appeared in the Cancellation Books as the new occupier. During this time, it was refurbished to include a new 'olde-worlde' Tudor Room (Why not treat yourself and your wife to an evening out?) which, in the next decade, gave way to Swanky's Lounge Bar. The owners at this stage were Fionan and Kathleen Bracken who had previously run the County Hotel in Lower Main Street. The premises subsequently became Bellamy's pub and off-licence under the guiding hand of Jim Birch, former manager of both the Killeshin and Montague Hotels. At one stage (1990), in a fit of patriotic fervour, it took to advertising itself as Áras Bellamy. I'm not sure why, but the ad for the second-floor restaurant - Direct access via new staircase - always struck me as amusing.
In August 1999, Bellamy's became Lethean Gastro Pub and Cafe Bar. Managed by Dona Watchorne, it boasted a super cool beer garden and claimed to be the only place in Laois to serve Sunday brunch. It also presented live music at weekends - in 2008/9 it hosted Niamh O'Neill's Limelight Open Mic - and if wasn't enough to make you forget4 all your cares there was a Pool Competition every Thursday Night. After an announcement that took most people by surprise, Lethean, one of the town's most popular music venues, closed for business on September 10, 2017. The following month it was replaced by Jeremiah Grant Bar & Eatery.
Given its long history, it's not surprising that this establishment has seen all sorts of events, from the political to the literary, from the gory to the banal.... In 1845, a young officer in the 13th Light Dragoons - a native of Bath - attempted suicide here. The newspapers of the time spared no details: 'The major was found lying on the broad of his back weltering in his blood... it seems that the unhappy gentleman had cut the veins and arteries of his sword-arm with a razor'5. But there was a happy ending. The paper later reported that 'the Major is better. The surgeon of the regiment, Dr Young, remains up with him'.
On October 23, 1875, The Irish Times advertised a public meeting in the hotel 'to advance the cause of Home Rule, Tenant Right and Union amongst Irishmen'. Many dignitaries were expected to attend, including several MP's, among them Isaac Butt and Charles Stewart Parnell. The meeting was scheduled for 1 pm and if you wanted to stay on for the Banquet at six you could return to Dublin on the Night Mail at 2.13 am. A long night seemed in store for at least some of the attendees! I don't know how 'relaxed' was the post-prandial socialising, but six years later, there was definitely plenty of noise here. Cattle seized in lieu of unpaid rent from tenants on the estate of Richard Warburton of Garryhinch were being auctioned, and the anger of the crowd - to say nothing of the 'national airs' played by local bands locked outside the yard - made for an edgy atmosphere6.
In 1904, the Lord Lieutenant, the Earl of Dudley - familiar to readers of James Joyce's Ulysses - stopped here for lunch. A less rarefied guest was Gene Tunney, former World Heavyweight Boxing Champion who stayed here in the 1940's. In his book From an Irish Market Town, Joe Rogers recalls getting "quite a decent tip just for carrying his suitcase to the car." Years later, the Leinster Express reported (26/12/53) that none other than Marlene Dietrich had recently dined in the town. It didn't say where, but maybe it was in Kelly's, attracted, no doubt, by an ad she saw in 'The Leinster': Moderate tariff. Porter attends all Trains. Garage free.
In 1962, during the aftermath of Princess Margaret's controversial visit to the de Vesci estate in Abbeyleix, the hotel was used as the press centre for the assembled media. Have a look at http://www.itnsource.com/shotlist/BHC_ITN/1965/01/27/X27016502/?v=0&a=1
Kelly's Hotel gave me memories I'll take a long time to forget. In the mid-1960's, record hops - the very word betrays my vintage - were held in a small room at the back. That little venue was a favourite haunt of those of us - decked out in our fabbest gear, man - too young and definitely too hip to be caught groovin' to - God forbid - showbands. With a clarity that is luminous, I recall the excitement of testing equipment, browsing lp covers, sorting through singles (No, I'm not playing Val f****** Doonican), acting nonchalant for the girls. To paraphrase a David Bowie lyric, it was ragged and naive, it was Heaven. But most of all it was ours. Electricity of another sort shocked the hotel on November 1, 1986 when Paul Durcan gave a reading as part of the Meitheal na Samhna Laois Arts Festival. This was literature as many had never heard it before; poetry in sometimes furious, sometimes shocking, sometimes hilarious, overdrive...
I came in on a coach horse; I'll go out on his more humble relation. On July 25, 1912, a show for working donkeys was held in the hotel yard. Over twenty animals were exhibited but, as The Irish Times explained, 'owing to farming and turf-drawing operations many could not be exhibited'. After the presentation of prizes - awarded for good condition and the care shown to the animals - the donkeys paraded via Bull Lane, Main Street and Market Square up to the Town Hall. And on that note I'll trot off into the sunset.
-----------------------------------------------
1 A posting hotel was one of a series of establishments along a route for furnishing relays of men and horses for carrying mail.
2 The Freeman's Journal. October 1, 1887
3 Well into living memory, the hotel was always known locally as 'Kelly's'. 'Hibernian' was for visitors. Patrick Kelly also owned - since at least 1888 - a substantial farm machinery business (on the site of the present Wesley Terrace and Heritage Hotel Fitness Centre) which evolved into what is still remembered as 'the Foundry'. Ths company specialised in haysheds and the blue-and-white sign - Erected by Ptk. Kelly & Co. Ltd., Portlaoise - can still be seen on many structures throughout the country.
4 Lethean refers to Lethe, one of the five rivers of Hades. Whoever drank from it experienced complete forgetfulness. Lethean hopefully doesn't live up to its name in that regard, but it is certainly the most Classically-connected pub in the town! Dona, the manageress's name, is the Latin word for gifts....
5 The Cork Examiner. June 11, 1845.
6 Adding to the tension was the presence of the notorious Morris Goddard, Captain Charles Boycott's solicitor who had organised a workforce from Ulster to break the boycott on the eponymous estate at Lough Mask. He was in Maryborough representing the Property Defence Association - established by landlords to oppose the Land League - and carried 'a stout blackthorn stick' and what was described as 'an ominous protrusion of his coat skirt at the left hip'. [It was the Property Defence Association, incidentally, that devised the battering ram as a means of expediting evictions]. The events of March 15, 1881 in Gaze's Hotel were recalled in 'Window on the Past' in The Irish Press of March 15, 1962.