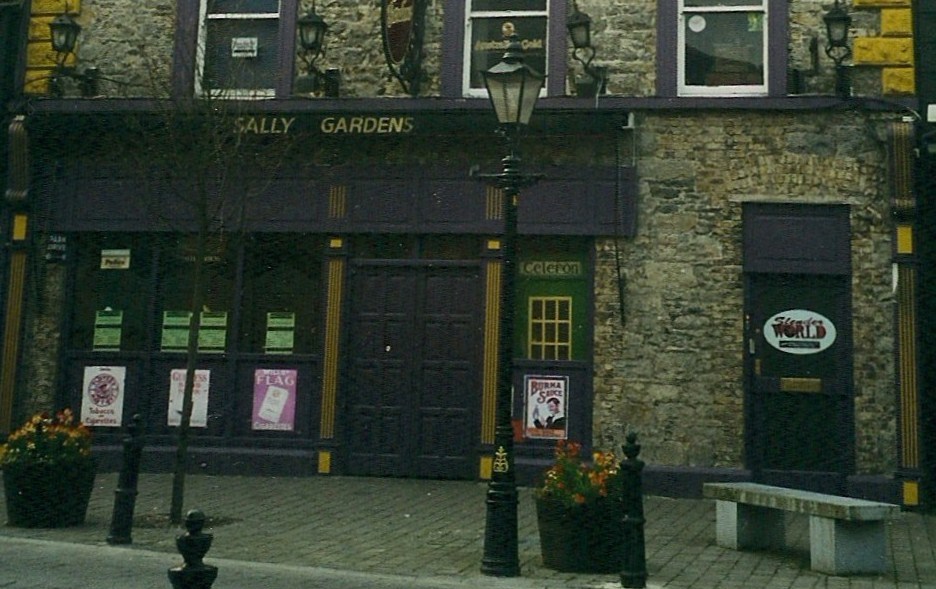 66 MAIN STREET, SOUTH SIDE
Griffith's Valuation names Mrs Sarah Southern as the immediate lessor, and William Fleming the occupier, of this building1 in the 1850's. As can be seen in a photograph (EAS 2689) from the Eason Collection, it originally had only two storeys. A third was eventually added by the Bennett family (see below) sometime after 1909. There is, incidentally, a note in one of the Cancellation Books saying "house very old and bad" followed by "repaired". Next time you're passing, look closely.... just above the first-floor middle window.... am I seeing things or is that a stylised, 1889 AD you see before you? The date of those repairs?
William Fleming was a confectioner, and a portion of the building also housed a shop belonging to Daniel Devine. Fleming was succeeded by his wife Margaret and she in turn by Wexfordman John Higgins, another confectioner who also hired out jarvey cars. In 1901 he was a widower living here with his teenage son Thomas. Eight years later, James Patrick Bennett bought the premises2 and established himself as a grocer and wine merchant. As well as nourishing homo sapiens, Bennett's also looked after our four-legged friends: You want a stable for your horse which is better and safer than ordinary stables when you are shopping in Maryborough. That's what Bennett's can provide you with.
Born in 1873 into a farming family in O'Moore's Forest near Mountmellick, J. P. Bennett had 'served his time' in Meehan's - see entry for Nos. 94 & 95, Main Street - and managed their shop in Abbeyleix before working for distillers D. E. Williams (Give Every Man His Dew!) in Tullamore. On Census Night 1911, he was here with his cousin John Bennett (listed as a servant) and Martin Craven, another servant.
Mr Bennett was prominent in Maryborough Confraternity - of which, fifty years later, I was a less than zealous member - St Vincent de Paul, and the Third Order of St Francis3. He also chaired the committee that organised a welcome to the town for Cardinal Lorenzo Lauri, papal legate to the Eucharistic Congress in 1932. At the time of his death in 1944, he was Chairman of the Town Commission. [It is poignant to note that his daughter Mamie, returning from her honeymooon, was met at the station with the news that her father was dead]. His widow Lucy died a year later.
In later years, J. P. Bennett's son Patrick 'Paddy' ran the business (1948: The reason why I get my groceries at Bennetts: Because my weekly order is collected and delivered one hour after) and, over the years, introduced some changes; at one stage there was a chip shop here; at another, billiards competitions. Paddy had clearly inherited his father's religious leanings: a devout member of the Legion of Mary, he organised a retreat each year for his customers to the Jesuit Retreat House in Rathfarnham. Frank Duff, founder of the Legion of Mary, used to call to see him while on his cycling trips from Dublin to Kerry.
One the best things about getting older are the memories you have: In the mid-1960's, the billiards table - supervised by the above-mentioned John Bennett and his formidable walking-stick - was the proverbial flame to some (exclusively male) teenage moths of the town. I was one of those moths. When it came to skill at the table, I wielded the cue with more enthusiasm than skill, but it was in Bennett's, on a tinny transistor radio perched on the counter, that I heard some great music. As a lifelong Beatles fan, I'm not sure why, but in the spring of 1965, I had some sort of epiphany when I first heard The Last Time by the Rolling Stones4 . I remember rushing home, humming that riff over and over, hoping it would stay in my head until I reached my guitar.
One of the worst things about getting older are the memories you don't have: James Bennett, son of Paddy, has assured me that sometime in the early to mid-Sixties, he, myself and two others (Tommy Devoy? James Hunston?) had a band of sorts, and practised instrumental versions of popular songs in his sitting-room. Apparently, we made one ramshackle public appearance at a Pioneer social in St Mary's Hall. Picture an embryonic Pogues looking for a Shane. I have no memory of any of this.
In 1968, the premises were sold sold to James 'Jimmy' Brown (see No. 61, Main Street) and the Bennetts - Paddy, his wife Bridie, children James, Patrick, William, Mary and Lucy moved to Glenside on the Abbeyleix Road. Number 66 became The Double B (Brown and Butterly Ltd.) pub. It later closed for a while and re-opened, completely refurbished, in 1985, run by Ray and Marie Delaney née Brown. The Sally Gardens, another of the town's popular music venues (Bring a gang and you will be well looked after), is owned by John Holmes.
On December 12, 1997 - the same day, incidentally, as the Official Opening of Fitzmaurice Place - a time capsule was formally buried by the County Council just outside this building. It contained everything and anything from newspaper articles, supermarket receipts, my wife's poetry, parking discs and golf balls to posters, price lists, badges and buttons, unconsecrated bread, and a novel by yours truly.
-----------------------------------------------
1 Note how the quoins echo those of the former Gaol in Church Street.
2 According to Eddie Boylan, these premises, at that time, housed a branch of D. E. Williams, but I have been unable to substantiate this.
3 Dating back to the 13th century, a Catholic lay organisation whose members participate in good works and, in the words of Canon Law, strive for Christian perfection.
4 Those of you of my vintage will remember how, in those halcyon days, you were either a mad fan of the Beatles or the Stones (and never the twain shall meet!)