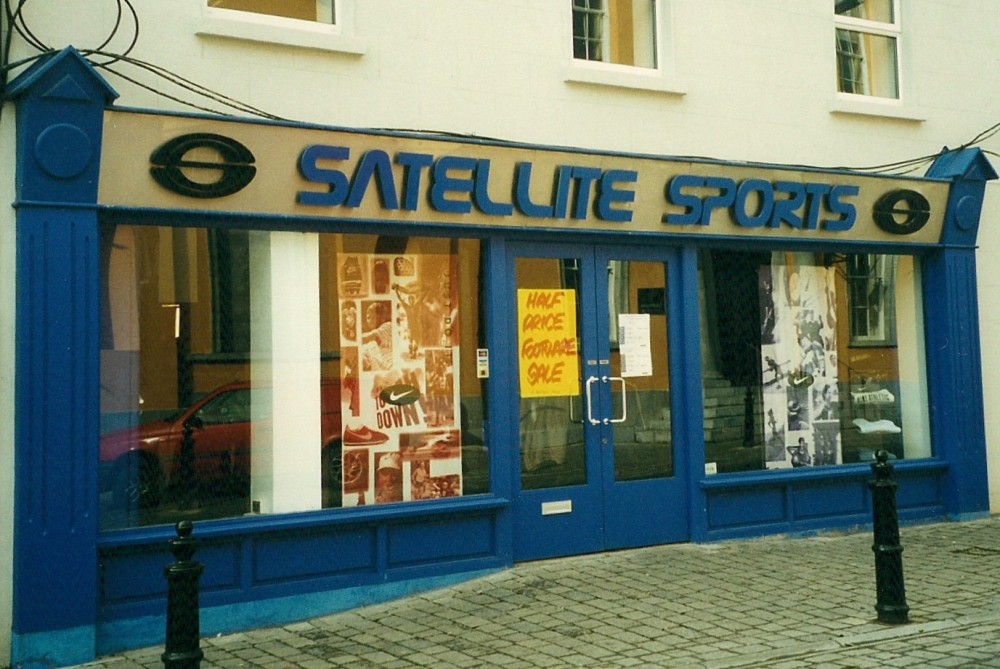 69 MAIN STREET, SOUTH SIDE
There is no reference to this building in the 2008 architectural survey of the town. In the 1850's, the house that stood here was occupied by the Misses Sarah (b. 1828) and Anne (b. 1829) Ince. [The latter was also the immediate lessor of the next house]. The sisters were daughters of William Ince, a baker who later emigrated to Canada. The surname Ince was not uncommon in the local area. As early as January 1761, a John and Richard Ince were granted freeholds in Cappagh, Queen's County1; in 1801 - before Coote Street was laid down - a Mr Ince lived on that corner of the Market Square; a Captain Ince was listed under Gentry in Pigot's Directory (1824) and, in the succeeding decades, Esther Ince was a draper and ironmonger in the town. To this day, there are still Inces living in the locality.
The Misses Ince were succeeded by George Campion, John Phelan and Jeremiah Phelan. The 1901 census lists the latter, a merchant, his wife Margaret and Mary Lokeman, a young cook/domestic servant. The Phelans were still there a decade later, this time joined by three lodgers; shop assistant Denis Brennan, Jeremiah O'Mahony, a soldier from County Cork, and a servant, Florence O'Mahony, from King's County. For some years after the census, Thomas Moore, family grocer, tea, wine & spirit merchant traded here before he moved to No. 7 Market Square in 1917. The premises were then taken for a short time by Bridget Carter, before Bernard McGurk2 opened his public house here in 1922. (Drinks A1. I.O.C Bus stops at Door). I.O.C. refers to the Irish Omnibus Company which started servicing the town in 1927.
In 1955, Bernard McGurk sold The Central Bar (A most substantial 7-Day premises situated in Portlaoighise's premier trading centre) and, since then, the premises have been put to a variety of uses: the residence of piano teacher Miss Kathleen Bowe, Esmond T. White's solicitor's office, Audrey Canavan ne้ Montgomery's Erika's Boutique (1969-1973), Eddie's Man's shop, Tony Duncan's solicitor's office, Mary Harte's Portlaoise Florists, Paula's Boutique and, currently (May 2014), Colgan Sports (Sports & Fitness. Outdoor and Golf Centre)
-----------------------------------------------
1 For much of my information on the Ince family I am indebted to genealogical research by Sharon Haggerty, British Columbia, Canada.
2 A Derry native who owned a pub in Belfast but, because of sectarian strife in that city, decided to move. How did he end up in Portlaoise? He saw in the newspaper that these premises were for sale. He was, incidentally, father-in-law of the late Michael 'Chippie' O'Brien, proud Wexfordman and eminent member of Laois Heritage Society, who taught two generations of boys in the local CBS.