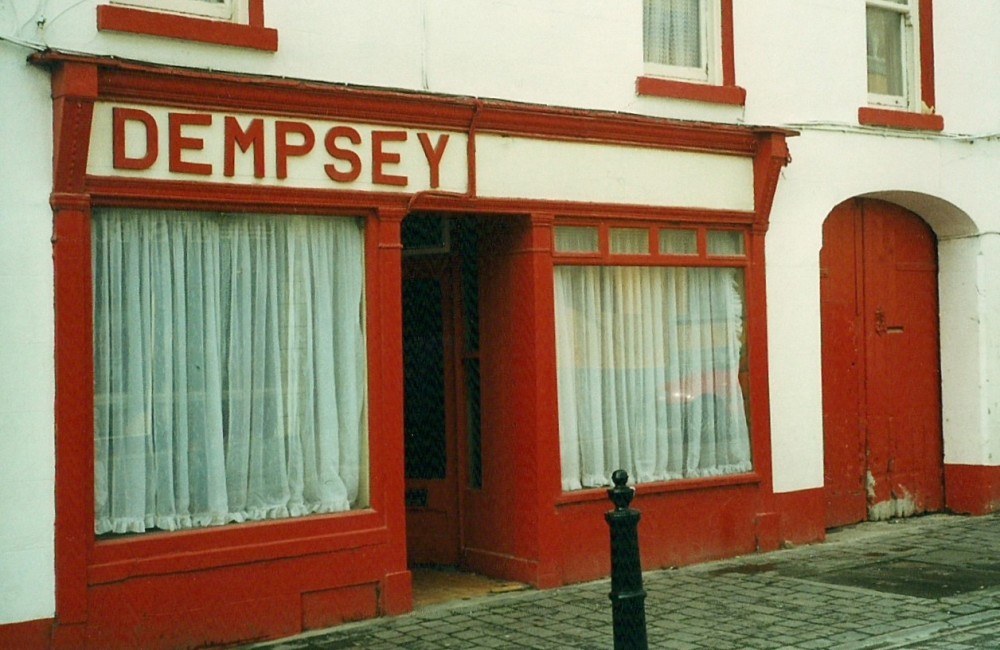 70 MAIN STREET, SOUTH SIDE
Built c. 1850, this house was once the home of Marianne Delany and, in 2008, the architectural survey noted that it 'retains a wealth of original fabric, including its fine sliding sash windows...' Ms Delany was succeeded by publican Thomas Dowling (her former immediate lessor who lived next door), John Kerr (who, in 1881, had a boot and shoe shop here) and, from at least 1900, County Wexford native Daniel McCarthy1. The 1901 census also records his New York-born wife, Mary (listed as a seamstress), their two young children and two servants, Maryanne and Sarah Dempsey. By the time of the next census, a new son and daughter had been added to the household.
Dan McCarthy was a bookseller, stationer and glass, china and hardware merchant. On a pre-1915 photograph, you can clearly see his advertisement for Goss Porcelain. It is said that, at the turn of the 20th century, more than 90% of homes had at least one piece of Goss china and, today, such pieces are eminently collectible. The small pieces of glazed white china came in various shapes and, typically, bore the coat of arms of the town in which they were sold as souvenirs. I have seen pictures of a Goss cricket bag, a round tower with the Maryborough coat of arms (in layman's terms, two lions on a blue background above two fleurs de lis on a red background), and a candlestick embossed with Made for D. McCarthy, Maryborough. The shop also published The Maryborough Exercise Book for schoolchildren and, like Hipwell's and Fortune's, postcards with views of the town.
In July 1924, the building went up for auction and was subsequently divided. In the 1930's, the portion on the left became Lil (aka Liz) Croke's sweet shop2; that on the right, a branch of the Singer Sewing machine Company (We will give you Free Lessons in your own Home. At one stage, too, the second floor was occupied by a Customs & Excise office. In more recent times, Croke's was replaced by Seán Dempsey's small grocery and sweet shop; the other part by James P. Doody, Gentlemen's Hairdresser (1947: Get your Hair Cut for the Carnival and note the Difference. I have clear memories of my brother and I being sent in there to have his curls and my wavy hair - which, before I was thirty, waved goodbye to me - tamed by short back and sides. Thinking of that now, I feel like shrugging my itchy neck!
The premises lay vacant for some years until the 2008 arrival of the short-lived Empire Records (3 CD's for €25. 5 for €35). This was replaced by Seán O'Farrell's opticians (which relocated to Bull Lane in May 2014). Kate's Unisex Hair Salon opened here in September 2014. In September 2022 NK Nails & Beauty relocated here from 29, Main Street.
-----------------------------------------------
1 According to one of Eddie Boylan's notebooks, Mr McCarthy was known as 'the Boodie Man'!
2 Surprising what people remember about people #2: According to one woman I spoke to, "the place was always full of cats".