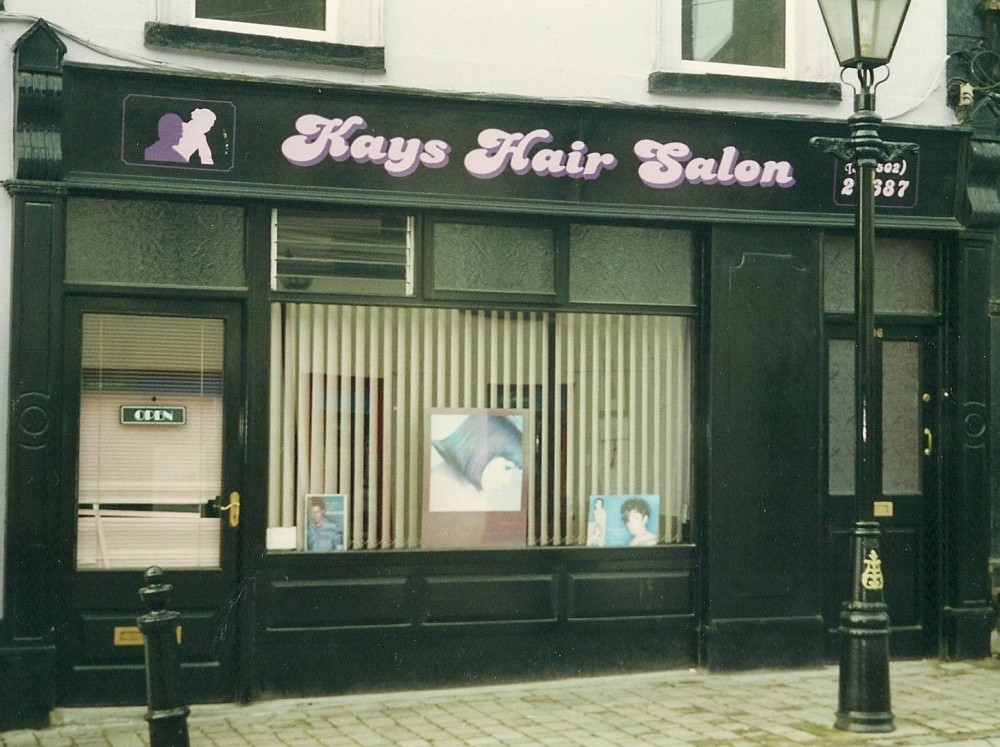 961 MAIN STREET, SOUTH SIDE
Judith Brophy had a public house here in 1850. She was succeeded by Michael Ard (sic), John Molloy and, in the late 1860's, grocer and publican Michael Dempsey. Since at least 1894, his daughter-in-law Julia, a widowed shopkeeper, lived here and, on Census Night 1901, was accompanied by her daughters Maggie Farrell and Lizzie Quigley, both dressmakers. A decade later, there were two distinct families - with four rooms each - in this house: (a) Thomas Matthews, an asylum attendant, his wife Mary and infant children John and Elizabeth. Their household also included Mary Delany, a thirteen-year-old nurse/domestic servant. (b) Michael Cushion, a farmer, his wife Eliza and infant son James who grew up to be a popular butcher in the town (see No. 88). Right up to the mid-1960's, Mrs Cushen kept lodgers here and her 'digs' were particularly popular with Gardaí newly-arrived in the town.
In 1931, Edward 'Ned' Mulhall leased the ground-floor premises from James Cushion. After his death in 1975, his nephew Seamus Mulhall and his wife Ursula bought the business. In 1983 they opened larger premises in Kellyville (Lyster Square), but their shop here continued for a few years after that. Today, Mulhall Meats, whose beef comes from the family farm at Newtown, Ballyroan - Seamus just loves good cattle and good breeding - is part of Mulhall's SuperValu, one of the town's busiest shops. The family also have a restaurant and off-licence in the same building.
Kay's Hair Salon subsequently relocated to Bridge Street and, during the General Election of May 2002, this became the Fianna Fáil constituency office, festooned with pictures of Cowen, Fleming, Killally, Moloney and, dwarfing them all, in his best cat-that-got-the-cream pose - Bertie Ahern. In more recent years, the premises has housed various clothes shops: Deco's Clothing World, Lowell (Ladies Fashions), A Fashion (We cater for big sizes 8 to 24.... The premises became vacant in April 2014: a notice on the window announced that a company called Coalquay Leisure Ltd. was seeking planning permission to develop a gaming arcade here. Just what the Main Street needed....2
From December, 2014, to June 2015, the Society of St Vincent de Paul shop was here while its Dublin Road outlet was being refurbished. In early August, a ladies' fashion shop, DeLook, opened for business. In May 2021, Adora Gifts and Interiors opened here.
-----------------------------------------------
1 There is some confusion over the numbering here. The planning notice above refers to this building as No. 97, while some on-line maps assign that number to the previous building. I have also seen the address given as 96a Main Street.
2 June 2014: following opposition from business people in the Lower Main Street area, Planning Permission was refused.