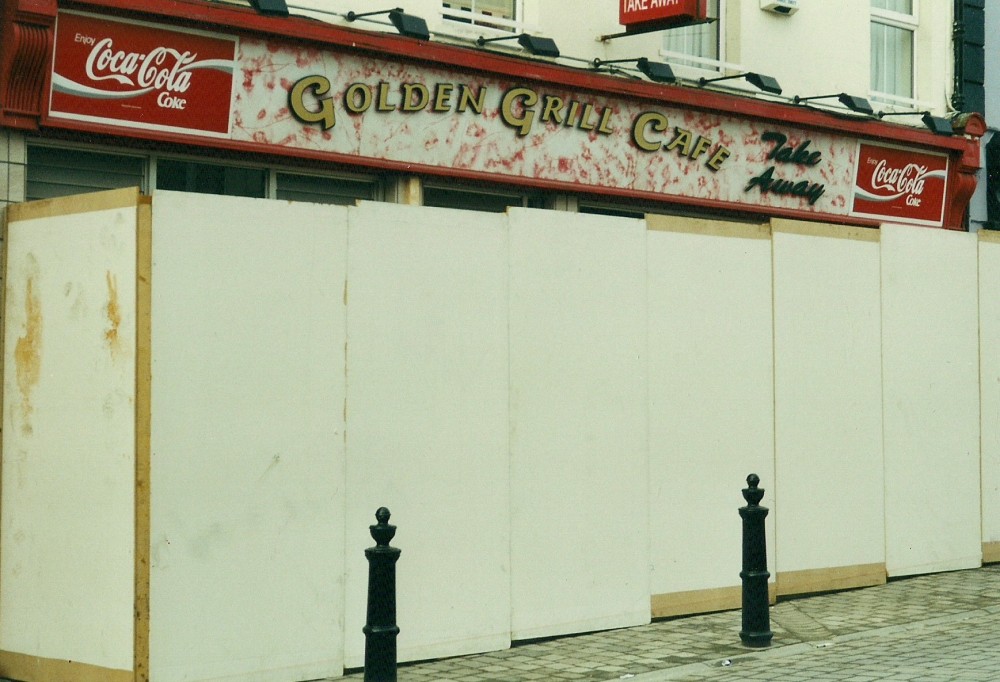 98 MAIN STREET, SOUTH SIDE
In the 1850's, the immediate lessor of all the premises from here to Pepper's Lane was Robert Graves. As we've seen (entry for No. 13 Market Square), some of the Graves family were chandlers. Here's a true story: on New year's Day, 1772, a servant to Robert Graves Jnr. was sent to Kildare with a load of candles. He was paid for the delivery and.... promptly disappeared with the money. Mr Graves published the following description: "a low, squat fellow, about 20 years of age, wears his own hair which is black, and went off in a brown Cloth Coat, with a crimson faded Coler, a double-breasted drab-colour Waistcoat and leather Breeches. Whoever apprehends LB and lodges him in any place of Confinement shall receive four-Guineas reward on giving Notice thereof to his Master in Maryborough1." [For fear of receiving a solicitor's letter from some offended descendant - a low lad with his own hair? - I've used the initials LB: the paper printed the culprit's full name].
While you're foostering in your family tree, I'll tell you that, from the 1870's, Thomas Grattan was a draper/milliner here, succeeded by Catherine Walsh, originally from Summerhill. On Census Night 1901, she was joined here by her bachelor brother-in-law Edward Walsh listed as a Nacker (sic) and in the online version as Macker! The third person present on the night was thirteen year old Annie Cushion described as both scholar and servant. Catherine and Edward were still here in 1911, as were her daughter Mary Anne (also written elsewhere as Marian) and her elderly sister, the widowed Eliza Brennan. Catherine Walsh died aged 88 in 1936 and Mary Anne continued her drapery and grocery business here up to the time of her death in 1967, aged 80. The building was then acquired by the Conroy family.
Like Nino's at far end of Main Street, the Golden Grill Café is one of the town's popular institutions. It began business here in the early 1970's, initially named Matassa's after the family who, prior to moving here, had a chippers where the Wine Vault is today. They were succeeded here by the Macari family. It was in the Golden Grill that, years ago, I overheard a conversation I've never forgotten. Two lads were discussing the relative merits of various dishes:
"I'll go for the curried chips."
"I'll stick with the batterburger."
"Did you ever try a Vindaloo in the Indian?"
"The once and never again."
"Why's that?"
"Me arse was like the flag of Japan...."
-----------------------------------------------
1 The Freeman's Journal. January 6, 1772