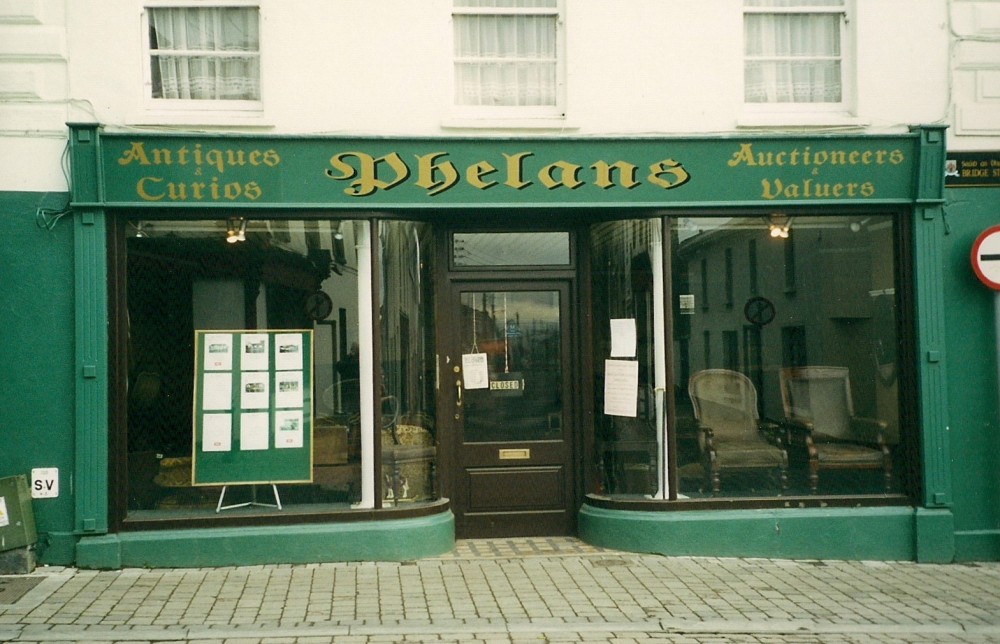 15, MAIN STREET/BRIDGE STREET1, NORTH SIDE
1830. Because of his kindness to his parishoners, the Kilkenny Journal described Rev. John Tydd Moore, Rector of Eirke (on the Queen's County/Kilkenny border), as 'a true disciple of the Messiah.'
1861. 'Horses screaming with fright... violent lightning, coupled with most awful thunder... the most copious rain poured out of the heavens....' Thus The Irish Times described the thunderstorm that beset Maryborough for almost seven hours on the evening of Friday, June 14. Such was its ferocity that 'the oldest inhabitant, even those who have seen foreign parts', could not recall its likes. Thankfully, there were no casualties, and the worst damage seems to have been to the greenhouses and conservatories - thereby destroying 'a most spendid crop of grapes' - at Rossleighean Lodge, the home of Rev. John Tydd Moore on the Mountmellick Road.
January, 1865. The Freeman's Journal reported that the misfortunate man had taken his own life.
In happier times, Rev. Tydd Moore was the immediate lessor of a single-storey house on this site (occupied by John Dowling, a carpenter) and other properties in the town. The present building dates from the 1860's and, despite renovations, retains some of the original windows. John Higgins, a native of Lancashire, and his wife Margaret (from Dublin) were drapers and Boot and shoe specialists here from at least 1882. It was clearly a prosperous business: in 1901, there were also two milliners and an apprentice working in what a local newspaper described as 'Mr John Higgins' handsome establishment'. On Census Night of that year, their children - five of whom were attending school, and an infant Thomas - and two domestic servants were also in the house. A decade later, the widowed Mrs Higgins and her eldest daughter Kathleen, a milliner, were running the business, assisted by Joseph Sammon from Tipperary. Her eldest son John was a solicitor's clerk and three teenage children were still at school.
Thomas - universally known as Tommy - eventually took over and continued the family business into the 1970's. He had a lifelong interest in the GAA - he was once heard to pronounce that "anyone taking more than a size eleven could never be any good at football!" - and was, as we say locally, 'a great man to talk'. His catchphrase - "I'm telling you something, but don't quote me" - is still remembered. There are many stories told about him. Here's one: A well-to-do lady once bought a certain item from Miss Vaughan (who, for years, looked after female customers). Fifteen minutes later, she returned:
IRATE CUSTOMER: Mr Higgins! Where's Miss Fawn? Where's Miss Fawn? It's sixpence cheaper in Shaw's! I've been done in this knickers!
MR HIGGINS: Already, Madam??
He also had a business interest in the Coliseum Cinema in Bull Lane and, in return for running errands, youngsters were given passes for the cinema. I was once his beneficiary: "Young Dunne, will you post that for me? And here's something for yourself". Needless to say, after such benevolence, no matter where I was in the town, I made my way home to Coote Street via Bridge Street.
Back in the dancehall days, Tommy Higgins' doorway provided the perfect vantage point for corner boys eying the 'talent' heading towards Danceland or the Macra2.
"Look at the cut of your wan!"
"Janey, lads, the headlamps on that!"
"Get 'em off ya! Get 'em off ya!"
Tommy Higgins, one of the town's great characters, died in 1975 and is buried with his parents in the Heath cemetery. In 1979, the premises housed a branch of the First National Building Society, managed by auctioneer Tony Phelan who also had a furniture and antiques business. Over the last thirty years, there has been a regular turnover of occupants here... clothes shops, bridal wear, estate agents, Polski Sklep, moneylender.... The building is currently (June 2014) vacant.
-----------------------------------------------
1 Both censuses list the houses from here to the bridge under Main Street. Most 'townies' - and the Council's nameplates - refer to this as Bridge Street.
2 More about Danceland later. The Macra na Feirme (literally 'Youth - or Sons - of the Farm') Hall was described at its official opening on August 15, 1955, by the President of Macra na Feirme as nothing less than "the local university". It was once a very popular venue - though, in the 1960's, always in the metaphorical shadow of Danceland - where, for instance, for only eight shillings you could dance from nine to two to the sounds of local bands The Knights and Har [Ramsbottom] & the Escorts. And, if that wasn't enough to entice you, there was often a 'Monster draw on the night'. 'The Macra' - still standing today - was also the venue for the Christmas Goose Club where, in the hope of bringing home a live goose or turkey, a bottle of whiskey or a box of biscuits, we bought countless strips of raffle tickets. I can still hear the announcements: "Salmon-coloured ticket, number two hundred and sixty-five.... salmon ticket number 265.... Have we a winner? Yes... Over there... the young lady with the beehive...."