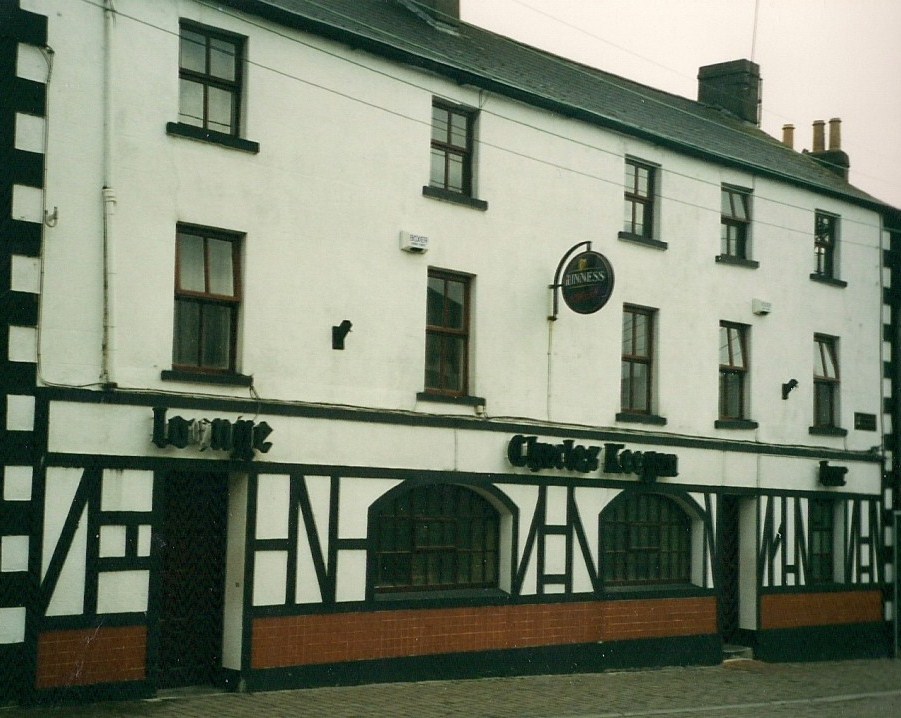 16 MAIN STREET, NORTH SIDE
In the early years of the 1970's, the small back lounge of Charlie Keegan's Crystal Bar hosted what passed for the town's folk music scene. On a good night, the place was hopping to banjos, tin whistles and guitars, The Lark in the Morning, The Rocky Road to Dublin and The Flop-eared Mule. On a bad one, a couple of us strummed and sang away as usual, but there was more atmosphere on Mars. Is my memory deluding me, or were our efforts, good, bad, and indifferent, really fuelled by an ale called Celebration?
An 1839 map of the town shows a tannery, owned by the Clarke family, situated behind two separate houses that once stood on this site. In the 1850's, they were occupied by Patrick McEvoy and John Brennan. The former may have been the carpenter listed in an 1870 directory; the latter was a publican, eventually succeeded by his grandson, John Whelan. In 1901, Patrick and Norah Kearney and their three young children were living here1. Patrick is listed as 'Merchant' with a shop assistant and a domestic servant. A boarder, Jeremiah Whelan (presumably related to the John Whelan above?) is listed as 'Farmer' and Thomas Kelly as a general farm servant. A decade later, the Kearney family was still here. This time Patrick was described as a Spirit Merchant and there were now five children, all scholars. Thomas Phelan was a teenage shop assistant.
Kearney's were succeeded for a short time by Patrick Cushen2 and he, in turn, by Charlie Keegan (1956). The latter's widow, Bernie, continues to run the business today. In 1996, she was part of the bar syndicate that won more than £1m in the Lotto. According to the Irish Daily Star in June 2013, there was a rumour circulating that the winner of €94 million in the Euromillions lottery was none other than the twice-lucky Keegans syndicate. Mrs Keegan was reported as saying "our barman checked all our tickets earlier and we didn't win so much as a fiver." And she wasn't codding; it transpired that the new multimillionaire was a Dubliner (who, according to the newspaper, was suddenly, and officially, the 96th richest person in the country). Charlie Keegan's closed for business in November, 2017.
At the rear of these premises is a two-storey, former coach house. According to the Architectural Survey, it and the 'intact facade composition' render this site 'a highly important part of the early streetscape and makes a strong positive contribution to the architectural landscape....'
-----------------------------------------------
1 Eddie Boylan maintained that Thomas Haslam, a prison warder, lived here before the Kearneys.
2 Known locally as 'Paak'. His brother Michael was also a publican in Stradbally.