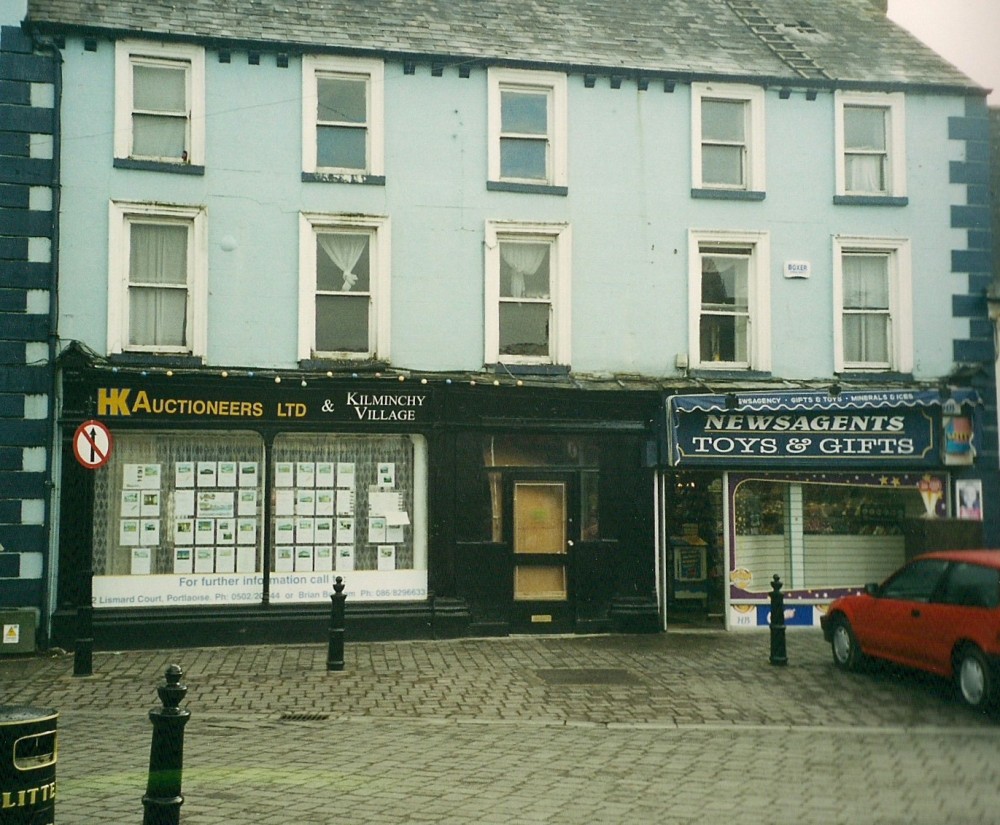 22, MAIN STREET (THE LOWER SQUARE)
After being entranced for more than an hour by his amazing memory, I was saying goodbye to an old man when he tipped me on the arm: "Come here till I show you". I followed him and there, mounted in the hallway, was the trophy head of a massive puck goat. So alive-looking I almost recoiled. "That lad," he said, "is more than a hundred years old and he came out of J. J. Airds...."
It is believed that the Aird family originated in Scotland1, but the earliest ancestor of the Portlaoise Airds I am sure of, is William, who lived in the Glasthule area of Dublin where, it seems, he and his brothers had a building firm. His wife, Mary Fitzpatrick, was originally from Maryborough. After his early death from TB, Mary and her only child, James Joseph (born 1862) returned to the town to live with her sister Anne (who we've already met in connection with No. 31 Main Street.) Time passed: John Joseph attended Knockbeg College in Carlow, learned his trade with Keeley's Hardware and Timber Merchants in Tullamore, and eventually (1886 or earlier) opened his own business in the above building2. The shop sold everything from furniture, saddles and glass, to coffins, groceries and farm machinery. (Advertised in September 1900: a first-class six horsepower portable steam engine and thresher).
On Census Night 1901, James Joseph was present here with his wife Mary (née Jackson, a native of Mountmellick), and their seven children, plus a cook, domestic servant and three shop assistants. [In the early 1930's, my father began his working life as a 'shop boy' in Aird's where, he maintained, "the shop counter was so high I had to stand on a lemonade box". He also claimed that he sold "the first wireless ever bought in Timahoe"! One of my elderly informants told me what is also probably best described as a bit of local colour: sometime in the 1920's, a few employees of Aird's went out celebrating after work. Next morning, to the - delete as appropriate - delight/consternation of ladies going to first mass, the birthday boy woke up to find himself stretched on a bed in the shop window, resplendent in top hat and birthday suit....
As well as being a merchant and prominent auctioneer, J. J. Aird was also a County Councillor, Town Commissioner and Justice of the Peace. After his death in 1916, his son William Patrick took over the business and the Aird political dynasty reached its zenith in 1927 when he was elected to the Dáil. He was barely forty when he died in 1931. Today, the family's public involvement is continued by J. J.'s great-grandson Willie who, like his grandmother Margaret 'Madge' Aird (the first women elected Chairperson of the Town Commission), and uncle Billy before him, makes a significant contribution to local government3 . An elected member since 1979, Willie is currently - and for the third time - Chairman of the Town Council (Mayor of Portlaoise). His name will probably appear in future Table Quizzes as the last person to hold that position: Town Councils were abolished on June 1, 2014.
When Aird's Hardware eventually closed in the late 1930's, the building was put to many different uses. It became the headquarters of the Fire Brigade (and residence of the Chief Fire Officer) and local Red Cross and, after World War 2, it was from offices here that the Marshall Plan was administered locally. Technically known as the European Recovery Program, the Marshall Plan was initiated by the United States to stimulate growth in a European economy ravaged by war. Neutral Ireland had hardly been devastated, so I wonder what qualifed us for such aid at all? But, like The Man Above, money moves in mysterious ways, and more than $140 million found its way into the country.
After his marriage in 1960, William 'Billy' Aird lived and raised his family here. Later in that decade, the portion on the right became Martin O'Sullivan's Wimpy Bar and Restaurant (He is taking me out for a wonderful meal. I really enjoy the lunch here...). In 1973, you could have enjoyed a four-course lunch for 50p, and local lore has it that the Wimpy4, as it was always known, served the first Bun Burger in the town. In the 1980's, the Wimpy made way for a newsagents and gift shop - and, for a while, an amusement arcade - also owned by Martin O'Sullivan. This was succeeded by John Cushen's newsagents which, in the early nineties, relocated to the newly-opened Laois Shopping Centre. It was replaced by another newsagent, Newslink which continued in business here until May 2015.
The portion on the left was once home to Terry Redmond's Photographic Studio. For almost thirty years from 1949, he took thousands of pictures of local people and events and, in 2003, his family donated a selection of prints - his archive numbers a staggering 300,000 negatives - to Laois County Library on permanent loan. This resource, invaluable for anyone interested in the history of our town, may be viewed by appointment. Terry Redmond's sons both followed in their father's footsteps: Brian set up business in Roscrea while, in the 1980's, Pat was based here (Wedding Albums from ?16.00!). The premises subsequently housed Rich Rags Boutique (A shop of real distinction); a hairdressing salon run - until 1999 - by the late Ann Aird (wife of Billy above) and, since then, a variety of clothes shops: United Colours of Benetton (2001), Hi' Class (2006), Kingpin (2009), and Top Pot. So many, in fact, that I'm sure I've forgotten some of them. Currently (2014), Eurostar Discount Store.
-----------------------------------------------
1 Someone suggested to me that they are descended from John Aird (c. 1760-1832), the eminent Scottish engineer who, in 1809, settled in Ireland where his entire career was devoted to harbour construction; after a stint at Howth, he was appointed resident engineer at Kingstown (Dún Laoghaire) in 1816. He retired in 1832 and is commemorated on a monument at the Harbour. My research did not discover any conclusive connection between John Aird and the Portlaoise family.
2 In the early 19th century, Power's Hotel, owned by William Power, stood on this site. A story goes that, sometime in the 1830's, a group of travellers was enjoying a game of cards when a terrified waiter burst in, mumbling about the ghostly noises he heard coming from underneath the hotel. Our intrepid travellers adjourned to the cellars where, sure enough, they heard what our patriotic narrator was quick to reassure us was not the "diabolical screech" of the Scotch pipes, but the bleating of the old-fashioned Irish bagpipes. The story, which goes on to embrace a mixture of legend, historical detail, and the town's oldest inhabitant, is too long to recount here, but you can find it in Fort and Town of Maryborough, originally printed in the Leinster Express in the 1890's and recently republished as part of a three-volume set by the late local historian, Frank Meehan. It's in the local library.
According to Griffith's Valuation, the "house, offices and yard" - leased from Samuel Campion who we've already met in the Market square - were vacant in the 1850's. They were next occupied by Simon Kelly, grocer and publican, and vacant again immediately prior to the Aird's taking possession. But.... an unpublished Aird family history states that when J. J. acquired the premises it was known as Buckley's Coach House. [The history also mentions that Charles Dickens had once stayed there]. In the 1880's, Buckleys were indeed in business just across the street (see note on Shaw's) but I could find no reference to them having any connection with these premises.
3 The political careers of the various Airds are well-documented in Seamus Dunne's article 'The Airds of Laois' in the 1991 edition of the Laois Association Yearbook, and also The TD's and Senators of Laois & Offaly (1921-1986) by the aforementioned Frank Meehan.
4 At one stage, the Wimpy chef, Joe Sheeran, managed The Falling Leaves, the town's first Ballad Group. We played in halls and 'singing lounges' everywhere from Walsh Island to Mountrath and, on one memorable occasion, even ventured as far away as Galway. World domination was unlikely, but we were, for some reason, big in Borrisokane. On our second gig there, we were flattered to find a huge banner strung across the main street: WELCOME BACK THE FALLING LEAVES.