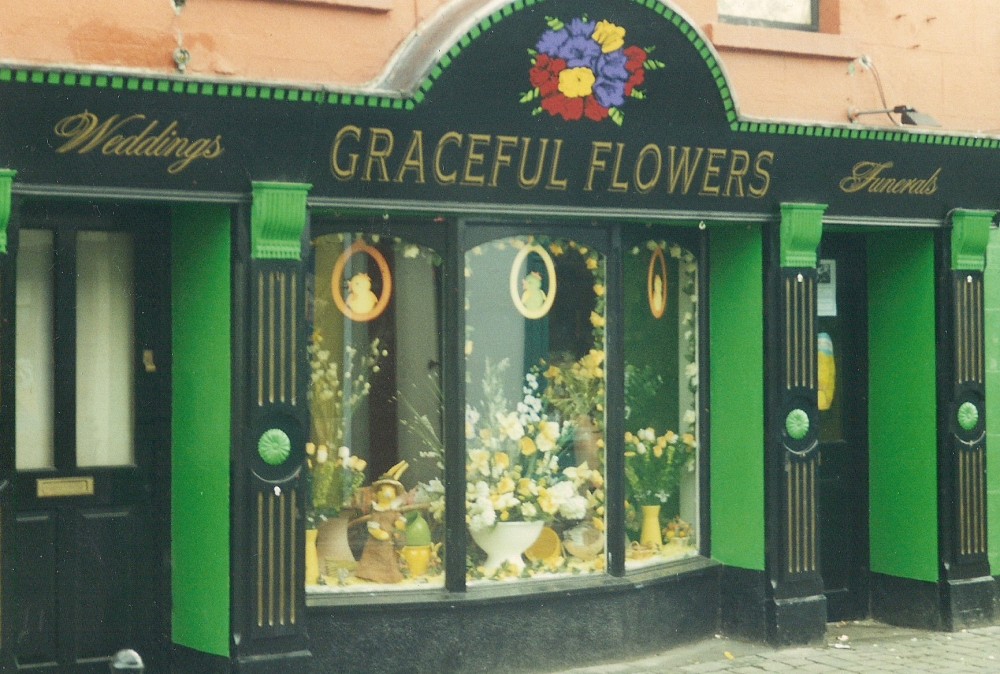 50 MAIN STREET, NORTH SIDE
Built about 1850, this house had three different occupiers - Thomas Malone, James Barry (who may have been related to John of the same surname who was a Broker in the town in the 1870's) and Daniel Doolan - before being adapted as a shop with what an architectural survey of the town has described as "a somewhat heroic attempt at a late nineteenth-century shopfront". A fairly ambiguous statement perhaps, but what is certain is that, by the late 1870's, the shop was owned by Julia Scott who remained in business here for nearly forty years. In the 1901 Census, she appears with her three daughters, Lizzie, Annie and Mary Bridget, all dressmakers in their twenties. Until her death in 1914, the widowed Julia lived here with Lizzie and her husband Thomas Clear, a carpenter, and her infant grandchildren, John and Joseph. John 'Jack' Clear will grow up to be be a rate collector and shopkeeper (opposite the ESB building on the Abbeyleix Road where Perfect Presents, formerly Abode, stood until 2013); Joe will work in Odlum's; the yet unborn Paddy and Tom will become, respectively, a hardware merchant on Main Street and Professor of Forestry, Albert College, Glasnevin (today, the oldest building on the campus of Dublin City University). The only girl in the family will become Sister Cecelia, a Holy Family nun in England.
For twenty years from 1956, the Fitzgibbon family lived here and, for some of that time they had a café and takeway. Paddy Fitzgibbon, brother of Breda who we've already met in the Market Square and whose parents we'll meet further down Main Street, later had a wholesale business. After the family moved to Lyster Square, Joseph 'Nocky' Kerry, formerly a scrap metal dealer, had a shop here, selling everything from sweets and soft toys to wallpaper and paint.
Established by Kevin Hogan in his native Rathdowney, The Company Hair Salon opened here in 1991. They eventually moved to their present, much larger premises in Church Avenue and were replaced here by the Gem Newsagents, run by the Kingston family. They too relocated, straight across the street and were succeeded by the business pictured above whose proprietress, Grace Donnelly, came originally from the North of England. Her partner, Seán 'Goggy' Delaney, well-known for his various sporting exploits, was one of the town's real characters and his untimely death in 2004 was mourned far beyond the borders of his native county.
After lying vacant for some time, the premises were occupied (2012) by Get Cash 4 Clothes, a sign-of-the-times business offering €15.00 per bag of your old clothes. It was gone by the end of the following year and, in June 2014, the empty shop reopened as Pretty Woman (Nail Bar, Eyelash, Sunbed). In May 2017, Pretty Woman was replaced by Talking Heads Hair Salon which, in February 2019, gave way to Lavish, a Nails & Beauty parlour.