OUR WAR MEMORIAL
Look down, and swear by the slain of the War that you'll never forget.
Siegfried Sassoon (1886 - 1967)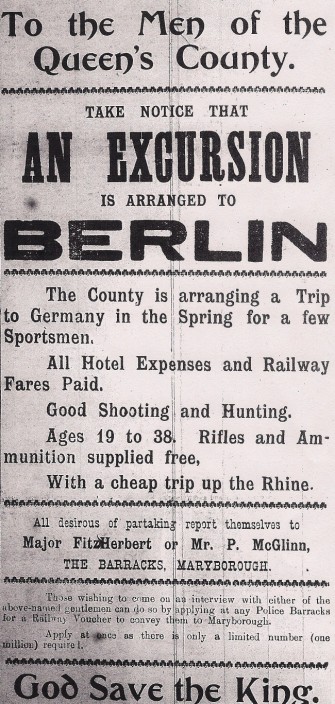 World War I began on 28 July 1914 and lasted until 11 November 1918. It is estimated that nine million soldiers were killed and about seven million innocent civilians. At least twenty million people were wounded. St Peter's Church in the Market Square holds a copy of the eight volumes of Ireland's Memorial Records (1923) which contain the names and details of all the 49,647 Irishmen who died in the war.[1]
Under overcast skies on Thursday, November 15, 1928, more than 500 people, including almost 200 ex-soldiers and relatives of the fallen, gathered in Bank Place/Church Street for the official unveiling of the town's War Memorial, erected by their surviving comrades to honour the memory of the 177 Officers and men of the 4th Battalion, the Leinster Regiment (Royal Queen's County's Regiment) who died in the conflict. Almost a century later, it is still very moving to read all the familiar names inscribed there. To think that many of these brave men once walked our streets, spoke with our accents, supported local teams....
None of my ancestors were killed in the war, yet when I see the names of three Dunnes, I sometimes shiver, even in the brightest sunlight. I can only imagine the emotion our forebears must have felt; what memories filled their bowed heads when, at midday on the fifteenth of November, they observed two minutes silence....
[1] Short biographical details by Patrick Hogarty of some of the soldiers commemorated on the Monument (as the War Memorial is usually called by townspeople) were published in the Laois Heritage Society Journal, Volume 2, 2004. [The list, which includes details of seven men from Maryborough/Portlaoise, is also available at http://laoisheritagesociety.com/journal-2.-2004-page.html]. Also, the National Archives of Ireland hold more than 9,000 wills of enlisted Irish soldiers. Each comprising no more than a few handwritten lines, they are heartbreaking to read. They can be searched online at http://soldierswills.nationalarchives.ie/search/sw/about.jsp