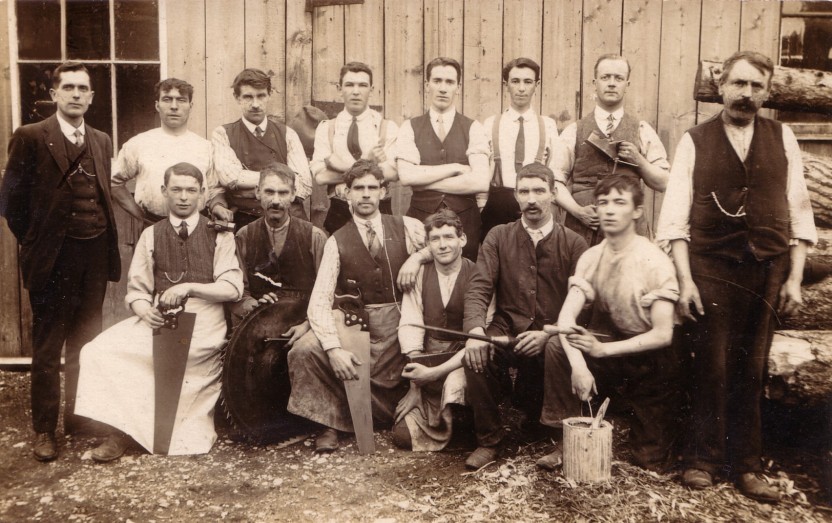 This picture of employees at Bannan's workshop was taken, I would reckon, shortly before 1920.
Tobias's sons, Richard and George, are standing at either end of the back row.
I don't know if musician could be added to the list Tobias's accomplishments on the previous page, but his son Richard (b. 1880) was certainly blessed with the gift of music. At the Feis Ceoil in Dublin in May 1908, he won the medal for the Althorn: He also played the violin and subsequently went on to form a small band with his wife Elizabeth, née Cullen1. She was a very accomplished musician - she obtained a London School of Music degree in 1912 - and the story goes that it was while auditioning her for the band that Richard met and fell in love with his future wife. After their marriage, Richard and Elizabeth lived at Number 32 Grattan Street where all their children grew up.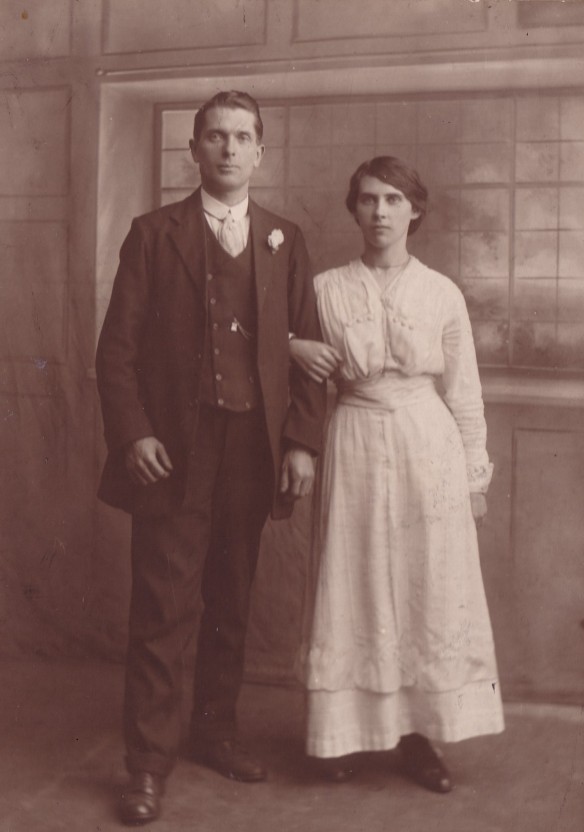 From 1915, they accompanied the silent films in Paul Delany's newly-opened Electric Cinema and in later years, with other family members, formed one of the leading provincial dance orchestras. In 1924, Richard leased a large shed on Station Road from my grand-aunt Mary Anne Hargroves, removed the loft, put in a new floor, and organised dance classes with music by the family band. Husband and wife had a lifelong love of music; he particularly liked marching brass bands and was a great admirer of the music of John Philip Sousa.
The venue was initially advertised as the Terpischore2 Hall – a name hardly guaranteed to trip off the tongues or inspire the feet of local dancers – but that was soon abandoned, and the hall become well-known as Bannan's. From The Leinster Express of November 11, 1925: The floor is in excellent order, and with the Bannan Orchestra dispensing their celebrated musical contributions ad lib, everything augurs well for the future of the dancing fraternity in the capital town of Leix.
Bannan's Hall continued as a dancehall (and latterly, an amusement centre run by Jim Cully, reputedly Ireland's tallest man at the time) into the 1960's. Today, the building is occupied by Reliable House Furnishers.
In April 1946, while visiting her daughter Nancy, a boarder in the Brigidine Convent, Mountrath, Elizabeth Bannan suddenly became seriously ill and died the next day. Richard died in August 1957.
-----------------------------------------------
1 Her nephew, Christy Cullen from Kilbricken, is today a well-known songwriter, composer of our unofficial anthem Lovely Laois and many other popular songs.
2 In Greek mythology, one of the nine muses, goddess of choral music and dance.