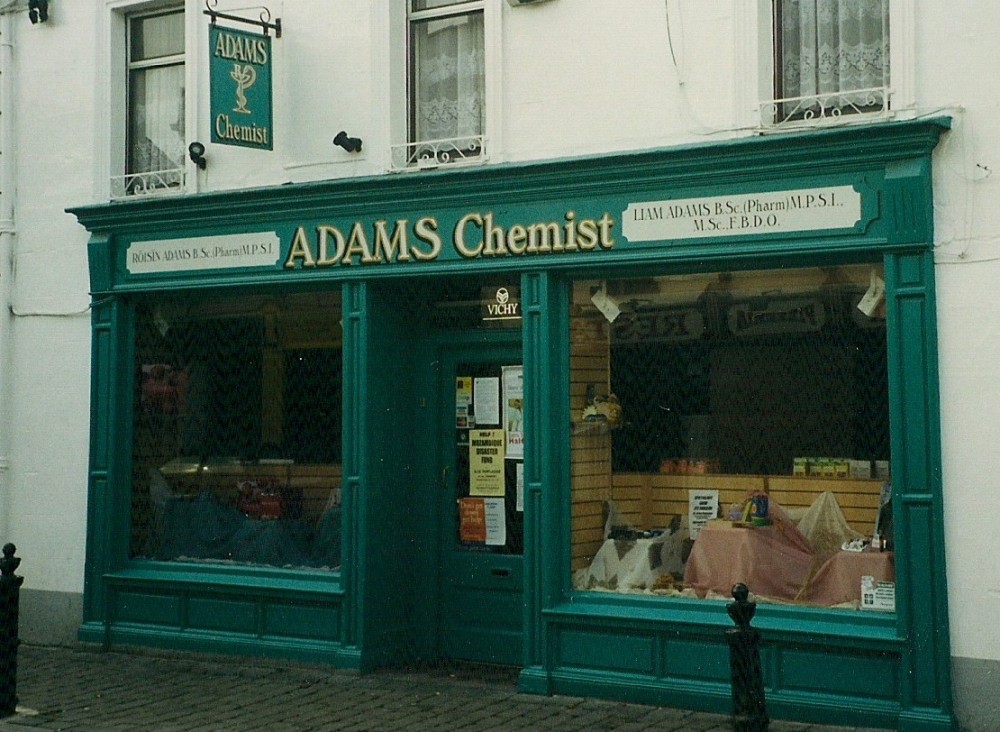 58 MAIN STREET, SOUTH SIDE
Until the 1870's there were two houses on this site, one occupied by George Monks1 who was succeeded by Esther Roberts; the other belonged, in chronological order, to David Healy (a tailor from at least 1837), Michael Whelan, George and William Gamble (both butchers) and Catherine Delaney.
Michael Hogan acquired both premises and, according to the architectural survey, the present building was constructed circa 1889. In 1901, he had a grocery, spirits, and hardware business here, assisted by his niece Bridget Fennelly. In its guide to Christmas Shopping of that year, The Nationalist mentions that 'this well-known house, under the direct management of the popular proprietor, satisfies an extensive clientele and is well stocked with oils, colours and painter's requirements'. Michael Hogan died in 1931 and is interred in Portlaoise cemetery with his two nieces and two nephews. His gravestone, incidentaly, gives the wrong house number.
The next business here was a drapery shop owned by William and Elizabeth Furney from Ballygeehan, Ballacolla. In 1943, they swapped fabric for farming near Durrow and the premises became Corkman Tadhg O' Donovan's chemist shop: June 1953: All veterinary medicines in stock. Prescriptions accurately dispensed. November 1956: Exciting News! Coty 24 Lipstick Is Here! The O'Donovan family were well-known in the locality and further afield for their great interest in rearing and racing greyhounds.
To us young lads coming from school, the large lettering - M.P.S.I - over their door was always a source of great amusment: of course, it never meant Member of the Pharmaceutical Society of Ireland but - how can I put it politely? - simian secretion may be purchased within.... After their retirement, the O'Donovans lived in Clonaslee and, in 1987, Liam and Róisín Adams became the proprietors here. That business closed in 2019 and the premises remained vacant until January 2021 when Reassurance.ie, a Covid-19 testing centre opened here.
-----------------------------------------------
1 I wonder if he was related to his Dublin-born (1879) namesake George Joseph Monks, the illustrator who contributed to early editions of Our Boys, a magazine - fondly? - remembered by generations of CBS pupils? Intended by the Christian Brothers to elighten and entertain, all I remember from the late 1950's are Kitty the Hare's endless oul' yarns and, like other reluctant Gaeilgeoirí in my class, daydreaming my way through Tír na nÓg.