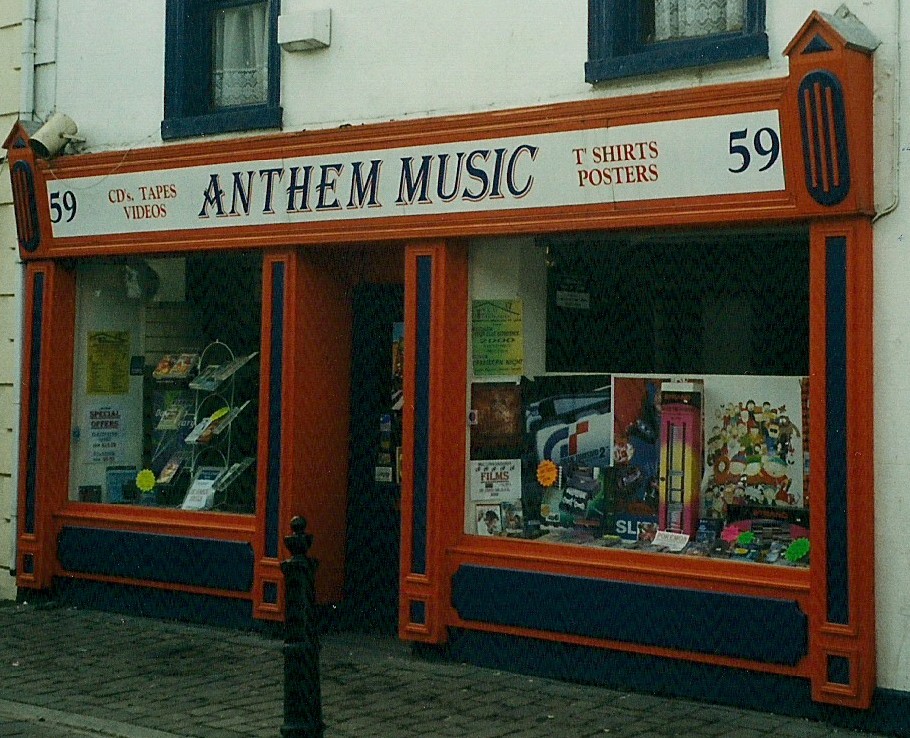 59 MAIN STREET, SOUTH SIDE
In the 1850's, Jane Guiot was a provision dealer here. Her surname (sometimes spelt Guyatt) is of French, probably Huguenot origin1. Over the next half-century she was succeeded by a veritable roll-call of occupiers: Maria Malone, John Donohgue, Joseph Hughes, grocer Daniel Cooke (1894) and John Dillion (1896). By the end of the '90's, draper Laurence Kilbride was living here and appears in the 1901 census with his wife Eliza Jane and children John Joseph, Mary Bridget (both born in Limerick), James A., and Catherine. The household also included general servant, Catherine Dunne, and Cavan native Bridget Nulty, a milliner surprisingly classified as a servant. In that year too, the Leinster Express reported that Mr Kilbride was 'showing a varied stock of every class of drapery goods'
A decade later, the business - Noted for its Cheapness consistent with Good Value - was run by twenty-year-old Mary Bridget, assisted by Katie Fitzpatrick and the above-mentioned Catherine Dunne. Mary Bridget's three siblings - Katie, James and Laurence - were all still in school. In later years, she also ran The Central Dining Rooms2 (Fresh Confectionary Daily. Dinners and Teas Supplied). She eventually became Mrs Carey and mother of Maureen, Lily, Michael3 and Larry. As a child, the latter was called her ' little Charmer' by a neighbour, a name that stuck until his untimely death in 1986.
In the 1940's, Mary Bridget's sister, Katie 'Kitty' Kilbride opened a private lending library here. She also bought and sold second-hand comics which, in the 1950's and '60's, brightened the lives of youngsters like myself. To this day, my head is more full of the adventures of Dennis the Menace and Gnasher, Minniie the Minx and Desperate Dan (shaved with a blowtorch; could lift a cow with one hand!) than a lot of the stuff I learned in school.
The 1960's saw the café part of the premises (the window on the left) become Maura Taylor's hairdressing salon, succeeded in the mid/late 1980's, by Michael Morrissey's Photography, which guaranteed Weddings to Suit all Budgets. This was followed by Sheila Croke's Little Rascals Children's Clothes Shop - eventually moved to Church Street - and, for a while in the 1990's, Milo Carey had a book shop here. His brother, Carlow-based, Ger, is a successful playwright and actor. His 2010 performance in the Olympia Theatre, Dublin of Psycho Spaghetti, his stand-up show for teenagers, is available on DVD. Anthem Music opened in 1996, initially as record shop, but today specialises in musical instruments and accessories. (We don't just sell instruments, we also repair them. If you have an instrument in need of a little TLC drop in and talk to us). Its proprietor, Tom Byrne, has long been a staunch supporter of local music and musicians.
-----------------------------------------------
1 According to a document in the Registry of Deeds, Dublin, in March 1760, Richard Cobbe (another Huguenot name) of Deerpark Portarlington purchased a freehold lease from "Susanna Cobbe otherwise Guiot".
2 On the subject of dining, in December 1907, the Leinster Express carried an advertisement for Miss Hill's Central Restaurant where Confectionary Art is practised in its highest branches. I have been unable to trace this establishment so any suggestion would be welcome.
3 The adult Michael later wrote a very interesting account of growing up in Portlaoise in the Thirties and Forties. See Portlaoise Photo Lore by Johnny O'Brien. Arderin Publishing, Portlaoise. 2001.