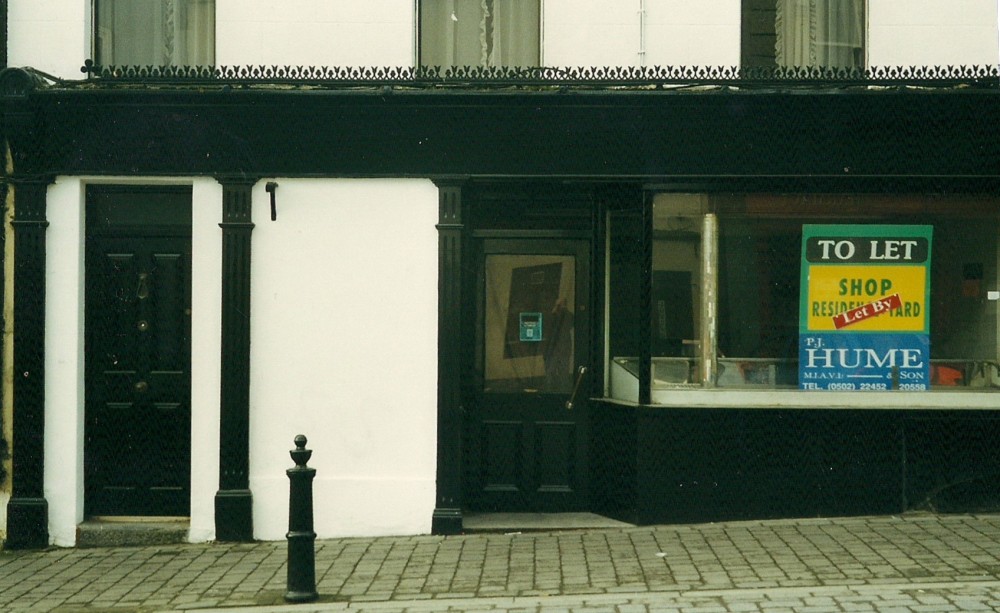 82 MAIN STREET, SOUTH SIDE
In stark contrast to its silence on the previous building, the architectural survey is eloquent in its praise of this one: "... retains a wealth of its original features... the addition of the shopfront in the early twentieth century is of particular note... the intact rear site with its original rubblestone walls is remarkably rare in Portlaoise...."
Built circa 1850, this was once the home of the McCrea family1. As well as grocer, spirit & wine dealer, emigration agent - for the National Steamship Company - and manure dealer (best Peruvian guano), James McCrea was also Chariman of the Town Commission in 1870. In 1901, Philip, presumably James's son, and self-described as "of the medical, profession, not practising", was landlord to one boarder, Bryan Phelan, an Inland Revenue Officer originally from County Kilkenny.
In 1904, Miss Alice Horan - who we've already met in connection with Nos. 24 & 25, Main Street - had her Maryborough Restaurant here. If you bit on something hard and needed dental assistance, you were in luck if it happened on a Thursday; that was the day Messrs. J. & G. Simon attended here with their high-class artificial teeth which, they guaranteed us, look well, fit well, and wear well. In 1904 too, probably in the same upstairs room, a Mrs Newbigging gave organ and pianoforte lessons and, if stringed instruments were more in your line, a Miss Gaynor R.I.A.M. was also on hand to teach the violin and mandolin. At the time of the 1911 census, the building was unoccupied.
We require unlimited supplies of turkeys, fowl, chickens etc. Will pay top market prices as usual. That newspaper ad from Christmas 1956 was inserted by Croke's butchers, three generations of whom stood behind the counter here: Denis (died 1941) and his wife Mary Ellen (d.1973) ; their son Kevin (d.2003) and his wife Brigid Mary (Bessie, died 2010), and his grandson, Jack.
After the Croke family's departure in November 1995, various businesses opened and closed here: Carroll's Butchers (2003), Creation Computer Systems, Tree of Life (Oriental Gifts), Etcetera (Asian Store) and, for a short time, Portlaoise Tidy Towns office. Euphoria (body-building supplements) was here in 2013 and the following year saw the arrival of Healthier Smoker (Quit Smoking Today! With e-cigarettes save €3,900 per year!). These Vaping Specialists also assured us that their e-cigarettes and over thirty flavours of nicotine e-juices were totally Irish, totally pure and totally delicious. In October, 2018, Seven Peak, a shop selling CBD - Cannabidiol, a natural (and legal) remedy derived from the cannabis plant - opened here. In November 2019, this was replaced by Pretty Woman clothes shop and it, in turn, by Soap Sisters (beauty and skincare products) in June 2022.
-----------------------------------------------
1 The inscription on a tombstone in the old Burial Ridge reads: "To memory of Philip Jas. McCrea Esq. who died 25th March 1853 aged 52 and of his wife Mrs Frances McCrea alias O'Neil who Dept. this life 23rd March 1818 aged 21, most gifted and accomplished lady. This tablet has been placed here by their ever affectionate son James." Information from The Burial Ridge by Noel Hume in Laois Heritage Society Journal. Volume 5, 2010.